Ingredients
Choux pastry

120g/ 1 cup

all purpose flour

4 medium

Eggs

you might not need them all

Filling
Directions
Everyone loves cream puffs, no matter how many you'll make they will disappear, being so tender, crispy they are the perfect appetizer or dessert.
The cream puffs are made of choux pastry which is an amazing dough made out of eggs, butter, milk (or water) and flour (it can be custard powder or cornstarch).
Making the cream puffs is a bit tricky and I usually divide it into three parts, making the dough, shaping, and baking.
Making the dough of the cream puffs
We start by combining butter, milk and water in a small saucepan and place over medium heat, we add the flour and a roux is starting to form. At this stage we want to get as much liquids as possible from the dough. We will know the puff dough is ready once it clearly combines and separates from the sides of the saucepan.
The second stage of making the puffs is adding the eggs. We place the dough in a bowl of a stand mixer fitted with the paddle attachment and add eggs one by one. only after the previous egg fully incorporated we can add the next one.
Shaping the cream puffs dough
Once the dough is ready we can place it in a pastry piping bag and put the bag in the fridge for a minimum of 1 hour. We don't want the mixture of the cream puffs to bue unstable, we want it to hold the structure and not to spread to sides while we pipe the mixture on the parchment paper.
Baking the cream puffs
Similar to every step in this recipe , this stage is divided into two steps as well, we start the baking on 180°c/375°F for 15 minutes, in this stage we want the steam in the choux pastry to expand rapidly and grow the puffs dramatically. on the the second stage (remember, don't open the oven door!) we lower the temperature to 170°c/340°F and bake the cream puffs for another 20-25 minutes, in this part of the baking we want the puffs to lose all their liquids and dry out. This is how the puffs will reach the crispy texture once out of the oven.
Filling the cream puffs
After the cream puffs are completely cooled, we can either inject them with a filling or cut them gently with a knife and pipe the desired filling, since the puffs are hollow they are accepting any filling comes to your mind.
most popular fillings are pastry cream, diplomat cream, and chantilly cream, but you can really play with it and even add savory pastes and whatever feels good and serve the purpose of the cream puffs making.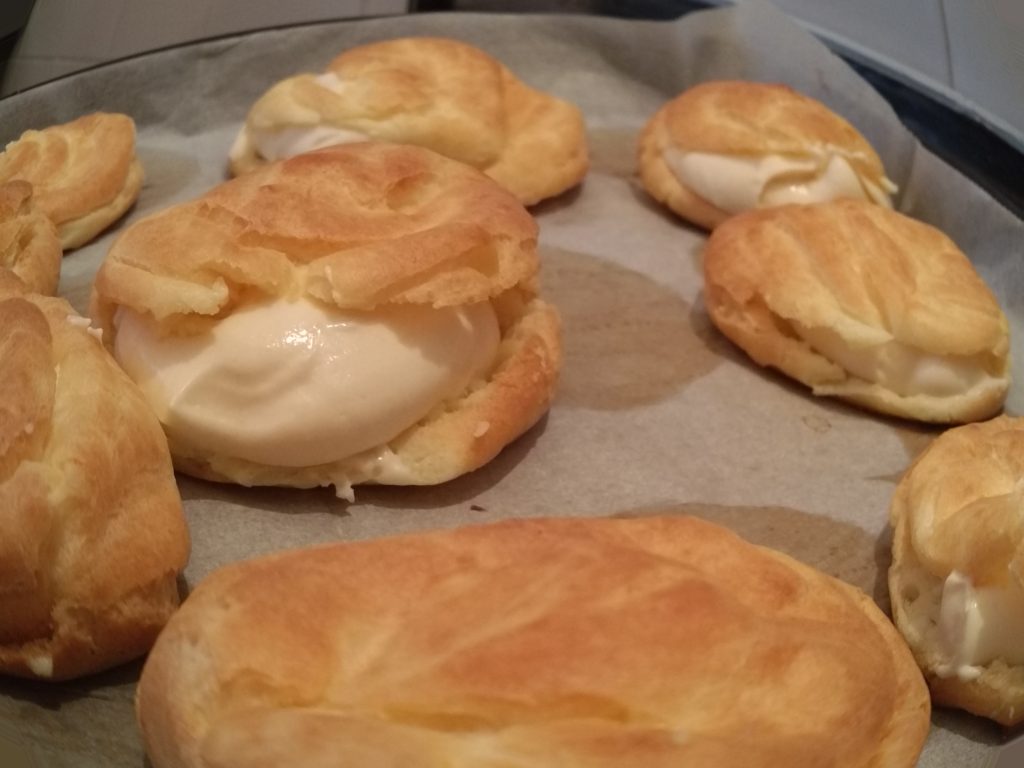 (Visited 474 times, 1 visits today)
Steps
20 minutes

Making the dough

Place a medium saucepan over medium-high heat.
Add the water, milk and butter and stir until the butter dissolve completely.
Bring the saucepan to a gentle simmer and add the flour.
Continue stirring the roux for 2-3 more minutes until roux forms up to a stable dough.
Constantly stir, when the dough has completely formed into a solid shape, reduce heat to low and stir for another minute.
Once the dough is done, immediately remove from heat and place the dough a in bowl of a stand mixer fitted with the paddle attachment.
Mix the dough for 1 minute in order for to cool down before adding the eggs.
Add the eggs one at a time, wait for the egg to fully incorporate into the dough before adding the next one.
If you think the last egg is not necessary don't add it.
A good option for the last egg is if you think only half an egg is needed, scramble the last egg and pour just half of the mixture.

1 hr 10 minutes

Shaping the choux pastry

preheat oven to 180°c/375°F.
Put the choux pastry in a piping bag and set in the fridge to refrigerate for at least 1 hour.
Place a parchment paper on a baking pan, cut the tip of the piping bag and shape small cream puffs circulating the piping bag from the center.
Keep at least 2 inch between each cream puff.

40-45 minutes

baking the cream puffs

Place the baking pan in the oven and bake on 180°c/375°F for 15-18 minutes, after the first baking stage reduce the heat to 170°c/340°F and bake for another 20-25 minutes.
Cream puffs need to be golden and crusty, but not burnt.
Dont open the oven door, it can cause the puffs to deflate, when you feel it's the right time, turn off the oven and open the oven door slightly, for about 5 minutes, afterwards take the baking pan out of the oven.

5 minutes

Fill the Cream puffs