Ingredients
Pasta dough

300g/ 2 3/4 cup

"00" flour

meat filling

1 kilo/ 35oz

Ground Beef

i used ground rump and neck mix but any groud cut with at least 10% fat will do

1 finely chopped

Celery rib

Ricotta filling

50 g / 1/2 cup

grated Pecorino

full leaves that will be placed on the ricotta layer

Basil

Tomato sauce

1 cup

canned crushed tomato

Bechamel Sauce

1/4 cup

all purpose flour

50 grams grated

Parmesan cheese

1tsp grated finely

nutmeg
Directions
Making this meat lasagna properly is all about preparing all the ingredients for the layers in advance, I have to admit it is a tedious job that takes a lot of time.
This is why if we keep it simple and work with some of the stuff we have prepared in advance, this way we can save a lot of time and all left to do is just assemble the layers of the meat lasagna, it's easy and fun.
For example you can make the pasta dough a few hours prior of making the lasagna or even rolling the pasta leaves and keep in a well flour dusted place under a wet towel in the fridge, don't wait more than 4-5 hours using this option, the dough will begin to change its color to grayish, it's not the end of the world if this happens with lasagna (i would not recommend a pre-rolled fresh pasta dough for Ravioli ) . you can find how to make great fresh pasta on one of our older posts, or if in a hurry just use the dry lasagna pasta.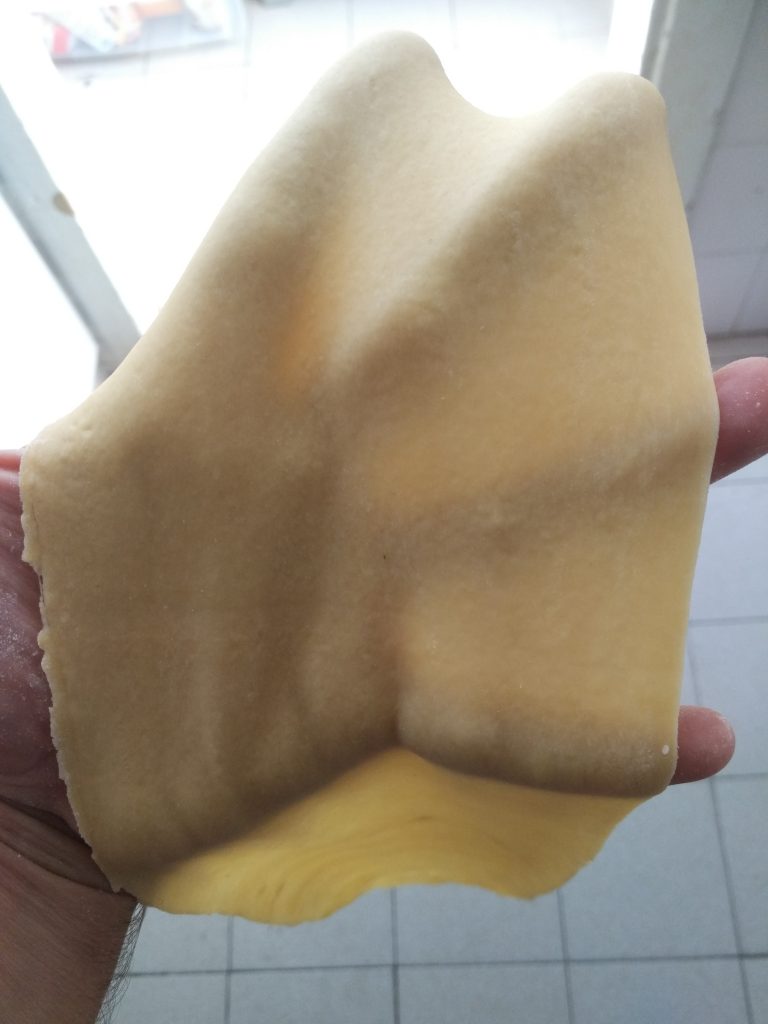 I always make lasagna when I have tomato sauce, I make at least a gallon of sauce and freeze some of it and use the rest for many tomato dishes, this meat lasagna is one of them. making the sauce is not difficult but it is the one part of the lasagna that takes the most of time,  a great tomato sauce needs to cook for hours to reach deep flavors.
Making a meat lasagna tips of the trade
from years of experimenting with making meat lasagna with ricotta filling I came up with a few insights that some or of course are obvious but some can really change your lasagna for good, here they are:
don't cook a fresh pasta dough in boiling water, it is cooked fully in the oven, think about it as if you are cooking a thin dough twice first in water and second in the oven, doing so will get you a soggy pasta layers, and we actually want pasta that you could feel the bite and have some resistance.
on every layer of pasta spread tomato paste regardless of the topping. the tomato paste soften the pasta leaves keeping them nice and moist.
make every layer of pasta nice and thick, we don't want a lasagna that the layers are too close, we want every layer to have distinct flavor and have its own character.
make a runny then usual Bechamel sauce, it will be easier to spread over the pasta leaves without breaking the structure.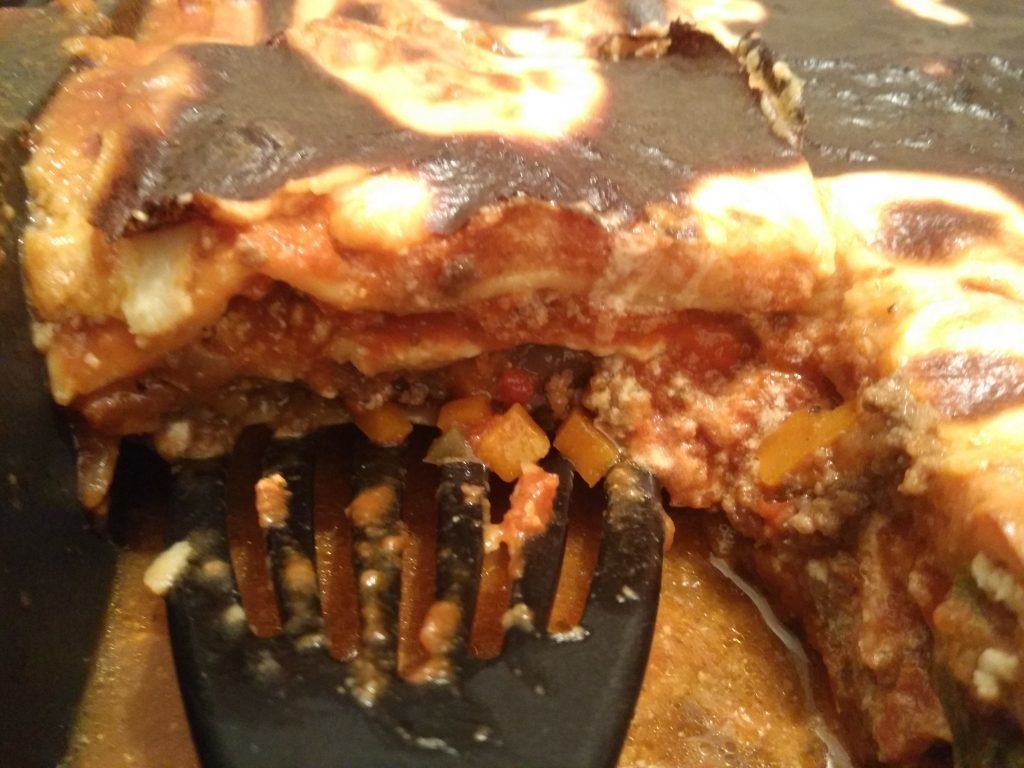 (Visited 734 times, 1 visits today)
Steps
1 1/2 hour

preparing the tomato sauce

this can be done in advance, even couple of days prior to making the lasagna, i usually make about a gallon of tomato/ 4 liters sauce freeze some of it and save can or two in the fridge its handy for every purpose, you can see the detailed tomato sauce making on one of the earlier posts or just follow these guidelines.
in a large sauce pan heat the olive oil, add the onions and garlic and cook until transparent, add the fresh tomatoes , carrot, tomato paste and canned tomatoes, water and bring pot to a simmer.
add basil, thyme, salt and pepper and cook on low heat for about an hour and a half.
remove thyme branches and crush into a smooth sauce using a hand blender.

10 minutes

Making Pasta Dough

2 minutes

preparing the Ricotta filling

30 minutes

preparing the meat filling

Set an iron skillet over medium-high heat, add olive oil, onions, garlic, celery and cook until transparent, add the carrots and cook for 5 more minutes. add the beef and mix it with the vegetables until it incorporated completely for about 5 minutes, add red wine and stir for 2 minutes until the alcohol evaporates completely and cook for another 3 minutes, season with salt and pepper.
set a side to cool

Lasagna assembly

take pasta dough out of the fridge and divide it to 3 portions, flatten each portion in the pasta machine or with a rolling pin to a thin leaf. place pasta layer on the bottom of a 36x34 centimeters baking pan (15 x 10 x 1-inch baking pan). spread a thin layer of tomato sauce and on top of the pan and spread the meat mixture. add another layer of pasta and spread over it the ricotta Pecorino paste, toss basil leaves on top and cover with another layer of tomato sauce.
add another layer of pasta and tomato sauce

10 minutes

Make the Bechamel Sauce

set a small sauce pan with milk and bring to a warm temperature (do not let it simmer)
set a medium sauce pan on medium-high heat add butter, when melted add the flour and mix until it forms a thick roux, add the milk and stir constantly until the roux incorporated completely with the milk, keep stirring a few more minutes until the sauce thickens. remove from heat and add the nutmeg, salt and Parmesan, mix all ingredients until the sauce is smooth and runny.
pour on the lasagna immoderately.

40-45 minutes

baking and serving