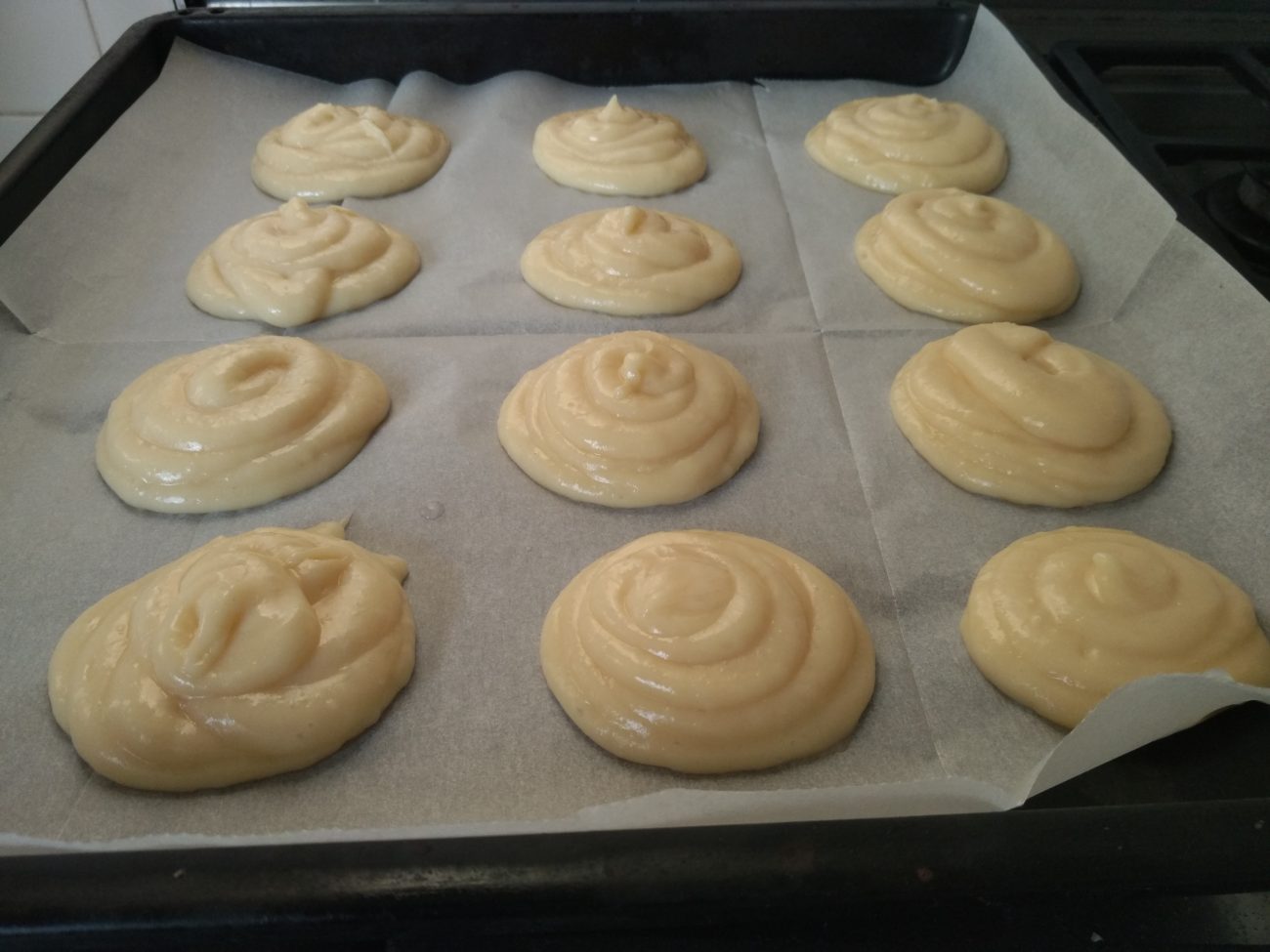 Pâte à Choux is one of the most fascinating dough to make, its light and crusty and most important, hollow!
The reason I say that is because of the huge variations that can be made from Pâte à Choux, starting from the savory dishes like the wonderful cheesy Gougères and fried Pommes dauphine or even the Gnocchi à la Parisienne which a great main dish.
The sweet variations of Pâte à Choux are even bigger and you can make so many things such as cream puffs, éclairs, Profiteroles and extravagant desserts like Paris-Brest and Croquembouche (a pile of cream puffs dipped in caramel).
So, what is this Pâte à Choux ?
Pâte à Choux is made of eggs, flour, butter and water (it's possible to exchange some of the water for milk for a more smooth taste). the definition of Pâte à Choux is cabbage paste (Pâte is paste and choux is cabbage), it was given its name because of the shape of the cream puffs that resembles small cabbages. the reason they puff is because the fluids in the dough transform into steam which lift the pastry and creates a crusty shell and hollow body, perfect for every filling, very popular are the pastry cream and cream diplomat, but any filling that comes to your mind will be just fine.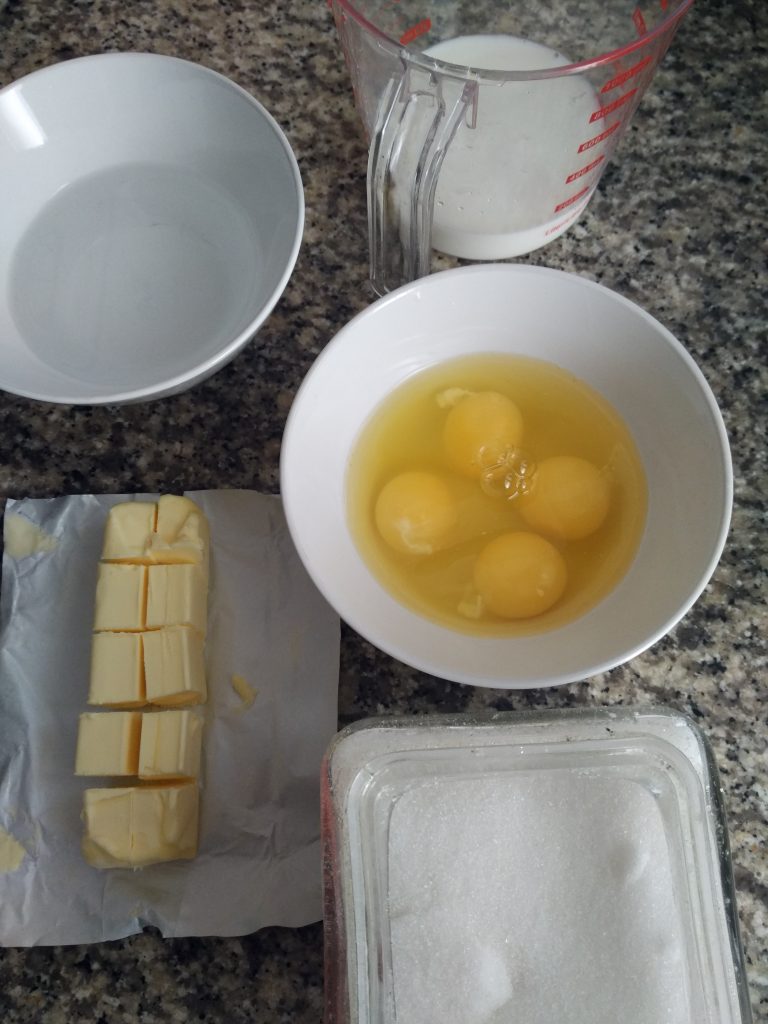 Pâte à Choux- the process
When we make the Pâte à Choux we actually start a 2-stage process, the first stage is cooking in a small saucepan over medium heat water milk and butter. when the flour gets inside the mixture is starting to form into a kind of roux and shape up.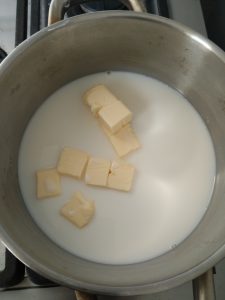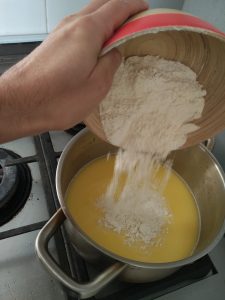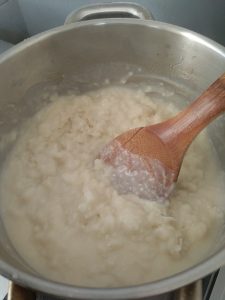 The dough is ready when it separates from the sides of the saucepan. we cook it a few more minutes in order to get most of the fluids out, it's very important because these fluids are what makes the Pâte à Choux heavy and prevent it from creating a puffed hollow shell.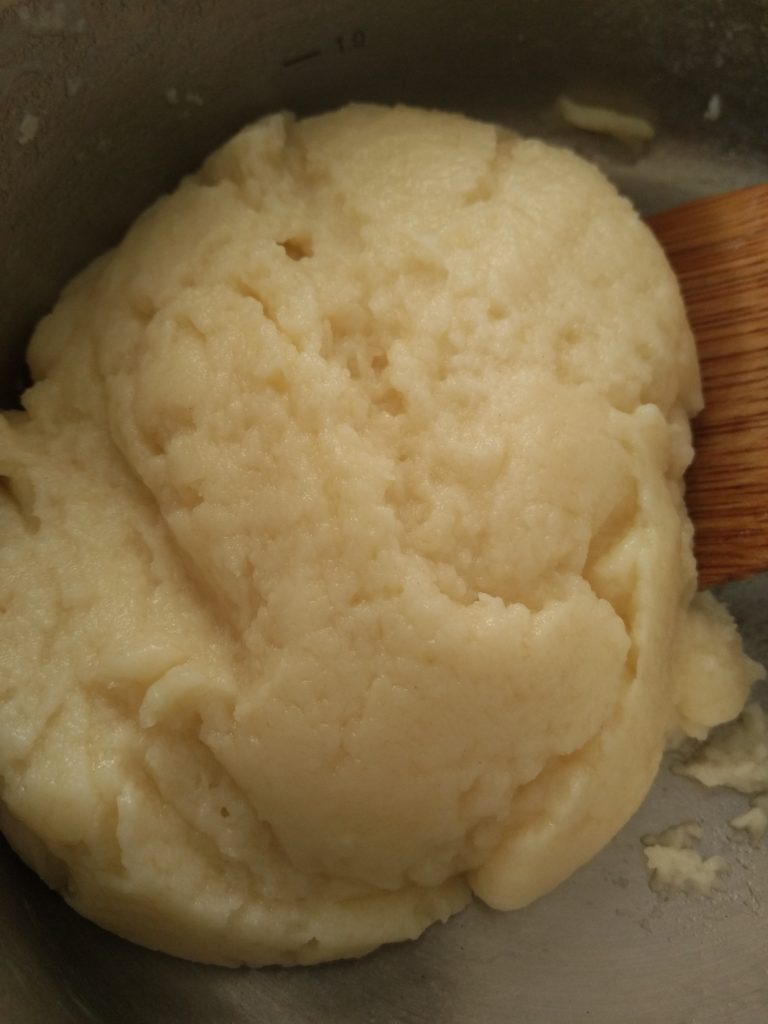 The second stage is combining the eggs into the roux. we do it over a stand mixer fitted with the paddle attachment. We add the eggs one by one in order for every egg to fully incorporate into the dough. The use of eggs is tricky and this is where you need to really keep close attention because to many eggs will generate a heavy Pâte à Choux which will not rise in the oven and having less eggs in the mixture will end up in a dough that will crack when we bake it and the consistency of the Pâte à Choux will be too stiff.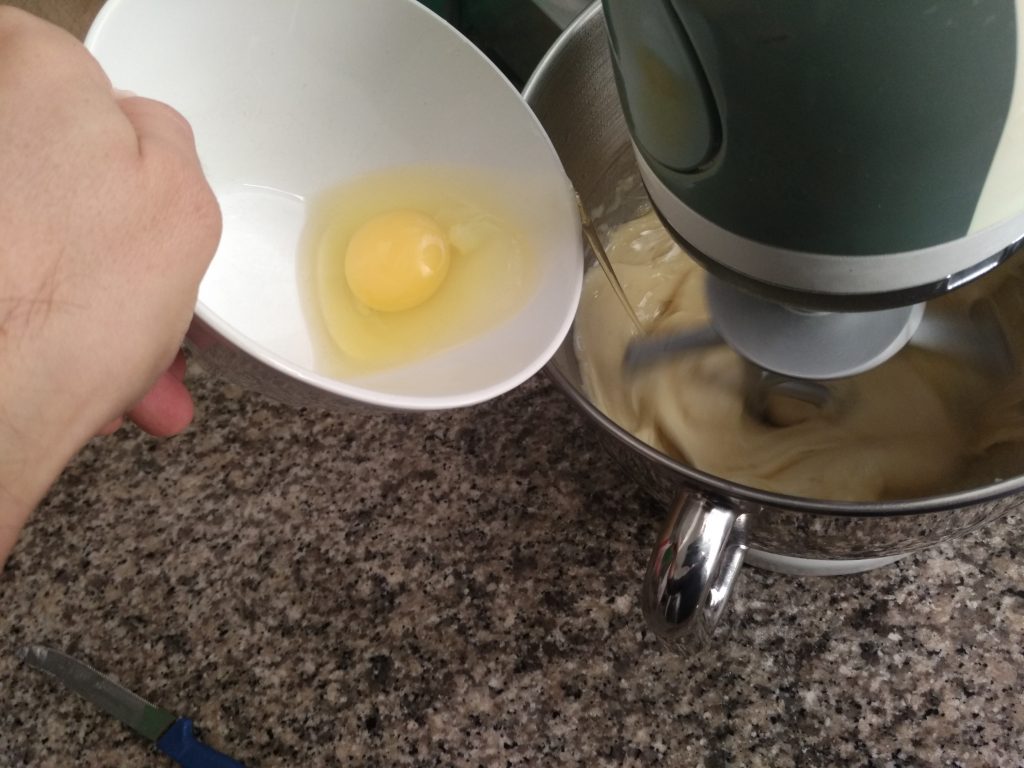 How many eggs we need to insert into the Pâte à Choux?
The most important rule is just observing the dough and check for consistency. Keep in mind that after every egg addition the dough will break apart and it will be smooth only after a few seconds so no need to panic (I did).
My tip about the eggs is just keep the last egg aside and scramble it, this way you could add a smaller portion of egg if needed, you could add ½ an egg easily and have your dough perfect.
The mixture should be with a firm body, smooth, sticky and flexible. You could check that the dough is successful if after lifting the mixer paddle you will end up with a dissolving ribbon (or V mark).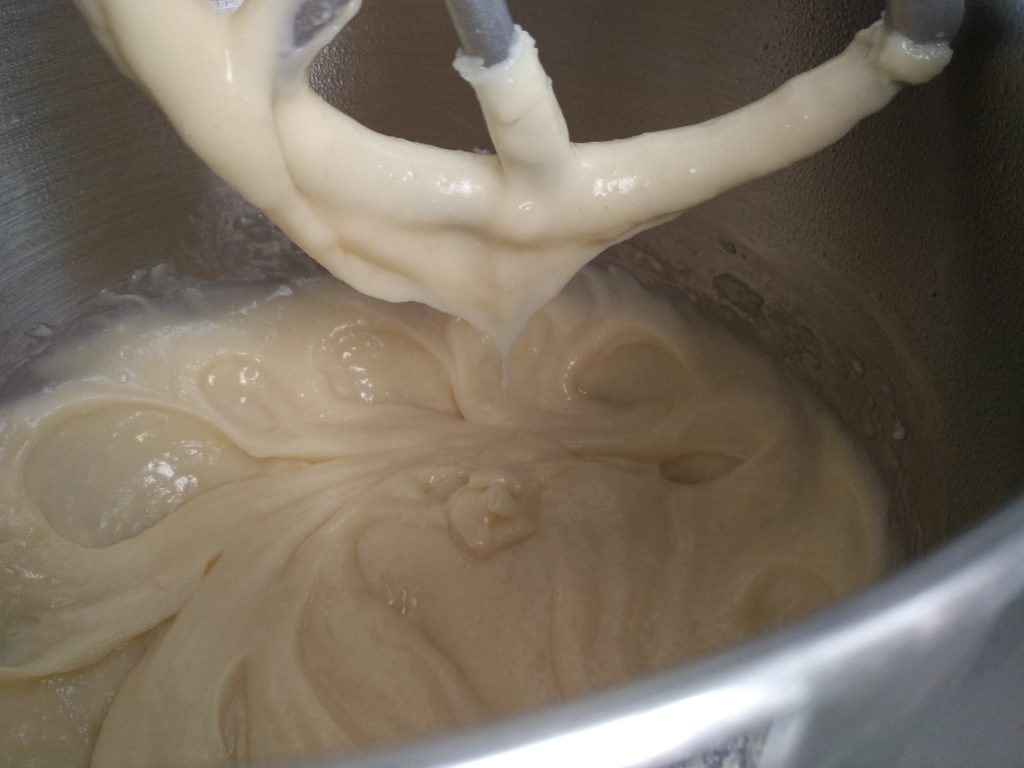 Shaping the Pâte à Choux
It does not matter if you are doing cream puffs or eclairs, I would strongly recommend using a pastry piping bag.
the dough is sticky, so yes, it's possible to spoon it to a parchment paper but if you really want to get a shaped Pâte à Choux put it in a piping bag. I would also refrigerate the piping bag for about an hour to help the dough shape up in a more stable structure.
A nice idea i got from Thomas Keller for accurate and unite shaping is piping the Pâte à Choux into molds and freezing it for couple of hours. The freezing will allow you to take out the Pâte à Choux easily from the molds and the nice part is, you bake the dough frozen, yes it works! In this method you can actually keep the dough inside the molds covered in a plastic wrap and use them as needed. they can be kept in the freezer for up to 30 days.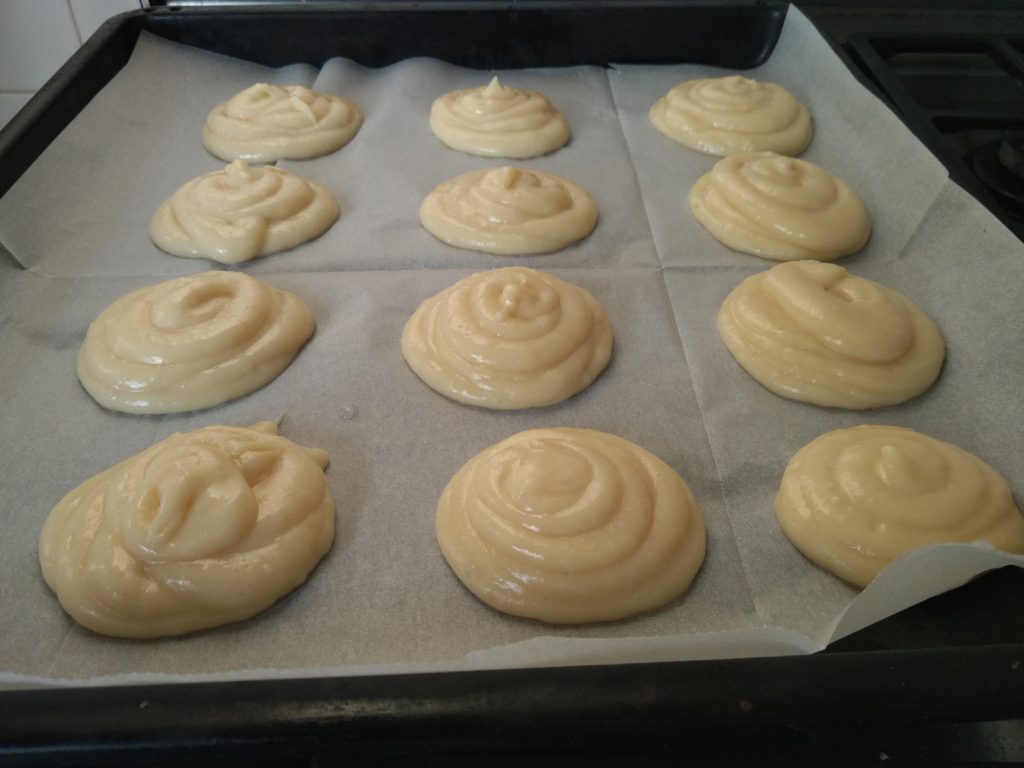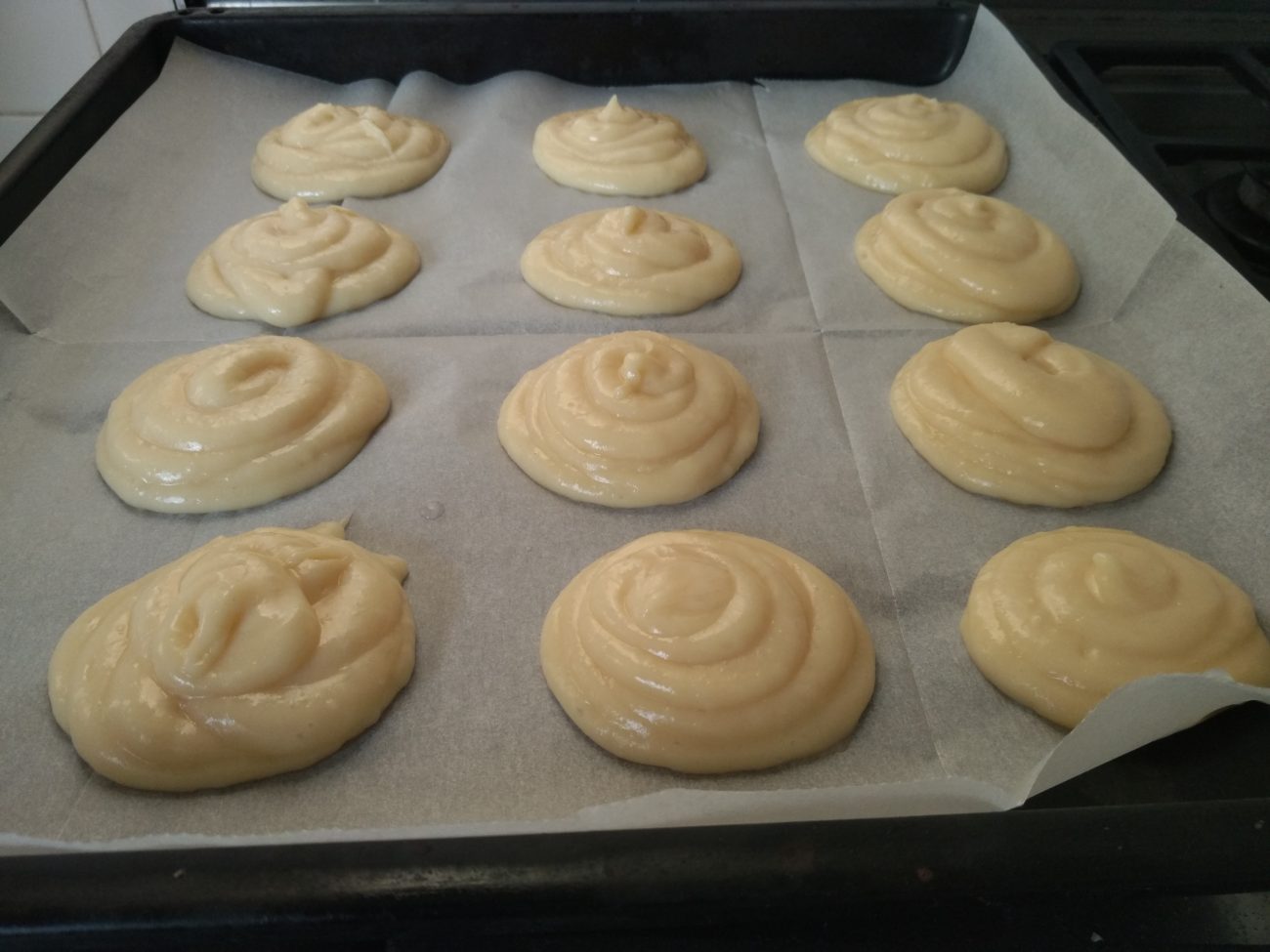 Baking the Pâte à Choux
Baking the puffs is done in 2 stages, first stage is set to 180°c/375°F for about 15 minutes. at this stage, we want to create a steam reaction or heat shock in the puffs in order for them for them to triple their size. The second stage is baking them on 170°c/340°F in order to dry them out completely.
Pâte à Choux is fun, light, crispy everything we love about pastries, there is plenty of room for experimenting with this amazing dough, so why not give it a shot?
(Visited 273 times, 1 visits today)