Ingredients
3-4 cobs

Corn

cooked about 15 minutes

1/2 sliced lengthwise

red Onion

a few branches

coriander

can be replace with parsly as well

Dressing
Directions
When we think about a salad we usually think about a side dish which can accompany the main course and bring freshness into a meal or as a starter to open our appetite. The Lentils and Corn Salad is one of those salads that can function as an independent meal or as a refreshing side dish on the table beside the main course.
This salad is quite filling, the lentils deliver the protein which is missing in a vegetable salad and the lemon dressing delivers fresh flavors that makes you think you can eat a lot more of this salad (in spite the fact this salad is quite heavy).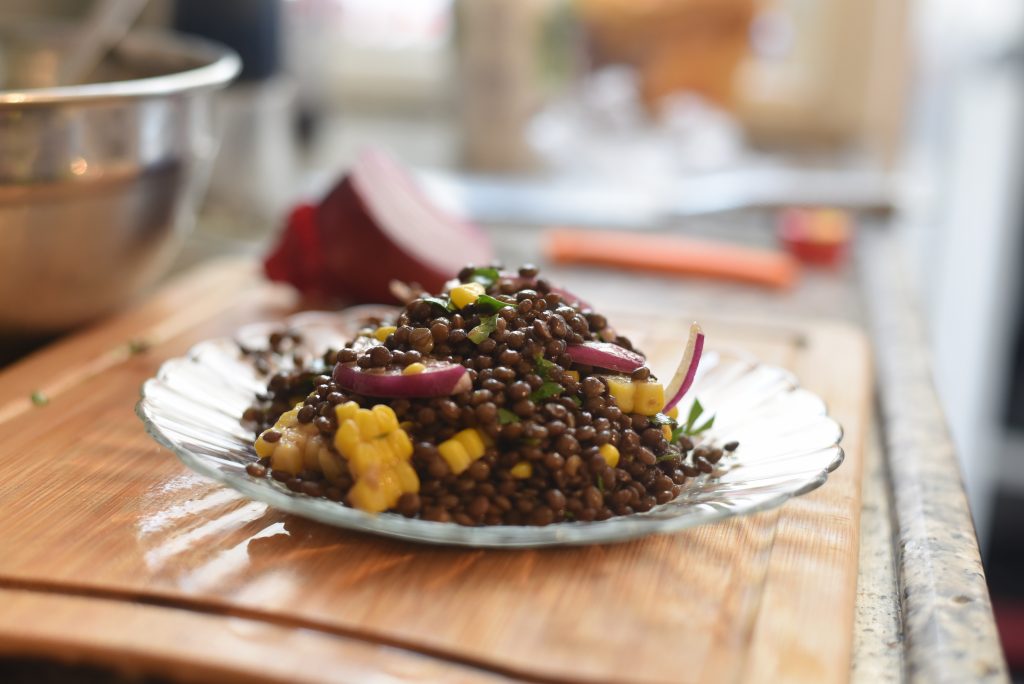 Making the salad takes less than 30 minutes top to bottom, lentils don't need long cooking time and once you got them ready, the rest of the salad take about 5 minutes to assemble.
The dressing in this recipe is just a recommendation, you can take it into different flavors depending on your mood, add cumin and powder coriander for Indian flavors or garlic and ginger for Asian feel, it's totally up to you.
(Visited 258 times, 1 visits today)
Steps
25 minutes

cooking the lentils

3 minutes

Making the dressing

Mix lemon juice, olive oil, salt and pepper and set aside.

Assembling the salad