Ingredients
7

Bread slices

can be a day-2 days old bread
Directions
Traditional bread pudding is sweet and can easily serve as a desert, this is not where we're going with this recipe.
Bread pudding which is often known as "Strata" is basically layers of bread, eggs and milk that creates a custard like texture and makes a great dinner.
How can you say No to bread pudding?
Do you know how it feels looking at an empty pantry thinking hmmmm what can I cook from all the basic ingredients hanging loose at semi-empty shelves?
This is what happened to me the other night while making excuses not to go out in a winter evening for shopping.
Bread pudding it is, I glittered when the idea popped out in my mind. I went to one of my favorite cookbooks for inspiration, Ottolenghi's vegetarian Plenty more, a must for all vegetarians out there.
I tweaked it a bit to match the ingredients I have in my house and went to make dinner, it's pretty easy right? everybody loves bread pudding, what's not to love about a custard egg-milk-bread combo?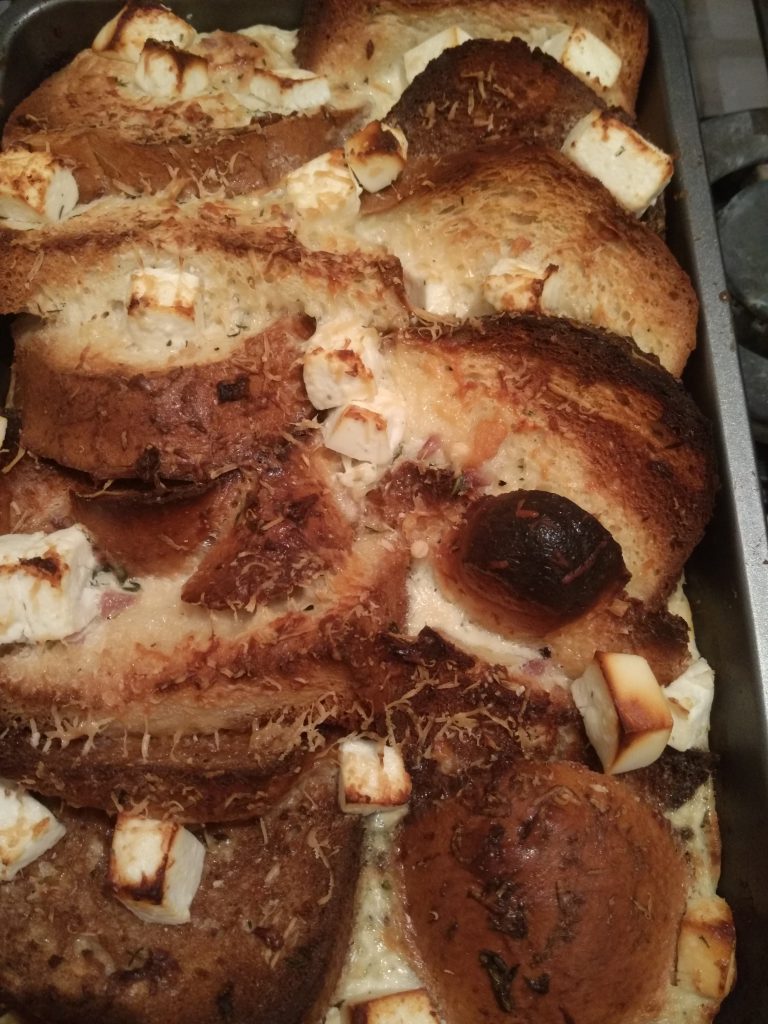 Italian style bread pudding basic road to success
Yes, you can go wrong with bread pudding, and No, you don't just mix it up everything and end up with gorgeous strata. 
Use toasted bread, after we will add the egg-milk mix the bread will absorb less fluids and will be more crunchy
*you can use any bread stale or fresh, the common belief is that stale taste better, it's not, I tried all variation and after toasting it they will taste the same. Using stale bread is the best alternative for making the best out of our old bread though.
Do not overbake, we want the custard to stay a bit runny so every slice of bread pudding will have some sauce.
There are many variations for strata, you can add mushrooms and olives, artichokes, it can be spicy or cheesier, you're calling the shots here (actually your pantry is but let's not get into that…).
(Visited 454 times, 1 visits today)
Steps
30 min

Prepare the Pudding

Cut bread slices into 2cm/ 1 inch thick and cut every slice in half, toast in the oven on 160°c/ 330°F for 15 minutes.
Meanwhile throw onions to a medium saucepan and cook for 2 minutes until transparent, add the garlic and the thyme and cook for 2 more minutes.
Pour the milk and double cream, bring to a gentle simmer.
Break the eggs and place in a bowl, add the milk mix slowly and whisk constantly to create a custard.
Add a pinch of salt and 1/2 a teaspoon of black pepper.

20 minutes

baking time

Preheat the oven to 185°c/ 370°F.
Place toasted bread on a 22cm x 29cm pan (10 x 10 x 2 inches), pour the eggs and milk mix over the toasted bread slices.
Spread the feta on the bread and grate the Parmesan on top.
Put the pan in the oven for about 17-20 minutes, we don't want to get the bread pudding completely dry so make sure to take the pan out no longer than 20 minutes.