Ingredients
60 grams (4 tablesppons)

melted Butter

finishing

Butter or oil for the cooking
Directions
Oatmeal pancakes is the proof that pancakes can be both tasty and with high nutritional values.
I started looking for alternatives for regular white flour pancakes when I noticed I'm making them every Saturday morning, this is my usual breakfast and the kids love it however I wanted this dish to be more nutritious.
General guidelines for Oatmeal pancakes
Every pancake is essentially a mix of eggs-flour and milk (or buttermilk) which varies in the ratio from one recipe to another.
What makes pancake puff and be fluffy and light? there are no yeast in the mix right?
The answer is the baking powder and the baking soda, each of them has its own role in making the pancakes light and fluffy.
Oatmeal pancakes science behind breakfast
In Gluten based foods, in order to make the bread, cake, or whatever we want to rise, we use yeast. Problem with them in pancakes is that they are slow acting and we need a fast-chemical reaction for these oatmeal pancakes.
We have 2 very good combinations to use here;
First one is if we use buttermilk, with this option we would want to use baking soda. Baking soda is basically an alkaline powder which also referred to as sodium bicarbonate, it's a base, Buttermilk is acidic, mix them together and you will end up with carbon dioxide gas (the bubbles in the pancake).
If using buttermilk-baking soda combo we would want to cook the oatmeal pancakes fast to keep as many as bubbles possible in the batter (yes, they disappear).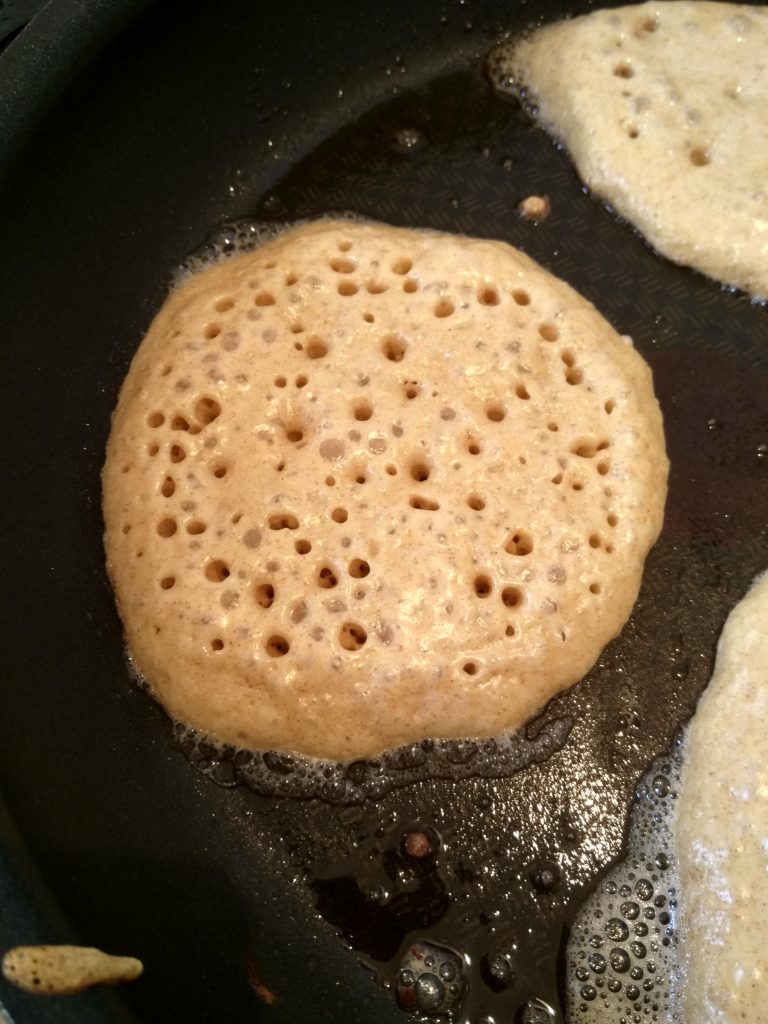 The second option is if you are using milk.
You would want to use Baking powder with milk, the reason is because milk is not acidic (like the buttermilk). baking powder is a baking soda mixed with a powdered acid agent so it's a great pair for the milk option.
When the dry baking powder is mixed with the fluids it reacts and the bubbles appear.
The modern baking powders have even gone a step further and contain an additional acid which reacts to heat and creates a second round of bubbles. This is called double acting baking powder.
Oatmeal pancakes coming your way
In this recipe, I actually use both powders, baking powder and baking soda because I use both dairy and buttermilk and I want to get a strong chemical reaction to get my pancakes airy and fluffy.
the oatmeal pancakes are a bit heavier than the regular white flour pancakes so we need all the help we can get in order to make them in the correct texture.
This recipe is flexible and you can exchange the whole-wheat flour or oatmeal for regular white flour or change the butter into oil (or coconut oil), totally up to you, either way this will come out great!
(Visited 396 times, 1 visits today)
Steps
15 min

Prepare Pancake Batter

Crush the oats in a food processor to create oat flour.
Add the oat flour into the bowl of a food processor with the sugar and eggs and whisk for 2 minutes.
In a separate bowl mix all the dry ingredients, flour, baking soda, baking powder, salt and add to the food processor.
whisk one more minute and add the buttermilk and the melted butter in a steady drizzle.
If the batter will be a bit thick, it's OK, if more than desired please add 2-3 tbsp of milk and mix.
At this stage, you can take the batter to the fridge for half an hour to help flavors combine, cooling also helps forming a much nicer and steady shape, this is totally optional.

cooking time

Heat a large iron skillet over medium heat, add the butter, when it melts pour the pancake mixture directly on the pan or into a ring (to form a nice shape), cook until bubbles start to appear and flip them over, cook for another minute and take out.
Serve warm with maple syrup or any other topping you like.