Ingredients
2

Leek

only the white part

5-6 branches

parsley

chopped

5-6 branches

Dill

chopped

6

filo sheets

thawed and covered with a towel
Directions
I was first introduced to spanakopita about 20 years ago, while visiting a small-town tavern on the island of Santorini in Greece. Menu was in Greek, I had no idea what to order, So, I just did my usual thing when I don't understand the menu, I ask the waiter to bring me a bunch of his favorite dishes.
In most cases this ends up in an overpriced selection of dishes that the restaurant wants to get rid of, but in this case, it was a small family tavern and I got one of the best Greek meals I ever had, among them was the spanakopita which caught my attention right on the start.
It was years after that meal which I came across spanakopita, in an article about Greek food in a magazine, I knew right away that I must make this great spinach filo pie and since then it's one of those dishes I always go back to, changing the version, desperately trying to reach the distinct memory taste I have on my mind from that small tavern.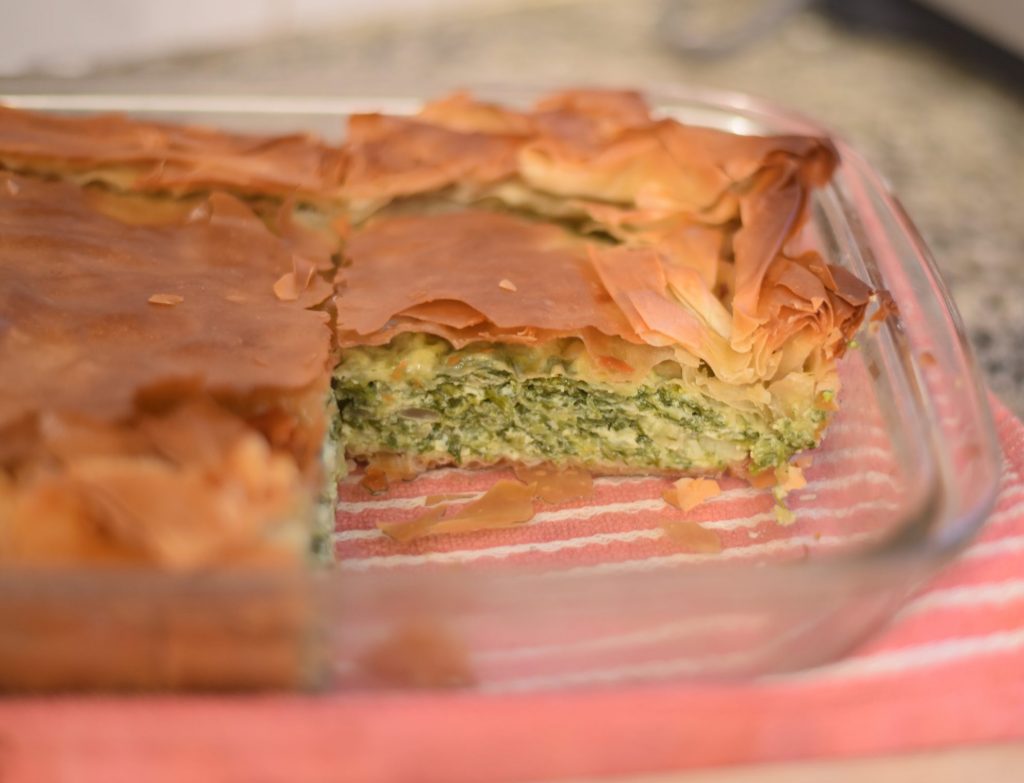 Traditional Spanakopita guidelines
You can't go wrong with spinach feta filo, right? well, you can, I've tried awful spanakopita's over the years and I believe the key to a good dish is keeping the proportion between the herbs and greens and keeping the filo (phyllo) layers nice and crunchy.
Spinach is the heart of this dish, and should be treated as such, I just blanch it for no more than 3-4 minutes and soak it in ice water, I want it in to be crunchy and bright green (don't forget that the spinach will be baked so if it's not 100% soft, it's OK).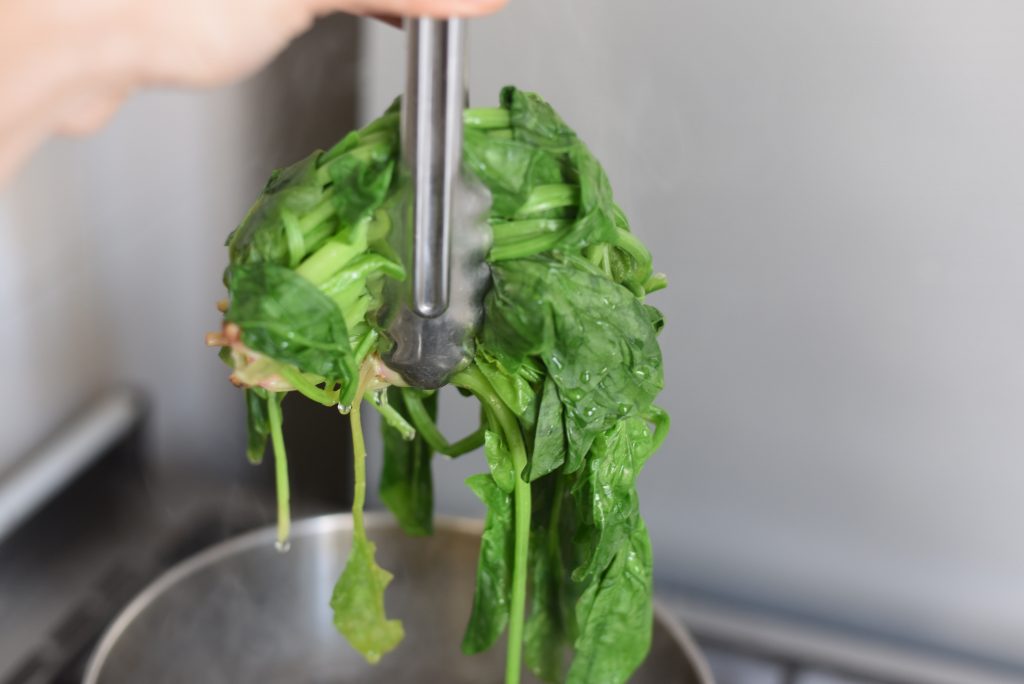 Remaining green herbs are not thrown into the spinach mix but added to the eggs bowl mix, I want to keep them fresh, giving them minimum tempering, they are the natural seasoning of this dish and should be kept fresh.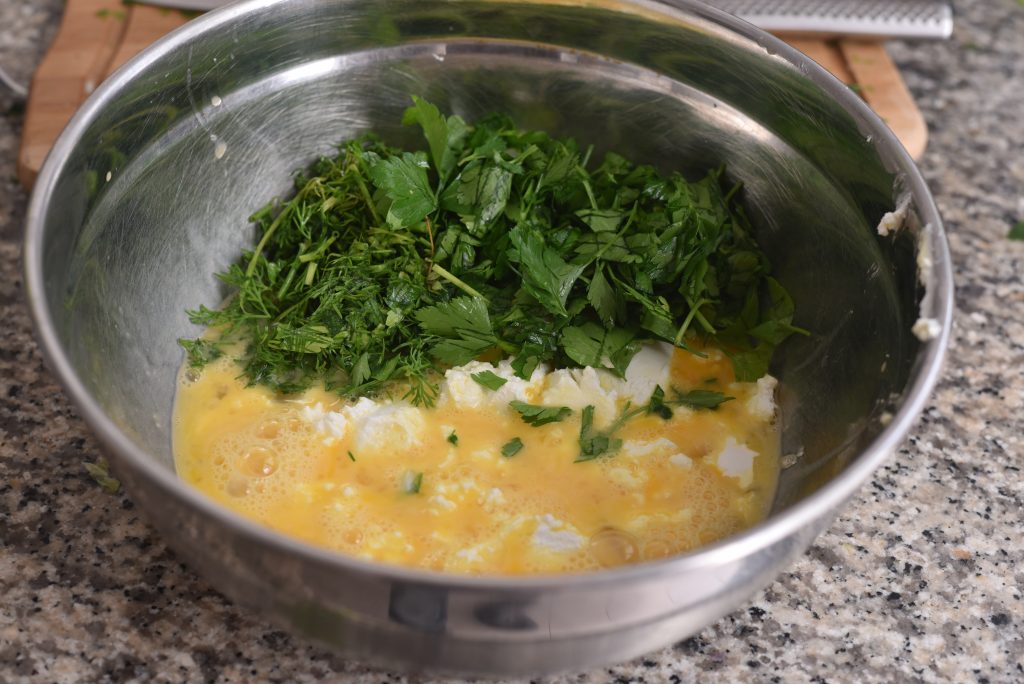 The method
Spanakopita is a feta spinach filling which are wrapped by filo sheets. The filling is wet so we need enough filo sheets to hold it together, I use a minimum of 3 sheets, less that that will not hold the pie stable.
Filo is a thin sheet dough with zero fat, in order to tie it together we need to insert some kind of fat, else it will go dry and break.
I use olive oil according to the traditional Greek method but if you want to enrich the pie you can use melted butter or regular oil, it really doesn't matter as long as you brush the filo layers thoroughly, this will ensure that the layers will be nice and crispy and will not break.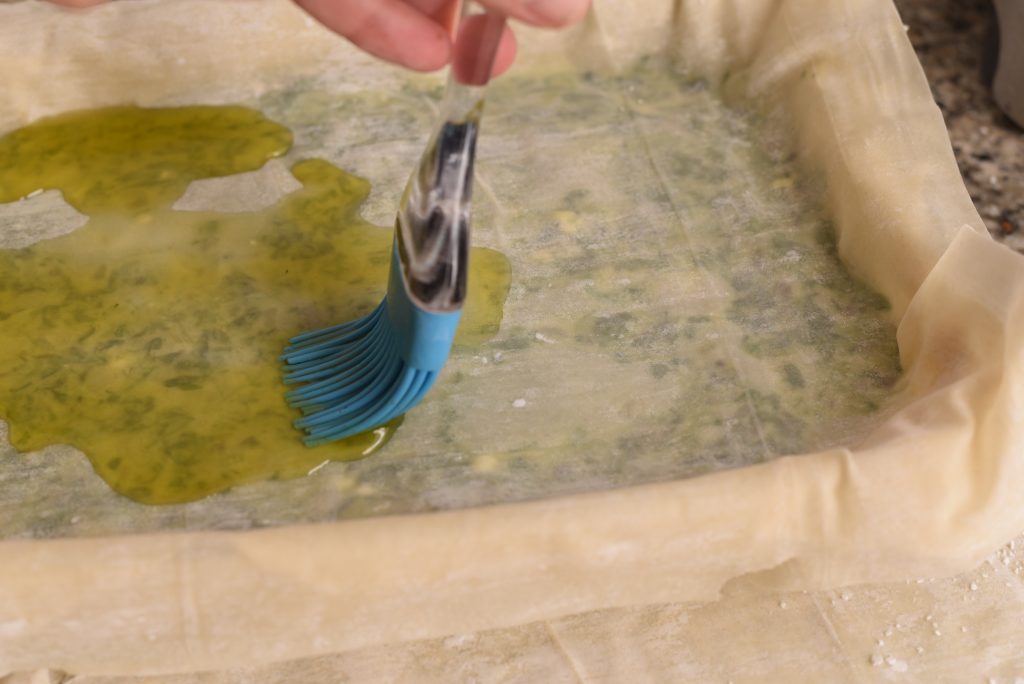 Let's dig into this great Greek pie and you'll see it is really easy pastry that give you a lot of leeway for personal interpretations. 
(Visited 493 times, 1 visits today)
Steps
blanching the spinach

Set a large pot with water on high heat.
Prepare a bowl with ice water.
Wash the spinach and dry it out.
When water comes to a boil insert the spinach, it may take 2-3 batches to get the amount of spinach blanched.
Cook the spinach in the boiling water for 2 minutes and immediately place in the ice bath.
Dry the spinach chop finely and set aside.

10 minutes

cook the spinach filling

Set a large iron skillet over medium-high heat.
Coat the skillet with 2 tablespoons of olive oil, add the red onion and leeks, stir for 3 minutes until fragrant and add the garlic for another 2 minutes.
Add the spinach and thyme to the skillet, pour 2 more tablespoons of olive oil and season with salt and pepper.
Set aside for 5 minutes to cool.

3 mimutes

combine the egg filling with the spinach mix

10 minutes

assemble the Spanakopita

Preheat the oven to 180°c/350°F.
Brush the sides of a 9-by-13-inch baking pan with olive oil and lay the first filo sheet on it.
Brush the filo sheet we laid on the baking pan with olive oil until completely covered and lay the 2nd filo sheet on it, brush the 2nd layer of dough as well and lay another filo sheet on top of it.
Pour the spinach-egg-feta filling on top of the filo dough.
Lay another 3 layers of filo sheets on top of the filling, with the same method of brushing each layer with olive oil.
Fold the sides and corners of the dough towards the inside of the pan and brush them and top of the filo sheet with olive oil.

40-45 minutes

baking the Spanakopita