Ingredients
Mushroom Leeks Calzone

650g mushroom mix

I u650g mushroomsed Oiter, cremini and button mushrooms

2

Leek

only the white part

60g / 2 oz

Mozzarella cheese

For the Bolognese Calzone

30g/ 1 oz

Parmesan cheese
Directions
One of the high points in making a pizza, except the pizza itself …. is using some of its dough to make Calzone.
A calzone in Italian means "stocking" or "trousers", it comes out of its shape that resembles a pocket, and what a great pocket it is, you can use your imagination to fill it with your favorite ingredients.
The traditional Italian type is stuffed with salami, prosciutto, ricotta parmesan or pecorino, with or without tomato sauce, and egg is optional as well.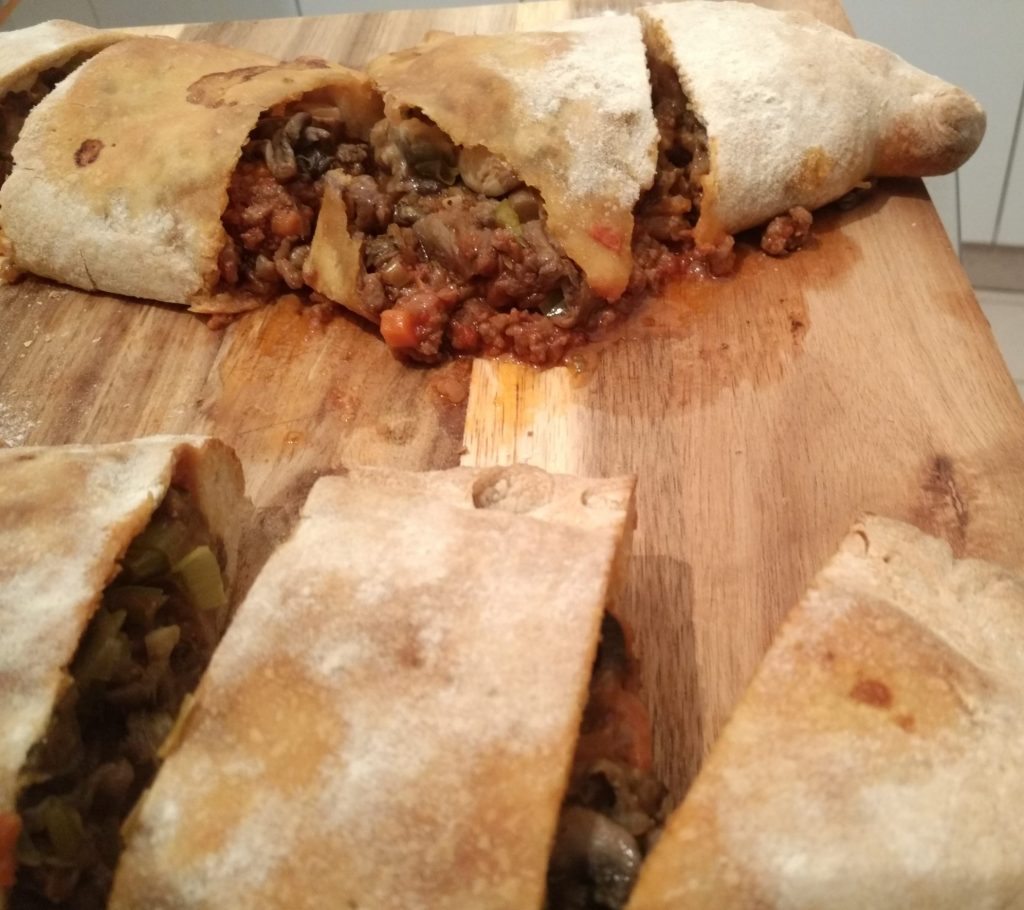 History first
The original calzone (or Calzoni) were made from bread dough, some are still made from bread dough today, especially in Italy, in the United states it is made from pizza dough folded and stuffed.
The Calzone as known today origin in Naples around the 18th century, it was first introduced as a street food, "Walk around pizza". It is possible to fold the pizza dough and walk with it since the Italian pizza is much smaller than the American Pizza.
Pizza is less portable and the amount of filling you can use on it is not as diversified as for calzone. Due to its pocket shape it can hold ingredients that the regular Pizza toppings can't support, like various kinds of meats, and high amount of cheese.
Calzone Preparation
I'm using thin crust Pizza dough, I prefer it to be crispy and not to be heavy as a bread dough.
The basic idea is to open a pizza dough just as you would do to a regular pizza fill it out with your favorite sauce, vegetables, meat and cheese and closing it to a half moon shape while pressing the edges to make sure it is sealed.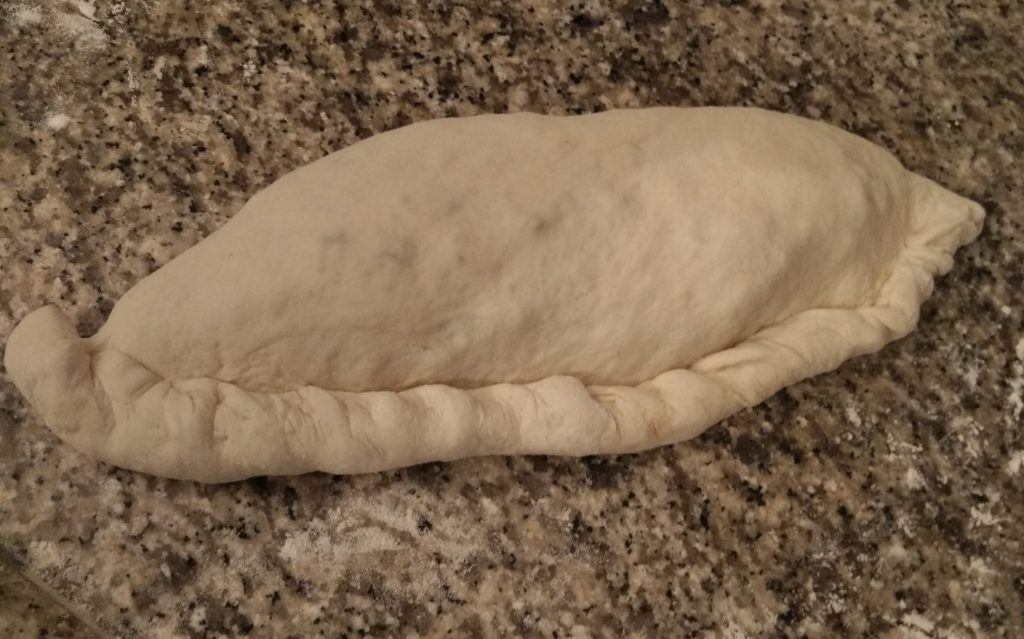 I created 2 different fillings, a Mushroom Parmesan bolognese sauce and a mushroom, leeks, Garlic, white wine, mozzarella, they were both great however you can use whatever you have in the fridge since this great pockets can hold big amount of filling, I would know as I usually push the calzone to its limit.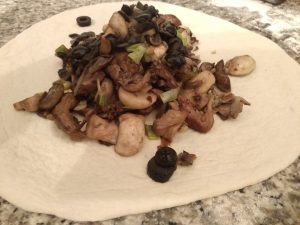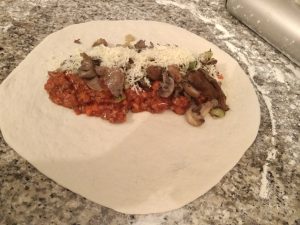 Baking time
Baking is pretty similar to Pizza, I'm not using any egg wash as some recipes do, I want the hard crust of the pizza dough to shine and not the egg wash brownish color which can be sometime deceiving since its reaches golden brown color way before the dough is ready.
So, bake it in the highest oven temperature which is usually 250°c/500°F for home kitchens and use all the tips for great pizza baking I talked about in the past and you'll have a great Calzone.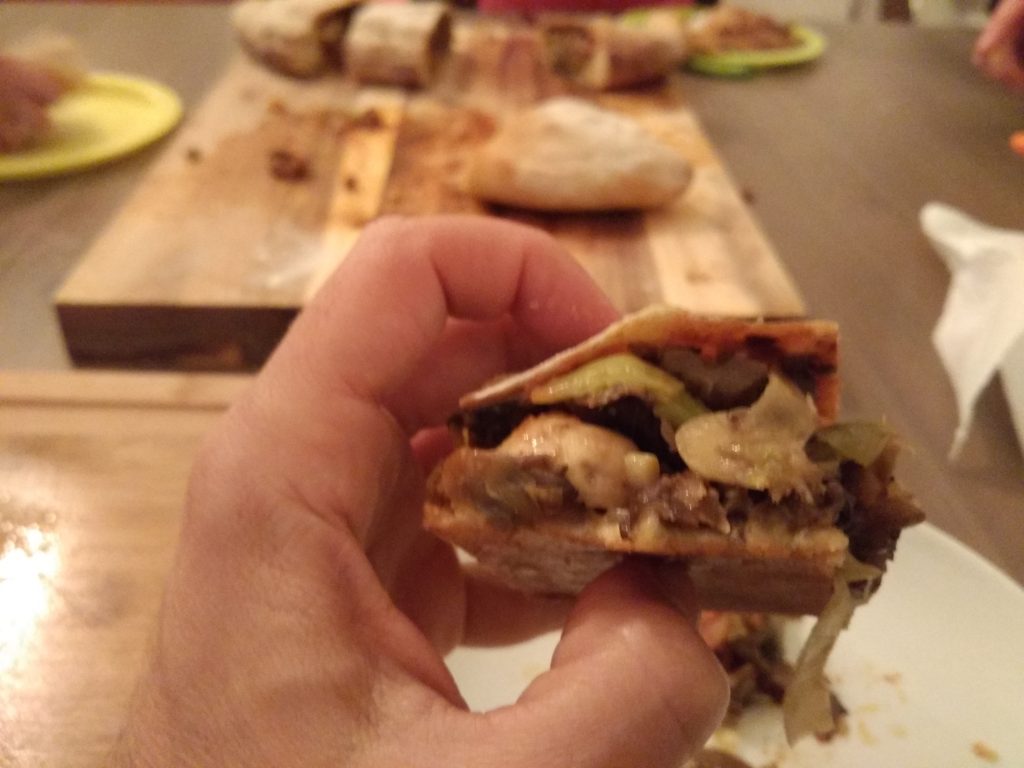 (Visited 799 times, 1 visits today)
Steps
10 minutes

Making the mushroom mix

Set a large Iron skillet over high heat until smoking hot.
Add the butter and the mushroom mix, stir for 4-5 minutes until the mushroom begin to golden.
Add the Garlic and mushrooms and olive oil, cook for 3 more minutes.
Pour the white wine, season with salt and peppers and reduce heat to medium-low, cook for a few more minutes until most of the liquids evaporate.

45 minutes

Making the bolognese filling

According to the instructions here.

10 minutes

assembling the calzones

Preheat the oven to 250°c/500°F
Set 2 balls of the Pizza dough on a floured working counter.
Flatten them out to a circle shape around 1 inch thick.
Place the mushroom mix, mozzarella, tomato sauce on one calzone and the Bolognese, mushroom mix, parmesan toppings on the other calzone.
Fold each calzone and tighten the edges pinching the dough.
Make small holes with your fork in order for the steam to break out of the calzone so it won't get puffed while baking.

20 minutes

baking the calzones