Ingredients
1.3kg/ 3lb boneless chuck steak

cut into big cubes

2 tbsp.

all purpose flour

4 medium

Carrot

cubed into bite size pieces

2 finely chopped

red bell pepper

450g/1lb

Potatoes

big cubes
Directions
I've always liked a good beef stew, especially in the cold winter days, the Hungarian goulash is one of the best option, a real strong flavors hearty stew.
There are many variations to goulash, it can be made with veal, pork or even chicken, in the US it's common to make it with ground pork or beef over macaroni pasta, in Germany it's served as a soup with potatoes, even the term itself "goulash" is sometimes confused with some other Hungarian dishes.
Hungarian Goulash variation dishes
So, let's start from the beginning, what is exactly goulash?
Goulash or "gulyás" is a beef stew or soup made with bell peppers, potatoes and seasoned heavily with Paprika.
In Hungary, you can find both versions soup and stew, as we'll see, its important to know what are the variations before we order what we call goulash, in Hungary you might get something you didn't expect.
Goulash if served as a soup, will come with beef chunks floating in it, if as a stew the sauce will be thicker and with more vegetables. 90% of the time when you order goulash in Hungary you will receive the soup, for the stew you will need to order the Pörkölt, I'll elaborate more about this dish below.
There are few variations in the Hungarian cuisine to our sense of goulash, true, they all seasoned heavily with paprika but still there are some differences, let's make some order…
Paprikas or Paprikás is also a paprika based stew however it is usually made with chicken or veal and served with sour cream on top. In many recipes over the net goulash and Paprikas are considered the same dish, they are not.
There is another version we might confuse with goulash, it is called Pörkölt which is similar to goulash in any way although has less liquids and no tomatoes.  You can think of Pörkölt as the goulash stew cooked way more time than the soup so most liquids have evaporated and there is just a thick hearty stew left. Another variation is that the meat is diced a bit bigger than goulash and there no potatoes or less potatoes.
there is another version which is called Tokány , it is similar to a ragu texture and much more dry, in fact, in this dish we use strips of meat and seasoned with oregano and black pepper.
Guidelines for the Hungarian Goulash
If quoting the master of goulash, George Lang:
"The more parts of beef and beef innards are used, the better the gulyás will be. Of course, lard, bacon and chopped onion are absolute musts."
like any beef stew  I look for a rich flavor, and the goulash stew is no different, I use in this stew, chuck steak cubes and marrow bones in order to get the aromas I want in the stew.
I also recommend oven baking the Hungarian goulash for at least 4 hours in the oven in which it will develop the texture, the deep flavors and reach its potential.
In my Goulash I don't use bacon, I find it to affect the final flavor way to much, i prefer the use of marrow bones in order to get to deep flavors and the desired fat content for this stew.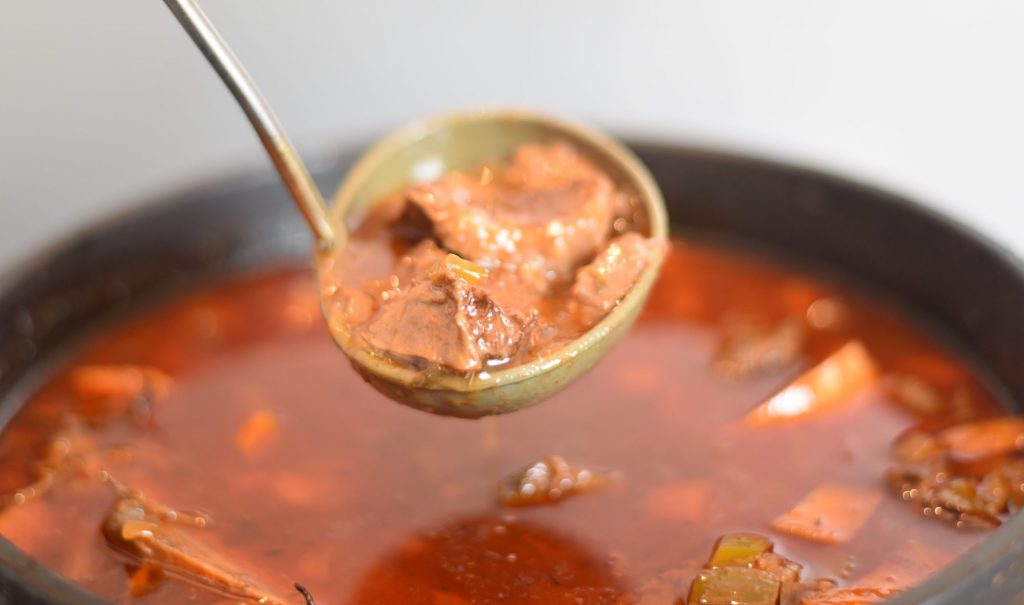 Anyway you look at it, the Hungarian Goulash is a rich comforting stew, so get ready for a good nap afterwards and bring enough bread to wipe out the sauce, you'll need it.
(Visited 673 times, 1 visits today)
Steps
7 minutes

searing the meat

20 minutes

finishing the stove cooking

In the same Dutch oven, add the onions, celery, carrots, bell peppers, garlic and cook for 7 minutes. Place the marrow bones on top, add water for about ¾ of the height of the pot and return the meat to the pot.
Add the potatoes and season with paprika, bay leaves and allspice, mix well and add the tomato paste.
Preheat the oven to 130°c/260°F.
Bring the pot into a simmer and add the salt, pepper and thyme.

baking the Goulash and serving