Ingredients
at least 10 branches

Thyme

1.5 cups/ 325 g

Tomato paste

4 cups/ 900 g

canned crushed tomato

good Italian plum crushed tomatoes
Directions
According to the Italians making a tomato sauce is a serious task and cannot be taken lightly.
Many years back I was travelling in the United states and came across a nice old Italian couple in Texas, it was summertime and they invited me for a cold drink. walking to their house I noticed a huge boiler can or a really big pot, in their garage which the door was half opened.
It was half my size and if I had to guess it was probably about 30-40 liters (8-10 gallons).  this huge pot was holding on bricks and below it was sort of an improvised gas stove.
This certainly caught my attention and when I asked about the content of this pot they said they are making tomato sauce for the entire year and that its been sitting on this stove for the last 2 days and the next day they will can it and use this tomato sauce for the rest of the year.
I was truly fascinated by this I have never seen so much tomato sauce in my life but the old couple explained that the tomatoes are now in the pick of their taste and it's the perfect timing for a sauce.
Well, since then I made plenty of tomato sauce, the variation are huge and can vary from adding wine, chicken stock and even flour.
Cooking time is also an important factor when making a tomato sauce and it can vary from 1 hour to 3 days. the idea behind the long cooking is that we want all the liquids and the solid parts of the tomato to blend in order to achieve a smooth tomato sauce that can be used for various dishes like lasagna, soup or pasta .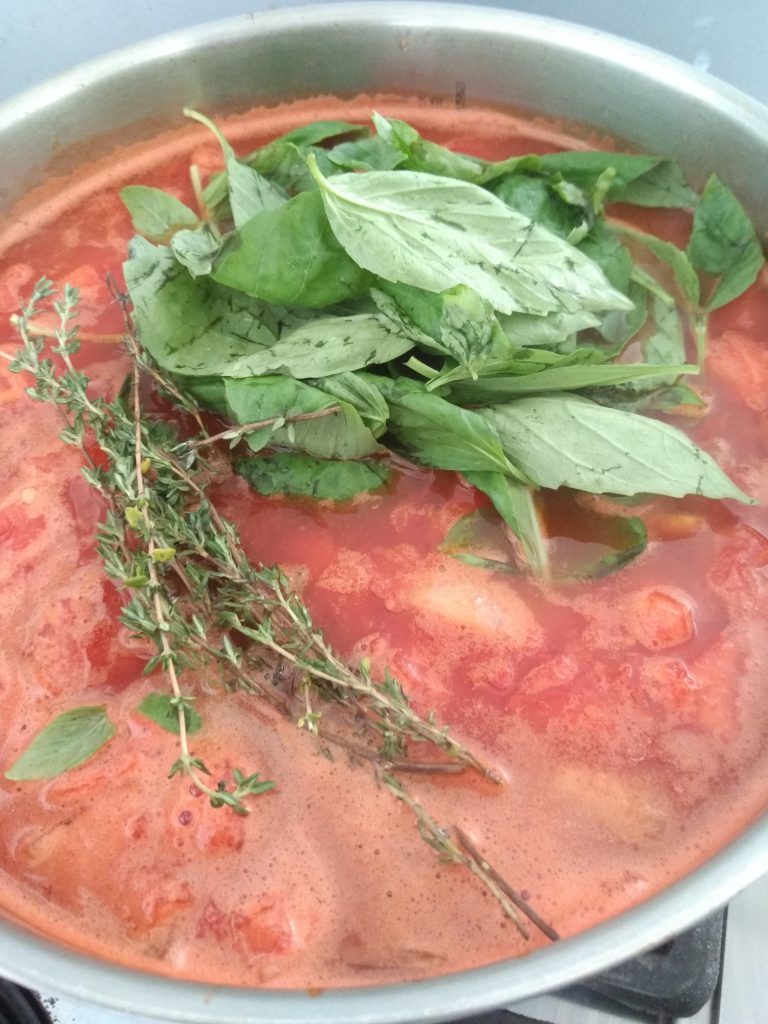 The method of making tomato sauce
First, I will say this, in winter time the tomatoes taste a bit watery and only reach the pick of their taste in summer. tomatoes need the sun in order to develop the rich sweet flavor which is what we need in our tomato sauce.
So, we use a blend of ripe fresh tomatoes and cans of quality crushed tomatoes (go for the quality brands), mix it all with tomato paste for extra strength and sweetness.
We start out our sauce with sautéed onions with some olive oil in order to get all the sugars out of the onions, afterwards we add the fresh tomatoes, carrots, crushed tomatoes, tomato paste, garlic water and herbs. 
In this recipe, we don't add any sugar, it's absolutely not necessary we have so many vegetables that hold a big amount of sugar in them.
I also like to add carrots to the tomato sauce, they add to the sweetness of the sauce and also give a nice solid body to it making it less runny and more stable.
It's not necessary to bring the sauce to the boiling point a gentle simmer is enough, at this point the sauce should be cooked for at least 4 hours, it's essential if we want to make the best of it.
Smooth or lumpy tomato sauce?
I like my tomato sauce smooth and with no lumps or any pieces of vegetables so I grind it to a smooth paste and bring it to cook a bit more in the smooth form to evaporate some more liquids to achieve a more concentrated tomato taste.
Making a big quantity is the best way to really enjoy all the efforts we put for the sauce, so make sure you have plenty of jars or zipper bags cause the sauce is holding great in the freezer and can also be stored in a sterilized sealed vacuum on the shelf.
(Visited 611 times, 1 visits today)
Steps
| | |
| --- | --- |
| 30 minutes | dice and cook |
| 4 hrs | add herbs and cook |
| 1 hr | crushing and reducing sauce |