Ingredients
25g/ 1oz

Butter

at room temperature

For Serving
Directions
How can we go wrong with a title like coconut pumpkin pancakes? it already contains my favorite ingredients, coconut and pumpkin.
I was trying to make a high nutrition pancakes for my kids last Saturday so I searched the fridge for the good stuff and I found a piece of pumpkin which I immediately paired it with the coconut, a great combination.
Coconut Pumpkin Pancakes – the ingredients
Cooking pumpkin is fast and easy, I love how it gets soft in less than 20 minutes, it make the pancakes making spontaneous, however cut the pumpkin into medium chunks in order to save cooking time.
I cook the pumpkin with one tablespoon of Cinnamon, it gives the pumpkin a great tangy flavor and it's as strong as to add cinnamon to the pancake batter.
There are few ways to get the coconut in the batter and I'll show some of them in my future posts, in this case I actually used coconut flakes that I added into the batter.
if you want to make these coconut pumpkin pancakes Paleo style you can use coconut flour instead of the regular wheat flour.
The batter
Making the batter is easy, I usually use the food processor to save time but a regular whisk and a bowl is just fine.
These pancakes will not be full of bubbles as the regular pancakes because the pumpkin and coconut flakes makes the batter heavier, but fear not, our pancakes will be light and fluffy.
Thanks to baking powder and baking soda, our two chemical catalysators, we will have enough bubbles and air inside the pancakes, I have discussed the contribution of these great powders in my whole-wheat pancakes .
Cooking these coconut pumpkin pancakes are the same as regular pancakes however I noticed that lower temperature and longer time on the pan will get us better results in terms moisture in the pancakes and preventing them from getting burnt.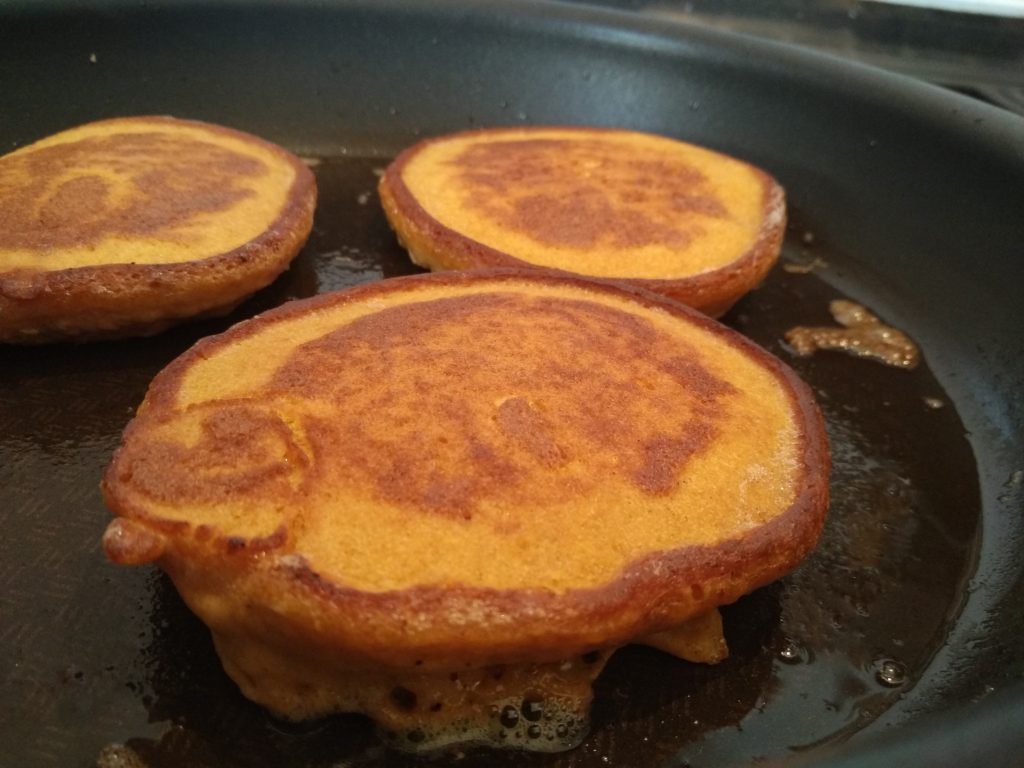 These pancakes have great color, aroma and taste, they are full with fibers and natural vitamins and low in sugar and fat, they make the perfect Saturday morning breakfast.
(Visited 409 times, 1 visits today)
Steps
| | |
| --- | --- |
| 25 minutes | Cook the pumpkin |
| 10 minutes | making the batter |
| 15 minutes | cooking the pancakes |
| 2 minutes | serving |