Ingredients
3

Onions

about 2 pounds of yellow onions chopped lengthwise

1

red Onion

chopped lengthwise

1 tbls

all purpose flour

for gluten free this can be removed

2 liters/ 8 cups

Beef broth

for serving

as much as needed

Bread slices
Directions
How come French onion soup is such a big deal in France? well, we can't mess with tradition and this is one of the best dishes every restaurant is making on a daily basis for decades and measured by its preparation level.
I've lived in Paris for 7 years, I arrived when I was a student and stayed a few years more, its a magical city that really gets to you. one of the things I miss the most is the french onion soup I used to have at 'La Jacobine', a small restaurant that has an amazing silky heavy texture onion soup covered with a lot of cheese, perhaps the best french onion soup I've had. In my opinion a good onion soup is the essence of the french bistro food, it's full of deep flavors which makes you wonder how exactly they were created from an onion.
Onion soup is a great way to see the transformation of a single ingredient from the raw shape to a bronze form which had created strong emulsion and had transformed into something completely different , strong in color and taste. this soup consist of two dominant flavors which are the onions and the beef broth, do not try to prepare this soup with a chicken broth it will lose its heavy silky taste which derives from the meet stock.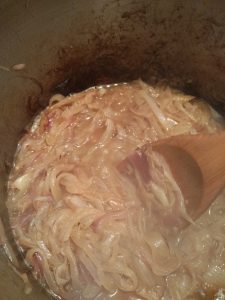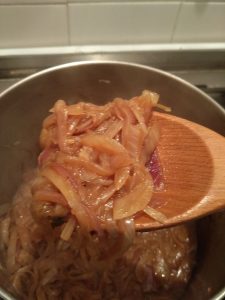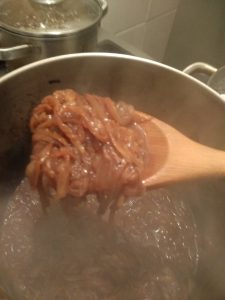 the flavor is coming from the time the onions are cooked in the pot, caramelizing all the sugars stored in them, with the butter creating a magical emulsion, this is the base of the soup and will determine if the Onion soup will be with strong flavor or weak, so put your efforts in the onions stirring, it's worth it.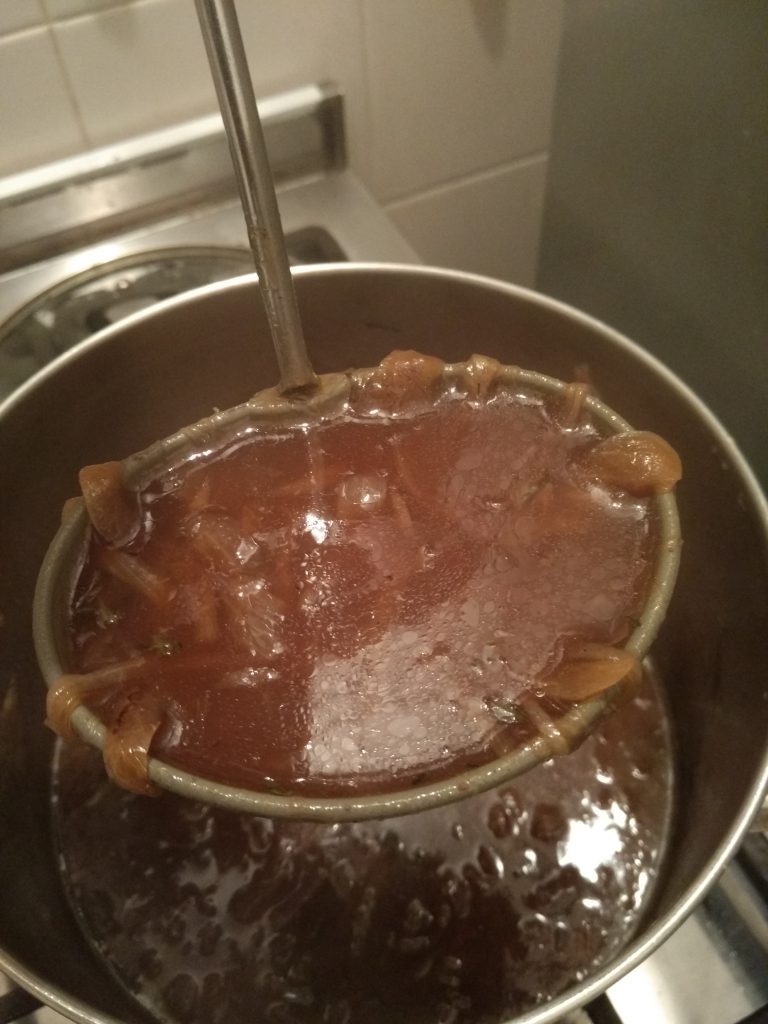 Why should I put so much effort into this french onion soup?
there are easier and faster soups and there is no doubt that this dish is demanding however this classic french cuisine is one of the most strong body and flavor soup you can ever find and if you are into french cooking you got to try it out.
(Visited 660 times, 1 visits today)
Steps
25 minutes

Starting the soup

Place a large sauce pan on high heat.
Melt the butter, add the onions and stir, at first it will look like its too much onions but don't worry it will decompress in a few minutes. from this point we will keep stirring the onions continually not letting them burn just making them caramelize, we will push them to the extreme.

15 minutes

getting deep flavors

place a medium sauce pan on low heat, add the beef broth, sage and thyme and cook for 30 minutes.
after 25 minutes of stirring the onions have formed a golden caramel color and we want to strengthen it, add the water and allow the onion to extract all the sugars out, keep stirring until the water evaporates and add the red wine, keep stirring until the alcohol disappears for 2 more minutes. add the flour and mix for another minute

finishing the soup