Ingredients
about 3½ kilo/ 10 pound

Thin Rib

with fat and bones

For the Mrinade

1

Pear

cut into big pieces

4-5

Potatoes

its optional but I like a nice side dish to go with the meat
Directions
Thin rib cut is often confused with short ribs, it's not entirely not true, I mean, both of them are coming from the rib area however the cut is different.
The first misconception about theses ribs is the name, they are not thin at all, in fact there is an equal amount of fat and meat in this cut.
It's basically layered meat over layered fat and we have about 3 layers of meat and fat in a traditional 3-4 kilo/6-8-pound piece.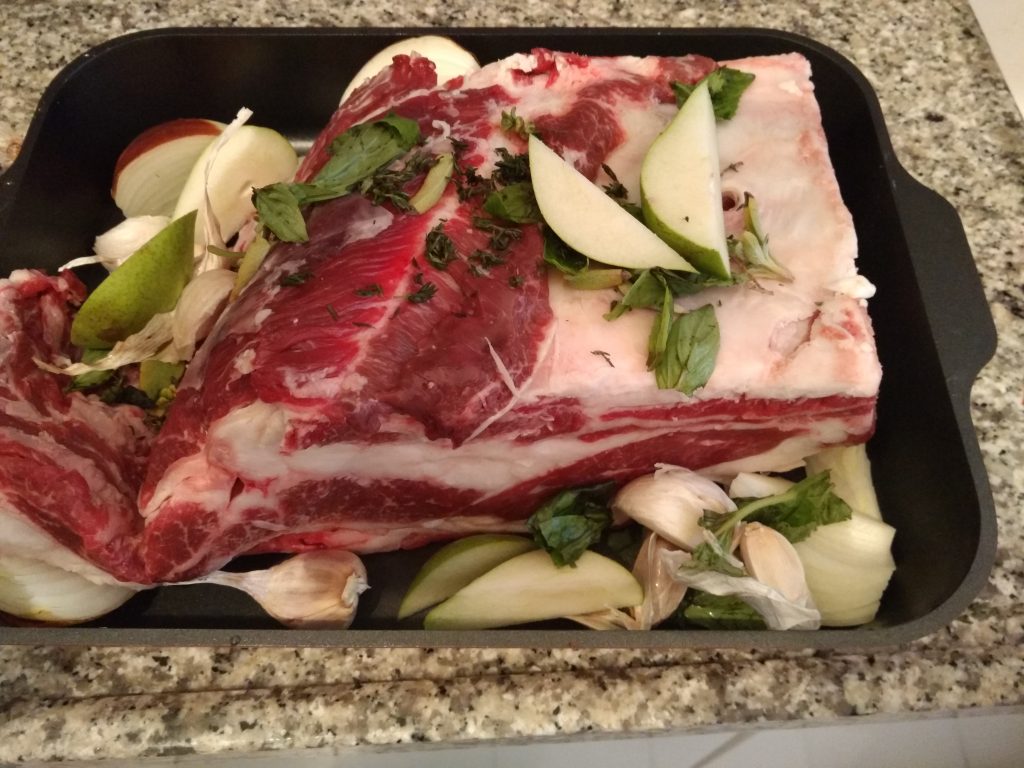 Cooking Thin rib
There are a few ways to cook this wonderful cut however the method always involves a lot of patience, this cut needs time, a lot of time, in order to really reach it potential in flavors.
It can be braised, oven roasted or barbeque grilled, it does not matter as long as we give it at least 3-4 hours. giving the thin rib even more time will resolve in a much more tender and juicy meat.
Don't worry about long oven cooking, if you cook it longer it will not get dry, it has a big layer of fat protecting it and melting into the meat making the it succulent and tender.
The method
First thing is to get a big chunk of thin rib from your butcher it has to be a minimum of 3 Kilo/ 7 pounds, it might sound big but the amount of meat we can eat is not more than a 1 kilo/ 2 pounds because there are bones and fat in high ratio vs meat.
The good news is that thin rib is actually very cheap and buying a big chunk will not cost a fortune.
Cooking process is simple and takes a minimum effort on our side. First, we marinate the ribs overnight (it can be in the marinade up to 48hrs), afterwards we place it in the oven for a minimum of 8 hours.
Oven temperature
The ideal oven temperature for an 8 hour roast thin rib is 140°c/ 275°F. It's important to flip the roasted ribs every 2-3 hours because there will be about 1-2 inches of liquid fat on the surface which will brown the ribs and make the outer surface crispy and moist so we want all sides to enjoy this.
If you want to cook for shorter period of time it's possible however keep a minimum of 4 hours, raise temperature to 160°c/ 320°F and flip the roast every hour.
Longer period of roasting is even better and an overnight roast is great just adjust the temperature to a lower heat of 120°c/ 240°F.
ok, let's get to business, here's the recipe for the oven roasted thin rib.
(Visited 1,350 times, 1 visits today)
Steps
8-48 hours

Marinading the thin rib

Place the thin rib cut in a baking pan add all the marinade ingredients: onions, garlic, basil, pears, mustard, salt and pepper.
Rub the ribs for a few minutes making the marinade covering every part of the meat.
Wrap with a tin foil and place in the fridge for a minimum of 8 hours and max of 48hrs.

8 hours

roasting the ribs

Take out the thin rib pan from the fridge at least 1 hour before you start the oven.
Preheat the oven to 140°c/ 275°F set on the grill top mode.
Place the ribs pan in the lower rack of the oven, add potatoes if interested (skin on) and roast for 8 hours.
Make sure to turn the ribs to the other side every 2-3 hours for an even roasting and for the roast to be cooked in the fat generated at the bottom of the pan in all sides
Take out the ribs from the oven and let cool for 20 minutes.
Clean the fat and bones, slice and serve.