Directions
Whenever I feel about a salty savory quick appetizer I make the Baked potato and Beet Chips.
it's the perfect side dish for entertainment beside a beer or glass of wine or simply with a nice dip besides it while watching a soccer game.
Baked potato and Beet Chips – How we make them
The process of making the chips is similar for every vegetable. the idea is to dry them out of their fluids so they become nice and crunchy.
In order to do that I need to set my oven into low temperature and cut the chips thinly so they will lose most of their fluids fast.
The best way to cut the vegetables thinly and evenly is with the mandoline however you can do it with a sharp knife as well.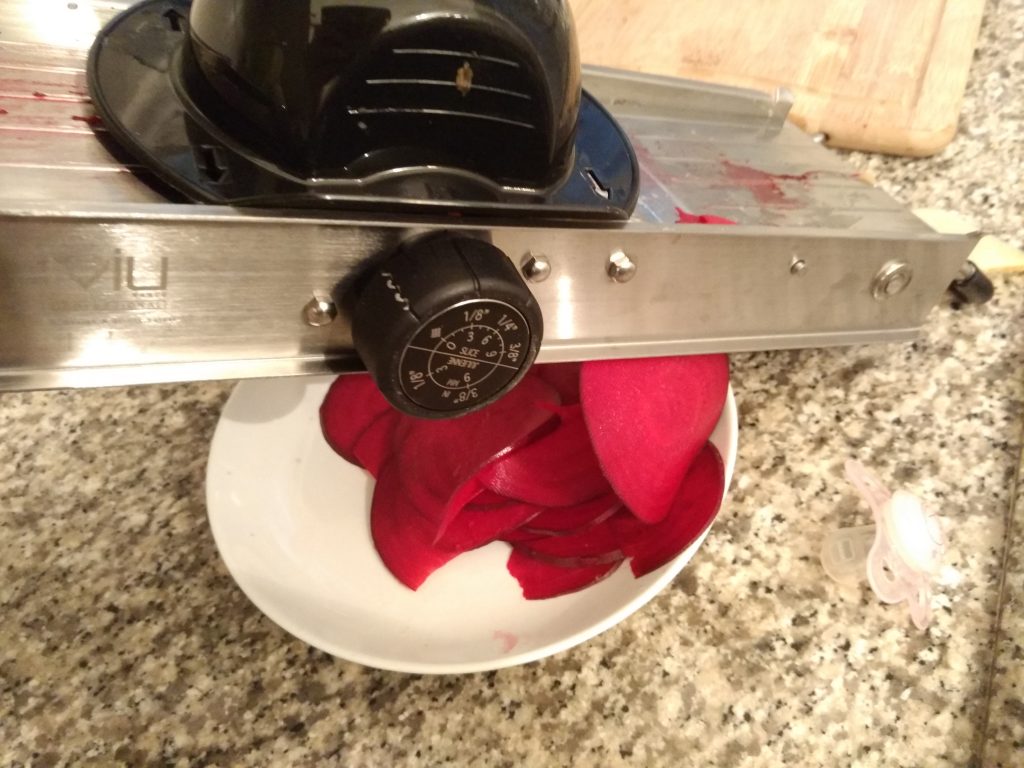 Baking the chips
Baking process consist of 2 stages for the beet and potato chips, we start out baking with medium heat of 170°c/330°F for 35 minutes and reduce the oven temperature to 140°c/280°F for another 40 minutes.
I use the oven turbo ventilator option in order to insert 2 or 3 trays of baked potato and Beet chips into the oven, trust me, you'll need it, they will disappear so fast so you need to make as much as possible.
During baking it's essential to rotate the baking pans and even change the location of the pans in the oven (exchange lower rack pan with top rack pan).
Chips variations
I used simple seasoning for these chips, thyme, olive oil and kosher salt however the options are endless both with the vegetable choice of chips and with the seasoning.
A nice variation in vegetable is the sweet potato chips, it's crunchy and sweet in the oven, I also like the carrot chips and surprisingly the kale chips.
*** note that for every vegetable the temperature and time is a bit different
The seasoning variations can be interesting as well, parmesan and cheddar powder for a cheesy feel, chili and paprika powder for hot and spicy flavors or zest of lemon and garlic powder for a strong chips taste.
Make it and enjoy, these baked potato and Beet Chips are way healthier than the store-bought chips and taste amazing.
(Visited 360 times, 1 visits today)
Steps
5 minutes

cut the beets and potatoes

1 hour

Bake and serve

Bake the chips in turbo mode on 170°c/330°F for 35 minutes, then reduce the oven temperature to 140°c/280°F and bake for another 40 minutes.
Half way thru rotate the pans for an even baking plus exchange the pans location in the oven (lower rack to upper rack).
Take the chips out of the oven, let cool for 10 minutes and serve.