Ingredients
450g

Risotto Rice

Carnaroli, Arborio or Vialone Nano

2 tbsp

porcini mushroom

soaked in half a cup of water

about 5 cups

chicken stock

1 cup

grean peas

can be frozen
Directions
Oven baked Risotto works! and I hope the Italians forgive me on this one but it tastes great as well.
There are not many dishes that are demanding 100% of your attention like a traditional risotto.
It's because of the method of which the rice is made, adding just enough liquids to the risotto in order for it to be absorbed into the rice evenly making the rice be both "al dente" and sticky because of all that starch in the rice.
Does oven baked Risotto really works?
Yes it is, from various reasons.
First, the kind of rice we are using is a starchy brand typical of risotto such as Carnaroli, Arborio or Vialone Nano. Each of those will give us the porridge like texture we are after.
Second, is because we are definitely undercooking the rice.
Remember, we start of by cooking the rice on the stove by bringing it into a simmer, only after we can adjust liquid level and place in the oven so the oven basically provides the risotto with a full steady temperature to evenly absorb the liquids
Make sure you are using a cast iron pot or a Dutch oven because we want to create an almost sealed, pressure pot to be able to control the stock evaporation better.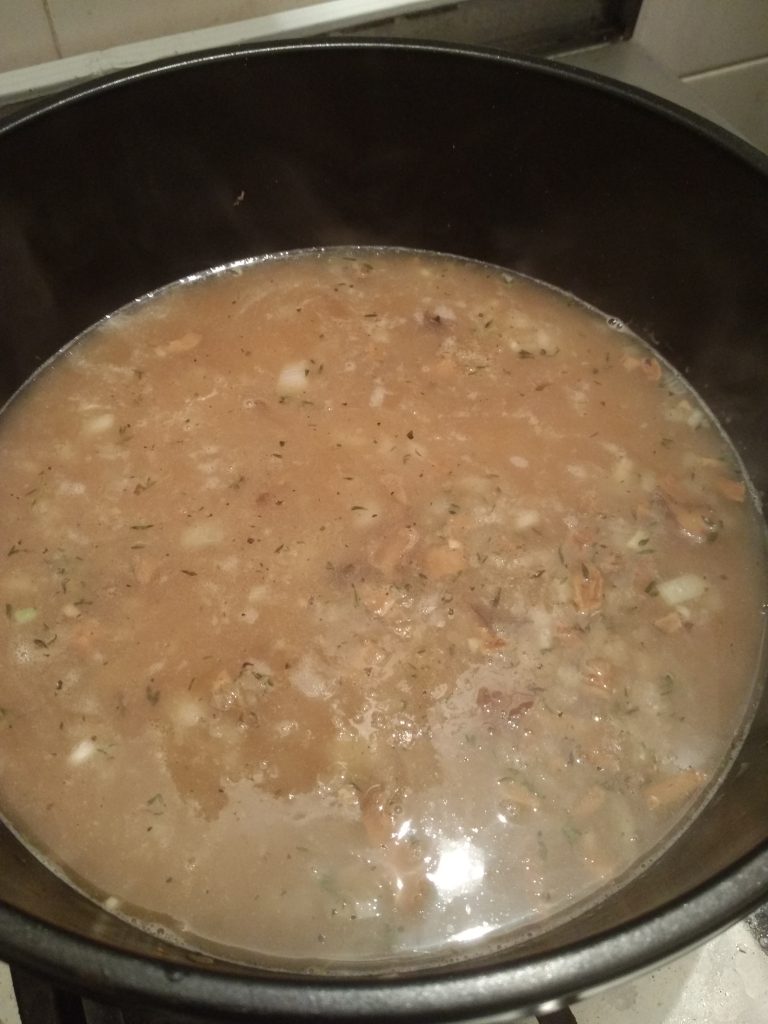 Finishing steps for an oven baked risotto
As soon as the pot is out of the oven we need to take maximum attention because at this point the rice is still a bit forgiving and can be amended in seasoning and texture.
First thing I usually do is add 1 cup of chicken stock to the risotto, I like my risotto runny. even if it looks that you have enough fluids, in 2 seconds we will add butter and cheese which will harden the rice so don't be afraid to add liquids.
Adding the butter and the parmesan to the oven baked risotto and adjusting seasoning is essential while the rice is warm, afterwards it will not be possible. The butter gives the risotto a shiny smooth texture and the parmesan adds a lot of flavor
If made right oven baked risotto can hardly be recognized as made in the oven and not "by the book".
It's extremely important when entertaining, it can leave you with two free hands to make other dishes without burning 30 minutes on the risotto preparation.
(Visited 793 times, 1 visits today)
Steps
15 minutes

stir ingredients

Preheat the oven to 185°c/ 360°F.
Place a large Dutch oven on a medium-high heat, add olive oil and mushrooms, cook mushrooms for 2 minutes until golden brown, take out the mushrooms and place in a bowl, we will use them later.
Add onions and celery for 2 minutes until transparent, add the rice, porcini mushrooms, garlic and thyme, cook for another minute.
Pour wine, stir for another 2 minutes and add the chicken stock and bring into a gentle simmer.

20 minutes

Bake and serve