Ingredients
600g/ 21oz cubed

chicken thighs

boneless

For the marinade

1 tbsp to fry the chicken

oil

Sauce

50g/ 0.3 cups

cashew nuts
Directions
There is something about Chicken Makhani that pushes me to find a piece of bread to wipe the pan until the sauce disappears completely.
This is one of my favorite Indian dishes and more important one of my kids favorite. I guess it has to do with the fact that this dish is very versatile and can be amended to match any style. It can be mild or hot, we can use cream and add more butter for a more silky smooth texture or we can adjust it to be dairy free if we thicken the sauce with only a cashio paste.
Chicken Makhani's (Murgh Makhani) origin id from the North of india, from the punjab to be exact and its one of the most popular dish out of india with many variations. there are a few guidelines that will make this dish work in your kitchen as well.
keep an overnight marinade for the chicken with the yogurt and spices, it will resolve in a much juicy tender and full of flavor chicken pieces.
cook the onions and tomatoes good until they close to caramelization, this will give the dish its semi sweet flavor naturally.
Add raw cashew nuts, when blended with the sauce it thickens it into a silky paste with a textured body.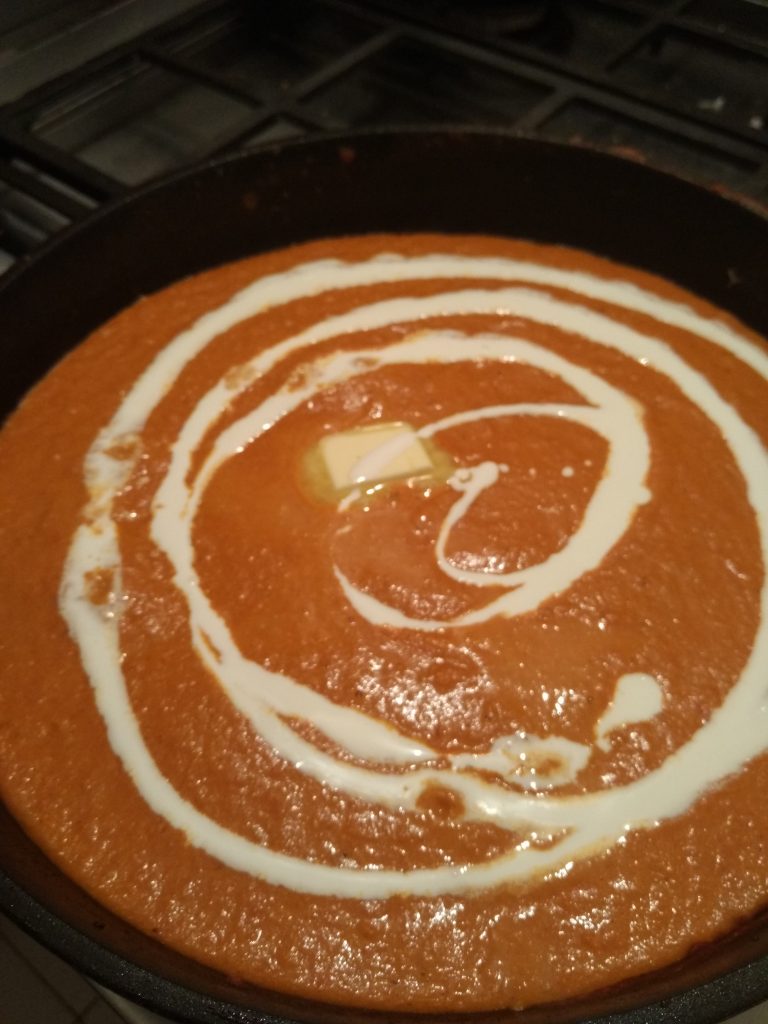 So why should I make Chicken Makhani?
Its true that this dish takes some time to prepare and there are easier Indian meals however Murgh Makhani is one of those dishes that will make your guests go wow, give me the recipe for this amazing chicken. Even people that are not into Indian food will love this Chicken Makhani, its the most western taste friendly indian cuisine.  With silky buttery sauce and tender chicken this dish will make everyone ask for more.
Murgh Makhani can be kept in the fridge and taste just as good the next day so just get your chapati ready to wipe out all the sauce left on the plate and enjoy.
(Visited 686 times, 1 visits today)
Steps
minimum of 4 hours

Marinade the chicken

5 minutes

cook the chicken

25 minutes

make the sauce

in the same pan (no need to clean it) add 1 tbsp of the butter and saute the onions for 3 minutes until transparent, add the garlic and ginger and cook for another 2 minutes, throw the tomatoes and cashew, cook for another 5 minutes until they dissolve and get all the sugars out.
add the tomato sauce, tomato paste, salt and water, cook for another 15 minutes.

3 minutes

Blend the sauce

5 minutes

finishing the dish