Ingredients
100g/ 3 oz sliced

mushrooms

my favorite is a mix of shitake mushrooms and button mushrooms

½ head cut thinly

cabbage

500g/ 1 lb. of thin cut Sirloin meat

500g/ 1 lb. chinese egg noodles

cooked according to manufacturer

3

Scallion

including the white part
Directions
The Japanese famous stir fry noodles, Yakisoba, are among the most popular dishes in Japan and a great stir fry noodle dish on its own.
Like every Japanese cuisine, this dish has Japanese flavors different than your average stir fry and indeed there are many variations, but they all have this distinct Japanese feeling you get from the Japanese seasoning.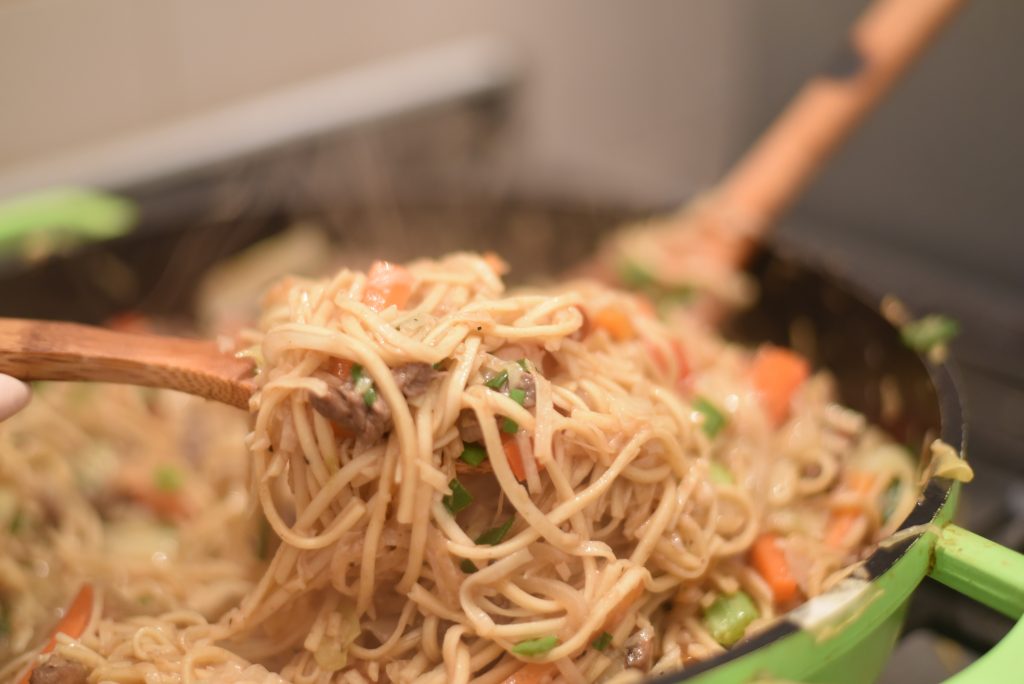 What is Yakisoba?
Literally translated, it means "fried buckwheat" and although the name implies for buckwheat noodles as its originally made, the most popular version today is actually with wheat noodles, the common type are the typical Chinese stir fry noodles, yellowish in color and have the soft chewy texture similar to ramen noodles.
The nice thing about this great stir fry is that you can use multiple ingredients, there is not one true version, although I would say the most popular one is probably made with pork, there are different types of this dish, made out of sausages, seafood, beef and whatever you have in mind.
When it comes to the vegetables, you can also use any kind you like, the traditional Yakisoba is low in ingredients due to the dominant Yakisoba sauce.
The special flavor of this dish comes from the Yakisoba sauce which is a kind of a Japanese Barbeque sauce. If you can't get the Yakisoba sauce you can follow this recipe for a homemade sauce that will perform just as good as the bought sauce. When making a sauce at home you can also play with the acidity and adjust it to your needs.
The yakisoba sauce is a trademark in Japanese cuisines and used for many different traditional dishes like the famous Okonomiyaki (Japanese Pancake) and for the takoyaki (squid in flour batter).
If you have never made Yakisoba at home, give it a shot, you'll be amazed how easy it is and what a great dinner it can be, and like the Japanese use to say, いただきます (bon appetite)!
(Visited 499 times, 1 visits today)
Steps
5 minutes

cooking the meat

5 minutes

adding the vegetables

3 minutes

finishing the Yakisoba

Add the noodles and the yakisoba sauce, stir all ingredients and reduce heat to medium, cook for 3 more minutes.
Remove pan from heat and add the scallions.
Adjust seasoning by adding salt if necessary (usually it's not because of the soy sauce).
For a serving variation, you can add pickled ginger and sprouts when serving.
Serve immediately.