Ingredients
1 medium head separated by hand

Cauliflower

1 large cubed

Butternut Squash

a few branches torn by hand

coriander

For Serving
Directions
It probably sounds like a fancy Indian dish but in fact the Cauliflower Butternut Squash Vindaloo is a 30 minutes dish that I make when I want a delicious Indian quick dish.
The main reason is that I don't make the Vindaloo curry paste from scratch, I use a store-bought paste, at the end of the day grinding all spices does not make a lot of sense, sometimes it's more pragmatic to use a good Vindaloo paste then making it from scratch…although we compromise flavor a bit… but just a little bit.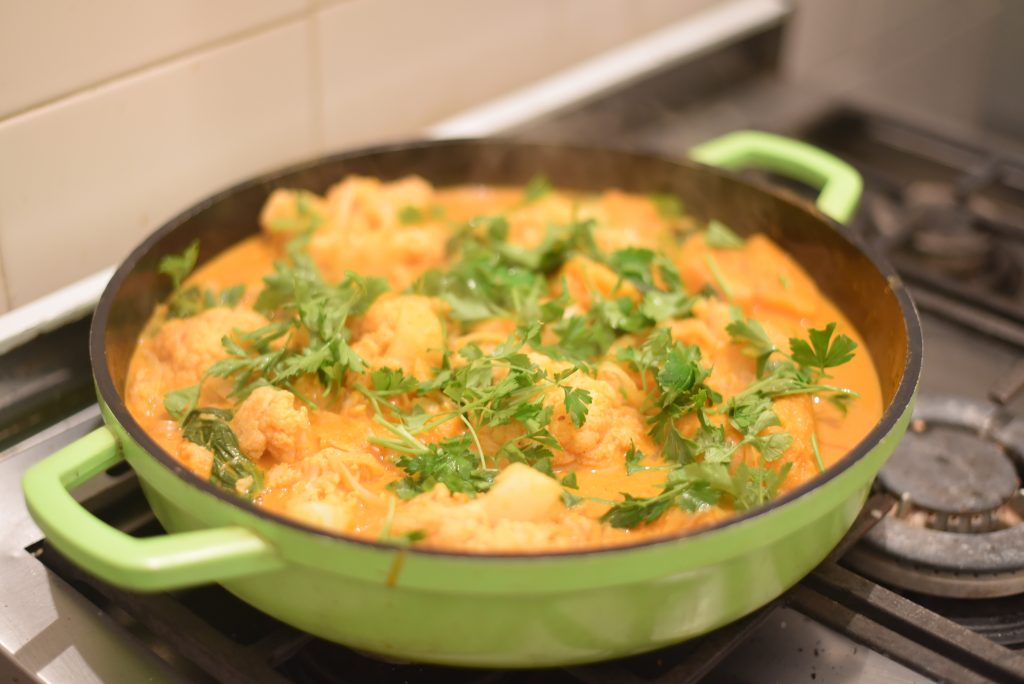 Cauliflower Butternut Squash Vindaloo origins
This is a variation of a typical southern Indian dish that is originally from the state of Goa, Vindaloo curry is a historical version of a Portuguese dish that arrived to Goa a few hundred years ago at the 18 hundreds and the name comes from the Portuguese vinha d'alhos which is a garlic and wine marinade, this is how the Portuguese sailors preserved their meat.
As usual, the Indian cooks adopted the marinade and added the typical Indian spices which nowadays include a cinnamon, paprika, turmeric, cumin, ginger and many more spices.
The method
This is a 30 minutes meal, remember? in order for this to be quick we need to cook several parts of the dish simultaneously, it's not hard, we just need to have enough space in our stove.
We start by cooking the butternut squash and cauliflower while making the rice. We cut all vegetables while the rice and cauliflower cooks so when they are off the heat we will immediately start the sauce, which will take another 15 minutes, sounds easy, it is, we just have to be ready with all the ingredients and I will guaranty a 30 minutes meal.
The Vindaloo is pretty spicy, that's one of its trade marks, I use coconut milk and a pinch of butter to make the dish a bit more children friendly (it's also a typical southern Indian cuisine flavors and style) but go ahead and add some more Vindaloo paste if you want to take this to the extreme.
The Vindaloo can be served with Naan bread or with rice, make sure you have a lot of any side dish, you'll need it to wipe up the sauce.
(Visited 1,050 times, 1 visits today)
Steps
12 minutes

prepare the cualiflower and Butternut squash

15 Minutes

cook the sauce

Heat a big wok or saucepan until shimmering.
Add the onions and cook until transparent over medium heat for 3 minutes.
Pour the coconut milk, Vindaloo paste, garam masala, cumin and bring the coconut milk mix to a simmer.
Add the cauliflower, butternut squash and spinach, reduce the heat to low and cook for 10 more minutes to reduce the sauce.
Turn off the heat, adjust seasoning with salt and pepper, add the butter and coriander and mix well.

Serve the Vindaloo