Ingredients
300g/10.5oz

Gluten-free rolled oats

we will make the oat flour out of them

120g/ 0.5 cup

Butter

soft at room temperature

160g/ 3/4 cup

Brown Sugar

40g/ 0.5 cup

Coconut flour

200g/ 1.2 cups cut into small chunks

chocolate

i used chocolate milk but dark chocolate can be used as well
Directions
I was not sure about the name category of these flourless chocolate chip cookies, in my opinion these cookies are Gluten free because there is no flour in them however they are not considered GF in all countries, in Australia Oats are not labeled as gluten free. In any way these are flourless chocolate chip cookies that are delicious and easy to make.
let's get one thing straight, in the natural oat there is no gluten whatsoever but the reason they are not labeled Gluten free instantly is because in modern factories today they are often contaminated and therefore can contain gluten in a proportion that will not be healthy for gluten intolerance people.
There are a few brands of oats that are marked as gluten free, go for these ones if you want to be 100% certain that there is no gluten in this recipe.
Flourless chocolate chip cookies? why is this necessary?
This recipe is challenging the traditional chocolate chip cookies and try to recreate a cookie that will be good in texture and taste, as well as in nutritional values. a chocolate chip cookie has to be crispy on the outside and soft and chewy on the inside and for this texture we aim.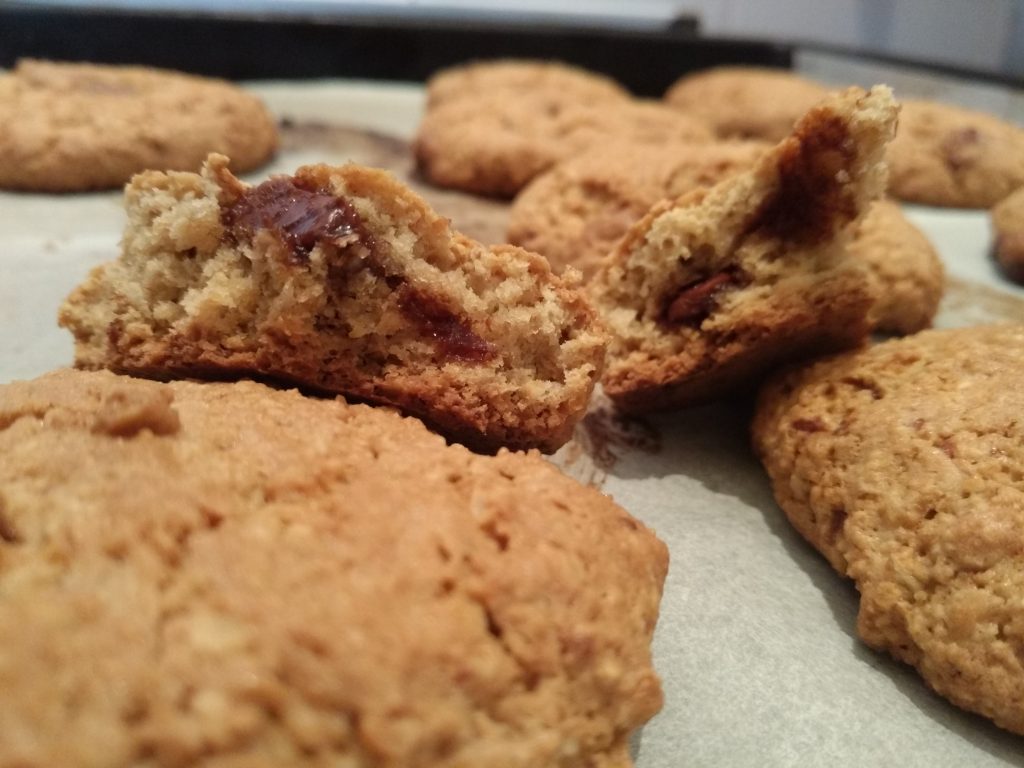 Making a Gluten free or flourless chocolate chip cookies while not settling for the texture and taste is not an easy task but the Oat flour which we use is performing great.
We do use a higher amount of liquids in the recipe because when there is no wheat flour of any kind the oat flour absorbs more liquids and its essential for the cookie to be moist and for the batter we use will be a bit runny
Another key for the success of this flourless chocolate chip cookies is really not to overcooking  it, even though you think the cookie is not ready and it didn't get the golden crust you were expecting, take it out. After the cookies get cool they tend to be more stiff and leaving them in the oven for a longer period of time will give them a grainy texture and not soft and chewy as we want.
(Visited 321 times, 1 visits today)
Steps
5 minutes

grind the oats into flour

20 minutes

mix all ingridients

mix all ingredients (except chocolate chips): oat flour, butter, cream cheese, sugar, coconut flour and cornflour, baking soda, salt, vanilla extract, eggs in a bowl of a stand mixer fitted with the paddle attachment and mix until all ingredients combined into a smooth and sticky dough.
add the chocolate chips and mix just until incorporated into the dough.

20 minutes

assembling and baking

preheat the oven to 200°c/390°F.
take about a spoon of dough and place on a baking sheet, make sure the cookies are at least an inch away, they will spread a bit.
bake for 15 minutes, don't be tempted to place more then one baking tray in the over, indeed it saves time but not all cookies will be baked to the same degree.
take out the cookies and cool for 10 minutes before serving.