Ingredients
For the Soup

1 medium diced thinly

red Onion

500g/ 1lb cubed

Stale white bread

its possible to use fresh bread as well

4 springs plus some more for serving

Basil

For the Croutons

1-2 cloves for rubbing

Garlic

2 tbsp for drizzle

Olive oil

1 tbsp of dry thyme

Thyme
Directions
Pappa al pomodoro is a traditional Tuscan soup that can be a great starter or a meal by its own.
I have a warm spot for this soup, a distinct memory of taste, a warm and thick tomato stew I have eaten in northern Italy a few years back. Tomatoes in the Italian cuisine are coming in a big Variety and forms, this is why this soup is recommended making in summer time when tomatoes are at their pick however i really don't want to eat this soup in the summer so we improvise and use canned tomatoes and tomato paste to overcome the absence of the summer ripe tomatoes.
this soup reflects the Italian way of making a dish from fresh and old ingredients not throwing away the other day leftovers and transforming them into a new dish.
the original Pappa al pomodoro use stale bread, one that is not good for eating however receives new life inside this dish when absorbing all the liquids and melting into the tomato sauce.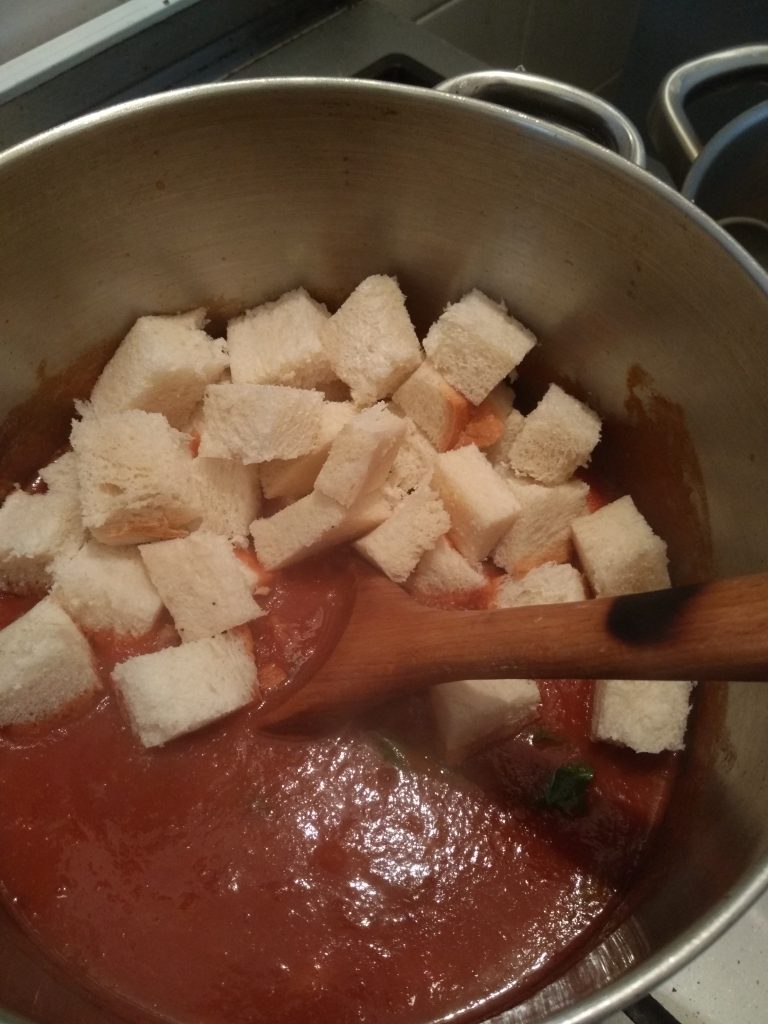 I use a combination of Tomato sauce, tomato paste and fresh tomatoes, if you have a good flavored fresh tomatoes its the best but like i said during winter times we use what we can and the best taste is with canned tomatoes or tomato paste.
I like to make some home made croutons to add another flavor and texture to the soup, its optional of course
Is Pappa al pomodoro is the best tomato soup?
Pappa al pomodoro was never a competitor for the title , the best tomato soup, it is a soup made from leftovers meant for a family to have a full and filling dinner while taking advantage of the natural vegetables growing in tuscany. I will say this, Pappa al pomodoro is a comforting soup and certainly one you would like your family to have, it has all the nutrition needed for a dinner while taste amazing.
(Visited 483 times, 1 visits today)
Steps
| | |
| --- | --- |
| 5 minutes | starting the soup |
| 30 minutes | adding the liquids |
| 10 minutes | prepare the croutons and serve |