Ingredients
Tomato sauce

2 cups

Tomato sauce

you can use a store bought or prepare on in advance (see note in intro)

300g/ 10oz

Long Pasta

I used Bavette

1 tbsp grated finely

Parmesan cheese

for pasta
Directions
Pasta can be eaten with many kinds of sauce variations however I have to admit plain tomato sauce pasta dish is my personal favorite.
perhaps it's a childhood memory or perhaps there is just something very simple and right to match a pasta with tomato sauce, especially a long dry pasta which is the perfect pair for this sauce.
its a fast dinner especially if you already have a tomato sauce handy and ready for use.  i always say that there are 2 things that needs to be in every fridge 1st is chicken stalk and the 2nd is tomato sauce. its a life saver especially when needed to make a quick dinner or when trying to save a step in a more complicated recipes, there is nothing like being prepared in advance to be spontaneous, there is a contradiction right in that sentence but it works!
i use some butter in order to refine the sauce but you can do without it if you want to create a vegan dish or just don't like the butter supplement.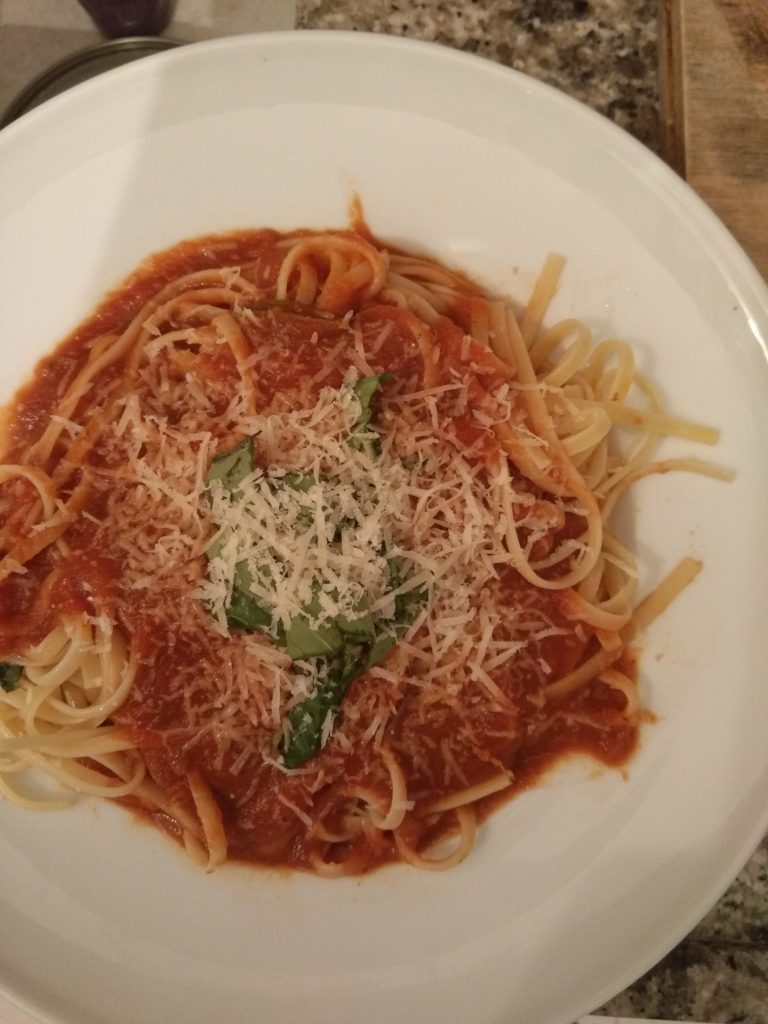 I Don't have a tomato sauce on hand
that's all right, I alway say that having a home made tomato sauce is the best option but there are other alternatives of course, there are great store bought tomato sauce which are very high quality and made from Italian tomatoes.
The thing about Tomato sauce pasta is that you can eat it anytime anywhere not related to any season or to any holiday, it's just the kind of pasta that is defined by its simplicity, good pasta and good tomato sauce, that's all we need here, the rest is in the shadows.
so when making tomato sauce pasta you can determine if you want it to be a bit more spicy, to add other vegetables or to creame it in the oven, every variation is a winner when the sauce and paste are good.
(Visited 414 times, 1 visits today)
Steps
10 minutes

cook pasta and sauce

set a large pot with water on a medium high heat , add salt and bring into a simmer. add the pasta and cook according to the manual instructions and remove from water.
sat a pan on medium-high heat, add butter and sage, once melted add the Tomato sauce and bring to a gentle simmer.
place the pasta in a bowl or plate, add the tomato sauce, spread the basil leaves on top, grate the Parmesan and sprinkle with olive oil