Ingredients
2 steaks 300g/10 oz

Entrecote
Directions
Cooking Sous vide style meat is by far the best way to get a good entrecote steak cooked precisely to your taste.
I always think twice before making Steaks at home, I mean I love making them but I end up clearing up the smoke from all the rooms opening windows, ventilate the house. This was in the past, today I mainly use Sous-vide cooking for all my meat,  with just fast searing them on an iron skillet for 30 seconds on each side, the perfect way for indoor roasting.
using Sous-vide also allows me to get the perfect medium-rare roasting level by setting the temperature on the immersion cooker to 55°C/131°F. There are no uncooked spots as happens so many times when trying to pan roast a steak at home.
Timing is everything with Entrecote
Theoretically if setting a low temperature for a long period of time the meat should not be overcooked. The meat can't be cooked in a 55°C/131°F more than medium-medium rare because the heat which reflected on the meat will not increase so we will not see an entrecote steak that is set to medium well when cooked on this temperature.
Saying the above there are restrictions to timing with sous vide cooking, although they are not so strict as in oven roasting or pan frying. Indeed the meet will not be overcooked however when setting the time for a much longer time than recommended the risks are to have a steak in bad texture, the meat is almost falling apart in prolong cooking or we could expect a high water evaporation from the meat and even though the meat will not be overcooked it will lose its texture and moist.
when the entrecotes are out of the bag they are fully cooked and can be consumed as is however pan searing them on high heat will add a nice crust and charred flavor. I also like to use a blowtorch to get extra barbecue flavor to the meat, especially in part with high fat percentage.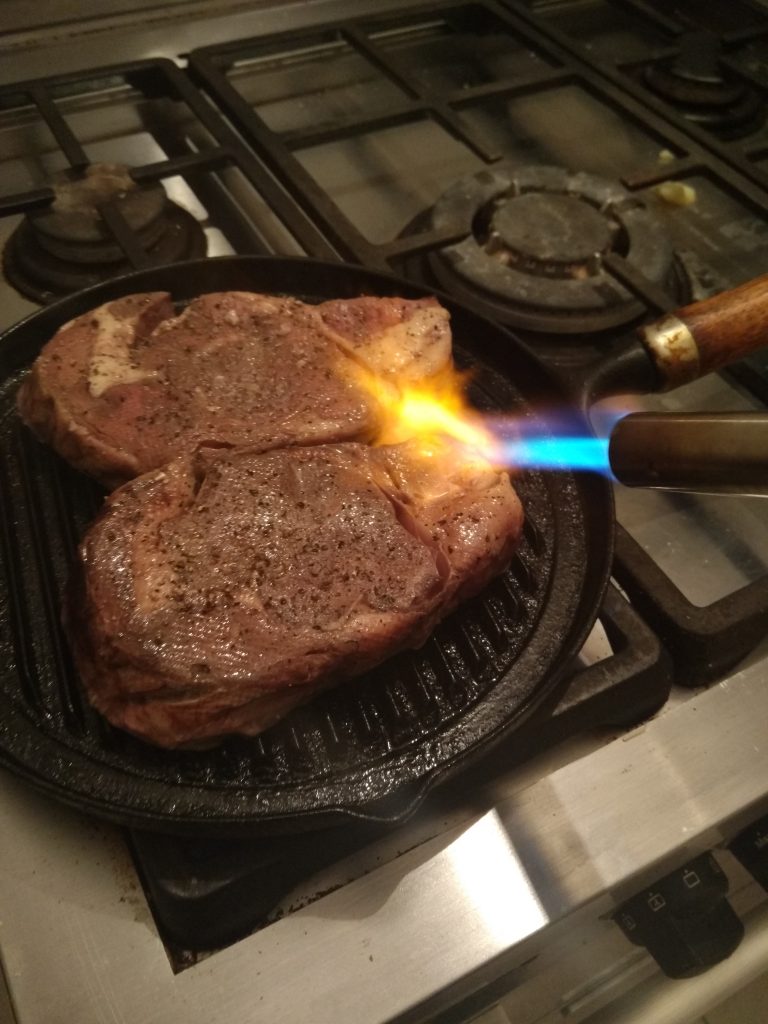 (Visited 6,968 times, 1 visits today)
Steps
| | |
| --- | --- |
| 2 hours | Cooking the steaks sous-vide |
| 5 minutes | Searing the steaks |