Ingredients
4-6 pieces

chicken thighs

thighs and drumsticks skin on

2 medium

Onions

sliced thinly

2 tbsp.

all purpose flour

3-4 potatoes

Potatoes

cut into large pieces

1/2 cup

parsley

torn by hand

sprinkle on top

Olive oil
Directions
French dishes are often takes a long time to make, with high amount of preparations and stages of cooking, however the poulet à la moutarde (chicken in mustard sauce) is not one of them.
Ahhh the smell of chicken stock and mustard sauce, what a great combination, don't be tempted in adding heavy cream, it's really not necessary although in some recipes cream is a part of the dish. Even without it, this sauce is silky creamy texture, your guests will not believe there is not cream in it.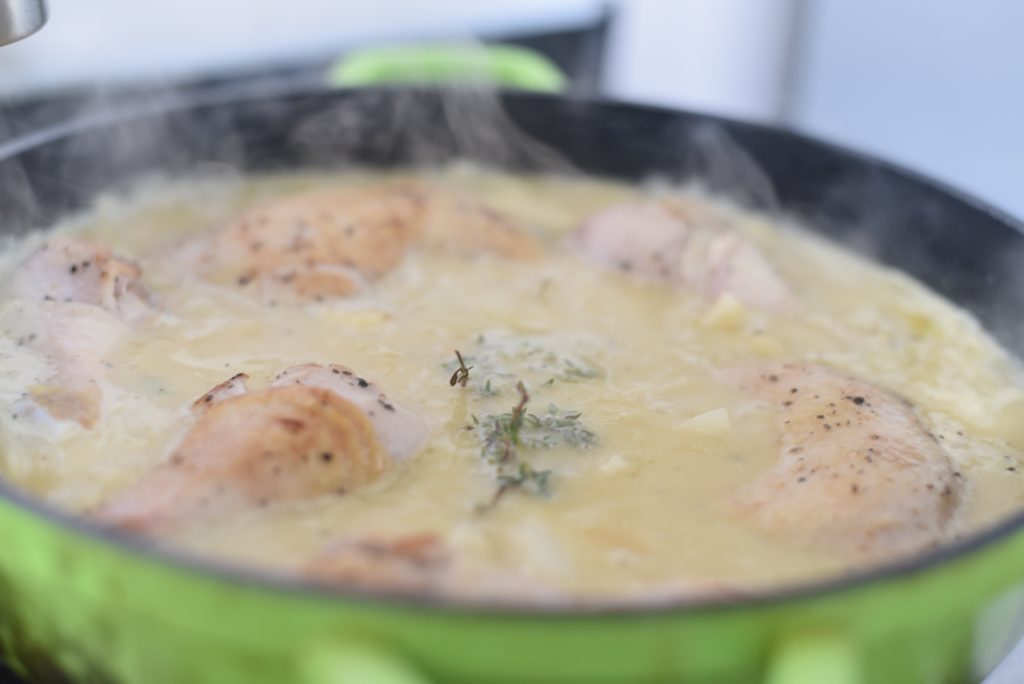 in fact , this one pot, chicken in mustard sauce, dish is easy to make as well as will bring you the French tastes into your kitchen, the tangy mustard sauce with the herbs and mustard creates a wonderful one pot great meal in about 90 minutes, incredible in terms of french cooking.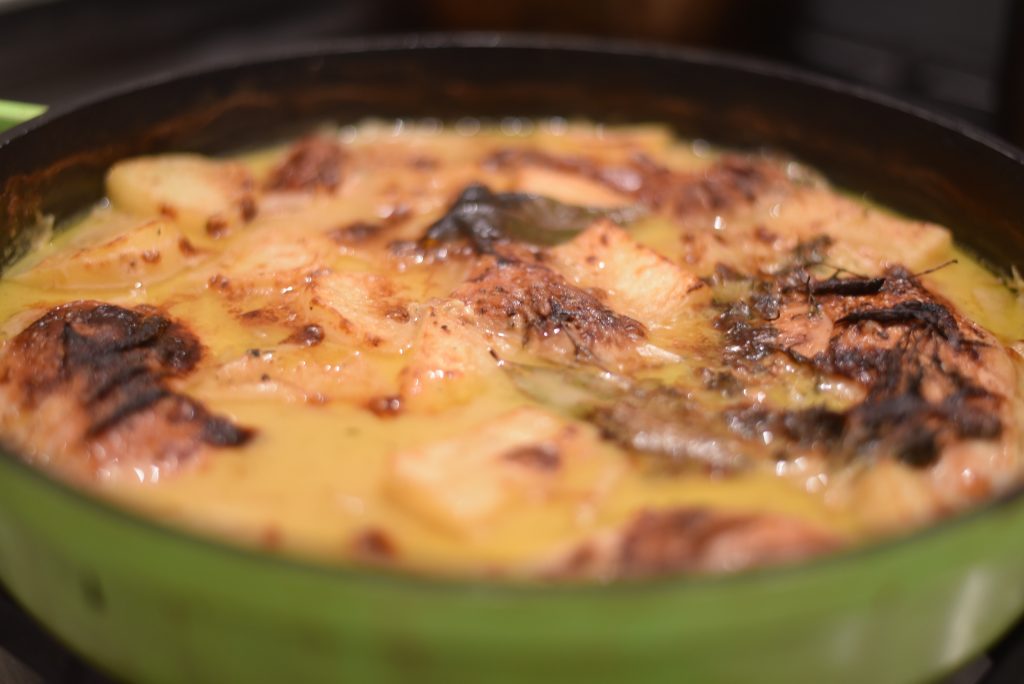 Poulet à la Moutarde tips
This recipe is all about the mustard so make sure you use a good French mustard sauce, most of the French mustards can be bought in any delicatessen or on the net.
Another important factor for this dish is using chicken thighs or drumsticks (I use both) keeping the skin on, this will not only create a crunchy texture but will also keep the chicken tender and moist.
I bake this chicken on 175°c/ 350°F covered for 40-50 minutes and another 20 minutes without the lid, making the chicken skin go crispy plus reducing the sauce and sharpening its flavors.
When making the mustard chicken I throw in the pot a few potatoes as well, the traditional way of cooking is without any vegetable but the potatoes are just delicious in this sauce and getting a smoky feeling that can't be reached by a simple baking, so I deeply recommend adding them as well.
Make sure you have bread nearby, you'll need it when you'll want to wipe out this delicious sauce leftovers.
I serve this dish with plain rice or mashed potatoes, but anything that can absorb this silky sauce will be just fine.
(Visited 610 times, 1 visits today)
Steps
7 minutes

searing the chicken

15 minutes

making the mustard sauce

Preheat the oven to 175°c/ 350°F.
In the same skillet over high heat, add the butter and onions, cook for 4 minutes until transparent and add the garlic, cook another minute.
Add the mustard and pour in the wine, scrape down the residues on the pan with a wooden spoon, cook for 1 minute and pour the chicken stock.
Bring the sauce into a gentle boil and add the flour, mix well until fully absorbed and add the thyme.
Season with salt and pepper, add the chicken parts and potatoes.
Reduce heat to low and cook for another 10 minutes.

1 hour

baking the mustard chicken

5 minutes

serving the mustard chicken