Ingredients
2 sliced crosswide

Tomatoes
Directions
Making a Ragu lasagna is a real celebration for me, it's one of my favorite dishes, so many different flavors and textures that I can hardly stop eating this great dish.
It's just happens to be that making this lasagna is very easy, I mean, if you have the ragu of course…
on the other hand, I wouldn't go that far and make a ragu for a few hours just for a lasagna, this sauce is so rich that I love it on pasta, on a toast or just eating it from the saucepan.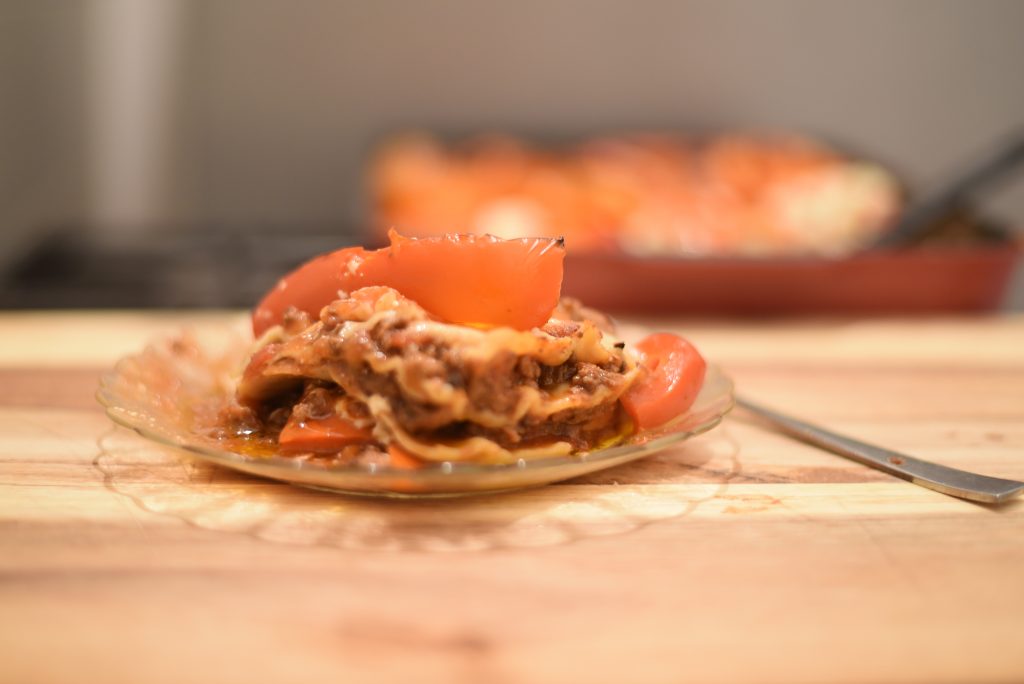 Let's make an easy ragu lasagna guidelines
So, it is my advice to make this lasagna from the ragu leftovers, not from the main batch, after all, we don't want to slave in the kitchen for 8 hours, what's the fun about that?
In fact, when making a ragu sauce, always go for the big size quantity, you can use it for a week in various cuisines and afterwards just freeze it up to 3 months, it's keeping great in the freezer and you can have a great effortless dinner with a quality sauce in no time.
For this lasagna I make fresh pasta sheets  and I encourage you to so as well, it's not difficult and the taste is just divine, however if you don't have time or patience for it, go for the dry pasta leaves, it's perfectly good and you will end up with a great lasagna as well, saving some more time here.
Getting to work
If you're rolling your own fresh pasta, just roll it to a thin layer, I use the 7 mark on my pasta machine (out of 9 possible) and create 3 layers of pasta, in between the ragu sauce.
I don't use cheese in the inner layers, I want the meat to shine and be the dominant flavor here without any background noises, this is a kind of sauce that deserves the center stage, no need to mess with that.
I added peppers on the top from 2 reasons, when not using any bechamel sauce, it's necessary to protect the lasagna sheets from drying out and become stiff.  We need to coat the pasta with the peppers, olive oil and feta, another reason is that the combination of peppers and feta along with the ragu lasagna is just heaven, try it and see what I mean.
This lasagna has a big title but it's not dense, it's actually pretty light and will not make you looking for the closes bed to take a nap.
(Visited 605 times, 1 visits today)
Steps
20 minutes

making the fresh pasta leaves

Make the fresh pasta leaves according to this detailed instructions .
Divide the pasta into 3 parts, each part will be rolled into a different layer.
The pasta sheets can be made in advance or during the preparation of the pasta when you roll the pasta for each layer.
Don't make the paste too thin, we want to feel the dough texture in every bite, I used number 7 on the machine, number 6 is perfectly fine as well.
The fresh pasta does not need to be cooked.

15 minutes

adding the sauce and 2 more layers of pasta

Preheat the oven to 180°c/350°F.
Pour the ragu sauce on the 1st sheet of the pasta, try to make a thick layer of sauce, remember, a thin layer will be fully absorbed by the pasta and it will turn out dry, the liquids of the sauce will cook the pasta in the oven.
Keep on for 2 more layers, in the middle layer spread the tomato slices evenly and then add the ragu sauce on top.

5 minutes

topping the lasagna

45 minutes

baking and serving