Ingredients
2 diced finely

Celery rib

150g/ 5 oz. cubed

Duck breast

panceta will do as well

8 cloves

Garlic

no need to peel

1 cup

Chickpea

soaked in water for 24hrs

1 cup

black-eyed peas

soaked in water for 24hrs

for the prime rib

2 Kilos/ 5lb.

Prime Rib

with the bone
Directions
Prime rib is one of my favorite cuts ever, I have to admit I usually grill it, I get the best results from the good old charcoal barbeque grill, but the oven roasted version is just as good although very different in texture.
Getting a prime rib into a long-cooked stew always sounded to me like a waste of good meat, until… I finally tried it. The meat was so tender falling of the bone full of flavor with a super soft texture, you could actually eat it with a spoon, how did this happen?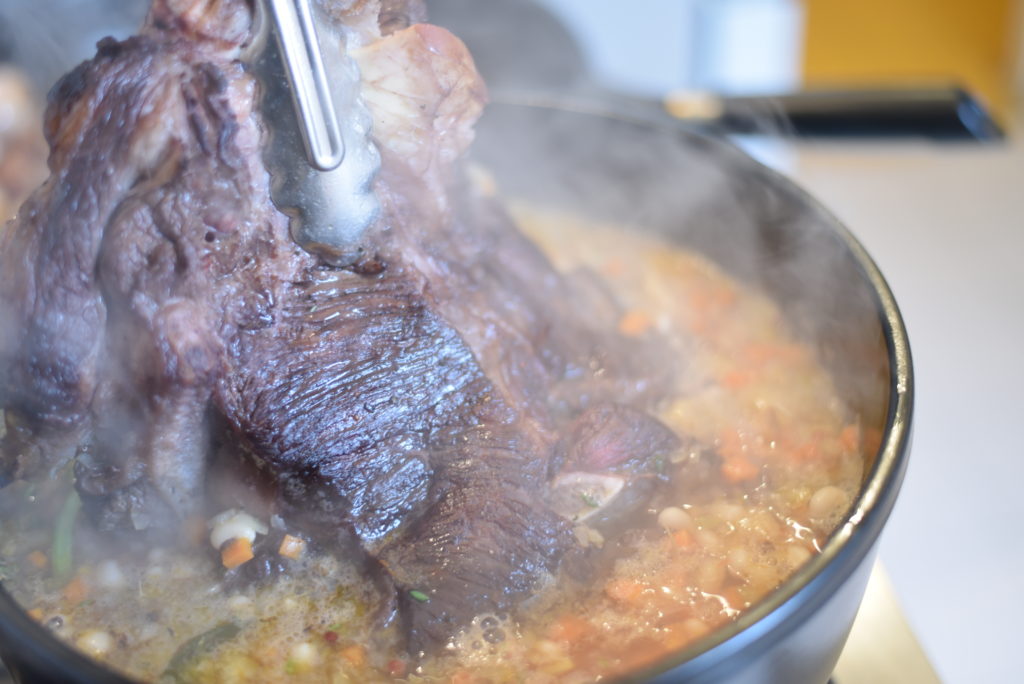 Well, the stages of making a good prime rib are always the same, whether it's a direct grilling or long cooked, it needs a strong direct heat, in this case, on a cast iron skillet. To the skillet, I add to shallots as well, giving the meat extra flavor and because the shallots also loves direct heat, they tend to caramelize, extracting all their sugars out…we help them to do just that with a small addition of sugar and butter which actually creates a sweet sugar emulsion that also coat the prime rib.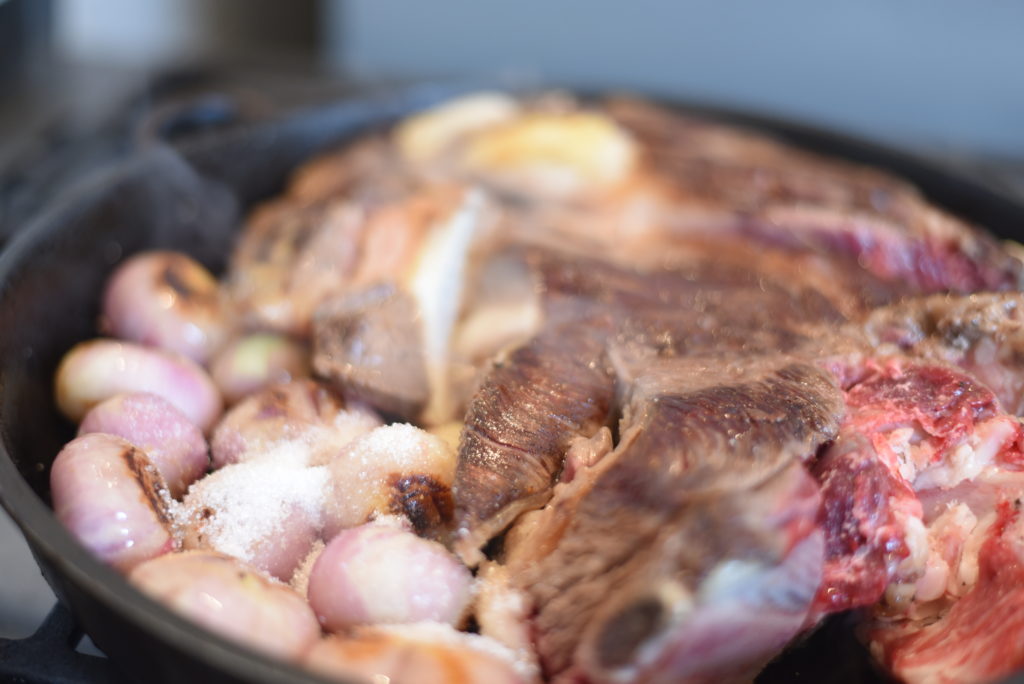 For this stew I used two kinds of peas, chickpeas and black-eyed peas, each with its own texture gave the stew very strong earthy flavors.
The stew needs a slow cooking in a Dutch oven on low temperature, the idea is to get all the flavors combined together and for the outer layer to be crunchy. I halved potatoes and placed them on top of the Dutch oven, this affected the stew in so many ways, first it kept the meat out from getting into direct contact with the Dutch oven heat and second it, created a crispy potatoes layer, which I promise you… everybody will fight for.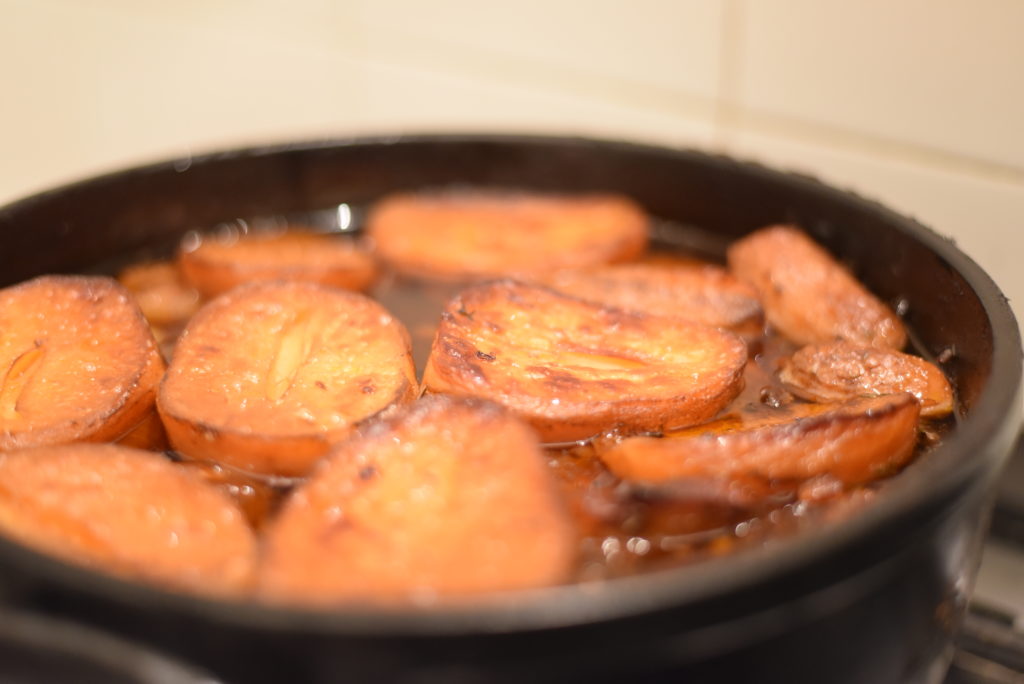 For extra crispy potatoes open the Dutch oven's lid for the last hour of cooking, it will create a nice caramelization around the potatoes and make them irresistible.
(Visited 770 times, 1 visits today)
Steps
25 minutes

Starting the soup

Heat the oven to 130c/290F.
Add onions, celery, carrots, sage and prosciutto (or duck) to the Dutch oven with 1 tbsp of olive oil and cook on medium-high for about 3-5 minutes, until the vegetables become semi-transparent.
Pour in the white wine, stir for another 30 seconds until most of the alcohol evaporates.
Add the water following with the garlic, chickpeas, black-eyed peas, tomato paste, bay leaves and cinnamon, stir to combine and bring into a boil.
Add the thyme and celery, reduce heart to medium-low, season with salt and pepper and cover with the lid.

10 minutes

Searing the meat

Set a heavy cast iron skillet on high heat for 2-3 minutes until smoking, place the prime rib and the shallots on the skillet and sear for 3 minutes.
Add the butter and sugar, make sure the butter-sugar mix is coating the steak and shallots well, it will caramelize the shallots (which extract sugars in addition).
Flip the Prime-rib and sear for another 3 minutes.
Pour in the red wine and keep cooking for one more minute until wine reduced to half.

6 hours

Placing the dish in the oven

5 minutes

Serving

After 5 hours of baking (if necessary add fluids during baking time), open the oven's door, remove the Dutch oven's lid and bake for another hour without the lid.
Take out the Dutch oven, arrange the meat, potatoes chickpeas, black eyed peas and Jerusalem artichokes on a large tray and pour some of the delicious soup into a small bowl on the side.
Best served with rice or fresh vegetables