Ingredients
1/3 Cup

Sugar

and more for the brulee
Directions
This is a wonderful take on the familiar french dessert. This espresso crème brûlée is made with a strong espresso shot and gives a delicious coffee taste!
You can also try to make it with other types of coffee. They will each give a slightly different flavor. Personally my suggestion is to use what you usually drink and since I'm a coffee addict I like my coffee very strong!
There are only five ingredients in this recipe so it's easy quite easy to make but it does require you to be careful with the technique otherwise the custard might turn to sweet scrambled eggs…. If you follow the directions below you should get a lovely creamy custard. see the picture!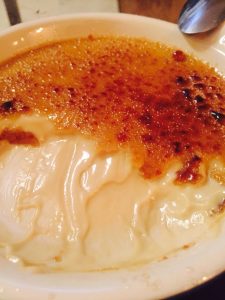 Some tips for success:
You need a good burner. It is possible to caramelize the sugar in the oven under the grill but you control the process much better with a burner.
All of the ingredients you're using should be in room temperature
When you're adding the warm cream to the eggs do it very carefully. little by little and stir it well each time you add it. after the temperature of the eggs has risen enough you can add the rest of the cream with no fear!
For more classic desserts you could try making our gorgeous Cream Puffs or Lemon Meringue Tart
(Visited 445 times, 1 visits today)
Steps
10 Minutes

Making The Custard

Heat the cream and sugar on a medium heat. When it starts to simmer set aside.
Mix the egg yolks with the vanilla (you can also use a vanilla stick but because this is an espresso brulee pure vanilla extract works just fine). Beat the eggs and vanilla. Add the cream carefully. The temperature should rise slowly so each time add a bit more. When all the cream is added you can pour the espresso in (Better if the espresso is in room temperature).

20 - 25 Minutes

Baking The Custard

8 Hours

Caramelizing the custard