Ingredients
1 kilo/ 2 pounds

Ground Beef

Shoulder or ribs

1.5 kilo/ 3 pounds

Osso Buco

500g/ 1 pound

Chicken Liver

2 medium-big finely diced

Onions

3 stalks finely diced

Celery rib

for the osso buco

all purpose flour

1 litel/ 33 fl oz

Tomatoes

Canned or fresh

1 litel/ 33 fl oz

chicken stock

For Serving

500g/ 1 pound

short pasta

I used Farfalle but any pasta shape will do

A few leaves for garnish

Basil

Grated finely

Parmesan cheese
Directions
Where can I start describing Ragu Bolognese Sauce? this wonderful full body meat sauce is one of my favorite pasta sauces ever and one of the popular meat sauces in the Italian cuisine.
Originating from Bologna, Italy, this sauce made its worldwide reputation by being a key sauce for pappardelle or lasagna filling much because of Pellegrino Artusi's cookbook of 1891, La scienza in cucina e l'arte di mangiar bene which referred to the meat sauce as "bolognese".
Ragu Bolognese Sauce is a heavy pasta sauce that for me goes really good in cold winter nights when I'm desperately looking for a comforting dish.
There is nothing like a hearty Dutch oven filled with Ragu Bolognese Sauce, I can spoon it straight from the pot or use a good bread to wipe out all this wonderful sauce.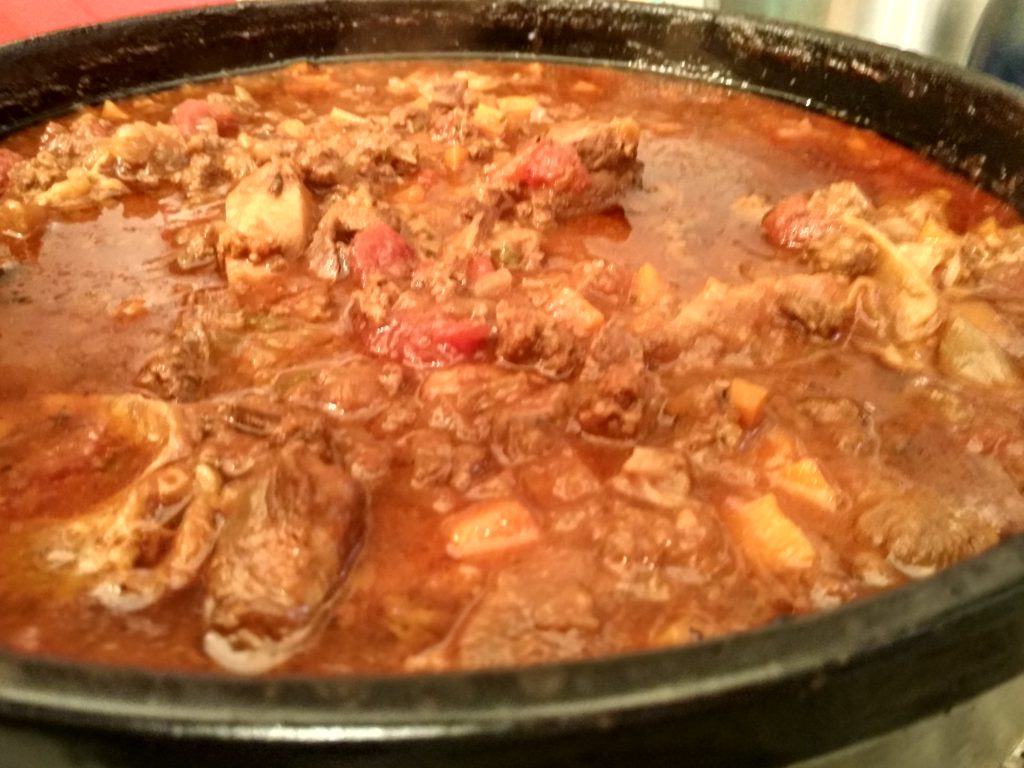 Making a Ragu Bolognese Sauce the long way
A good Ragu Bolognese Sauce needs to be thick, it's a meat sauce before it's a tomato sauce.
We use different kinds of meats in order to add different texture and flavors into the sauce.
For this recipe, I used 3 different meat cuts;
Minced ribs because of the tender texture and great aroma.
pieces of Osso buco with the bone – this meat is very tender in long cooking and the bone adds gelatin that will thicken our sauce. The meat will fall apart from the bone so we just fish the bones out after the cooking for they have served their part.
Chicken livers (yes you heard it right)- chicken livers are a great sauce flavor enhancer and a sauce thickening agent. You can grind it in a food processor so you won't feel the little chicken liver pieces but I actually like to chop roughly to small bites so you will come across these little great flavor enhancers in the dish. it will make you think… mmmm… I wonder what that was.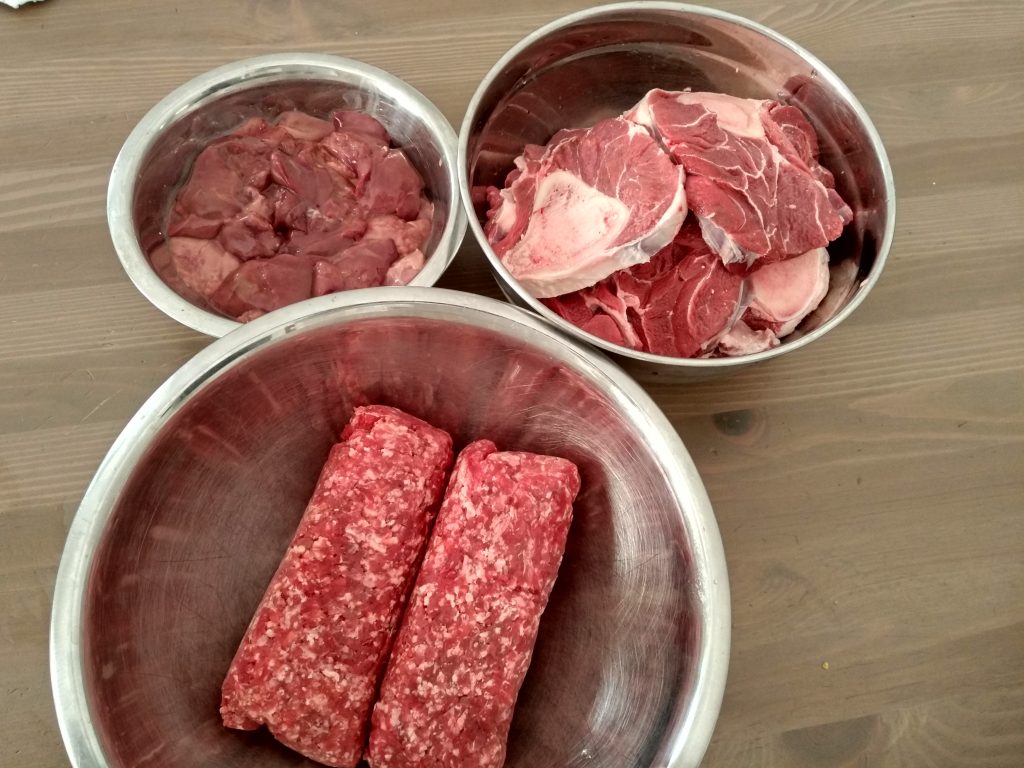 Cooking it? oven baking it? Ragu Bolognese Sauce can handle it all
There are no short cuts, Ragu Bolognese Sauce needs time and low heat in order for the tomatoes and meat to be fully incorporated and for the liquids, (in this recipe it's the chicken stock and tomatoes) to be absorbed into the meat and give it the full deep flavors.
I decided I don't want to choose between cooking the sauce on the stove and baking it in the oven, I use both methods.
Starting by incorporating the sauce on the stove for 1 hour and then move the Dutch oven pot into the Oven baking it on low temperature without the lid for about 4 hours.
This will ensure that the meat will get the nice golden brown color and for big amount of fluids evaporation so we will end up with a real thick sauce.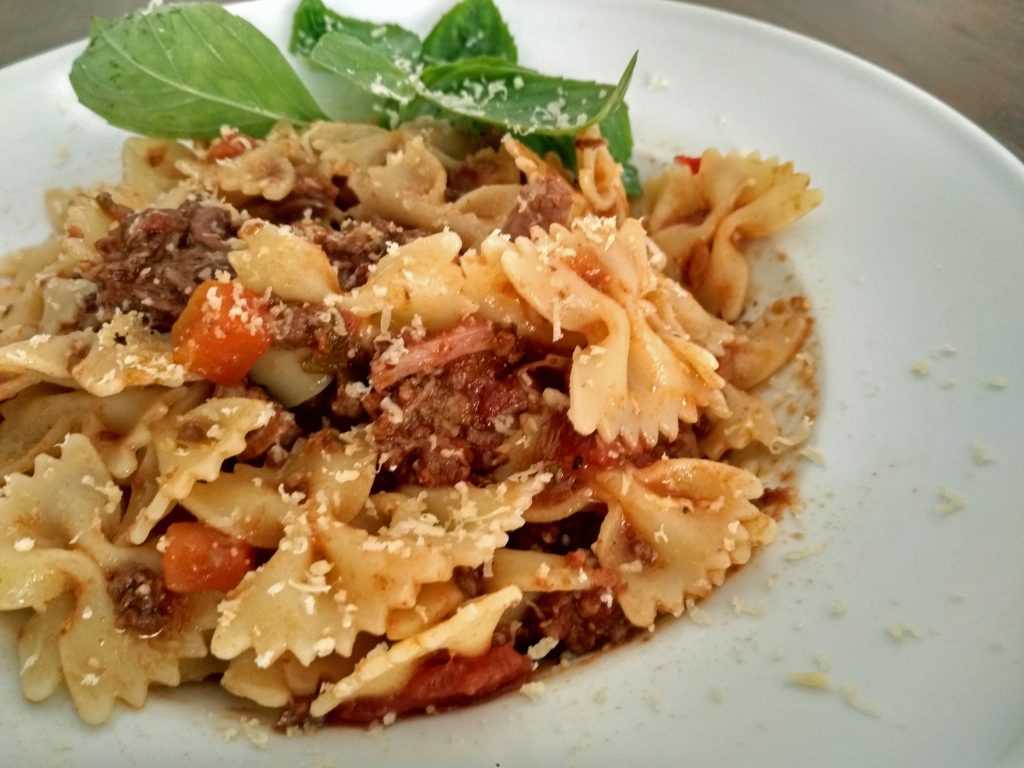 (Visited 1,360 times, 1 visits today)
Steps
20 minutes

cooking the minced meat

Set a bit Iron skillet over high heat.
Add the onions and olive oil, mix for 5 minutes until transparent.
Toss the celery and the carrots and mix for another 3 minutes.
Reduce the heat to medium and add the minced meat and gently break it apart for 3-5 minutes.
Pour the soy and fish sauce and continue mixing for another 3 minutes.
Reduce heat to low, season with salt and pepper and mix for another 3 minutes.
Set aside to cool.

7 minutes

Searing the Osso Buco

1 hour

making the sauce

In the same Dutch oven, throw the chicken livers for a quick browning, not more than one minute, add the wine and cook for another 30 seconds.
I'm using canned tomatoes, pour them into the Dutch oven followed by the tomato paste and mix for 5 minutes (if using fresh tomatoes make sure you peel them before adding to the pot).
Pour the chicken stock, season with salt and pepper and bring into a gentle simmer.
Reduce heat to low, add the thyme and garlic, cook with the lid on for 30 minutes.

30 minutes

cook the meat with the sauce

4 hours

bake the Ragu

10 minutes

finishing steps and serving time