Ingredients
1 full chicken about 2kilo/ 4½lb

skin on

for the brushing

3 branchs chopped finely

rosemary
Directions
Did you ever think about a full roasted chicken as a quick dinner? me neither until i tried the pan roasted chicken recipe I'll present here.
This recipe was in one of America's test kitchen episodes, a full chicken in a home oven in 40 minutes (or less), at first I didn't buy it, I thought it's another TV trick and a full chicken needs more time than that.
So, I tried the recipe and it works beautifully, now you got to try it as well!
Pan roasted chicken pointers
Heat a cast iron pan in the oven for 30 minutes before adding the chicken.
don't remove the chicken skin, it protects the meat from the direct heat of the oven hence keeping meat moist and tender
Tuck in the ties below the chicken belly so the body surface will be bigger for the roast.
The pan is no on direct gas heat, immediately we take the pan with the chicken in the oven
Use a thermometer to check internal heat, we look for 80°c/165°F for a moist chicken.
Brushing the chicken with garlic olive oil and rosemary moisten the chicken and ads flavor while still keeping the natural flavor of the roasted chicken.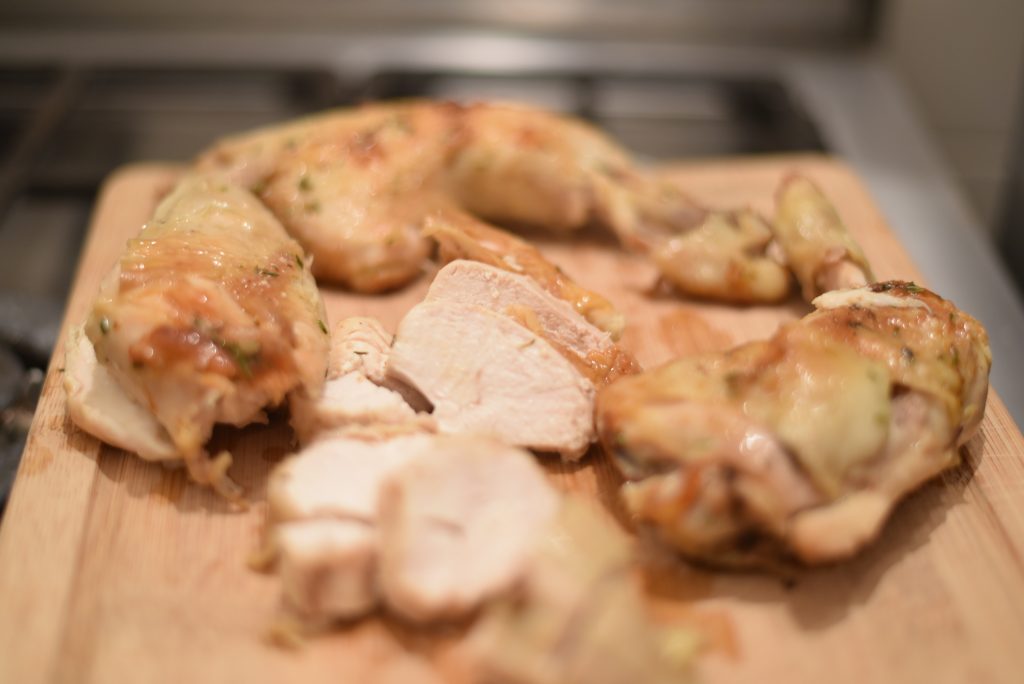 When making chicken we need to be very precise, especially if it's a roasted chicken because it gets dry easily and the difference between a juicy tender chicken and a stiff stringy fiber one is not more than 7 minutes difference.
When making chicken in a stew you don't need to keep a close look, the water keeps the chicken protected and prevent it from losing liquids as well as balance the temperature, but roasted chicken is tricky ,so go ahead and make this great recipe because it can be a great hassle free dinner with minimum effort but it will get you a lot of compliments as well.
(Visited 630 times, 1 visits today)
Steps
30 minues

Preheat cast iron pan

preheat oven to 250°c/500°F and place the cast iron inside.

5 minutes

preparing the chicken

If your chicken was in the fridge take it out as soon as you place the cast iron in the oven, we want it to be in room temperature.
Cut the backbone and remove it (keep it in the freezer, it's great for a stock), turn the ties inside out so the skin is facing down and apply some pressure on the chicken to flatten it.
Season with salt and pepper.

30 minutes

cooking the chicken

Carefully remove the cast iron pan from the oven remember, the handle is super-hot) and immediately reduce temperature to 225°c/450°F .
Place the chicken skin side down on the pan and insert into the oven.

3 minutes

preparing spiced olive oil for the brushing

10 minutes

brushing the chicken

After 30 minutes in the oven take the pan out and brush the chicken from all sides with the marinade
Flip the chicken so now the skin side facing up, we want the skin to get crispy and not soggy because of the fluids accumulated in the bottom.
Reduce temperature to 200°c/400°F , place the chicken in the upper rack of the oven and cook for 10 more minutes, I recommend checking the chicken after 7 minutes to see inner temperature, it should be 80°c/165°F.

10

carving the chicken and serving