Ingredients
Mushroom Ragu

3 pounds/ 1½ Kilo of a mushroom mix

Cremini, Portobello, Enoki and Button mushrooms

25g/ 1oz

Dried Porcini mushrooms

soaked in ½ cup of water
Directions
I just love polenta with Mushroom Ragu in cold winter nights, this warms me up and I get the feeling of home food which I can never get enough of.
I discussed making Polenta in the past and always emphasized that it's not such a big deal as the traditional recipes claim.
You really don't have to stir the polenta constantly, it makes no difference at all.
All you need to remember in order to make a good creamy soft polenta is a good ratio between water and corn grits, which makes the difference between a dry polenta and a good corn porridge, almost soupy in texture.
Polenta with Mushroom Ragu – the concept
So, we agreed (I hope) that polenta is not such a heavy task as sometimes recipes described, leaving us with two spare hands to make a great complimentary side dish to go with the polenta, a heavy mushroom ragu.
Mushroom ragu fits like a glove on polenta, it's a heavy mushroom sauce, almost meaty in texture and flavor, gooey and full of earthy aroma that compliments the natural corn flavors and not overcoming it.
The mushrooms
I like to use a variety of mushrooms, I add whatever there is in season and fresh plus dried porcini.
In this recipe, I added whole bunch of different mushrooms, dried Porcini, fresh Cremini, Portobello, Enoki and Button mushrooms.
Each mushroom has its own unique texture and distinct taste and adding them together creates a wonderful mushroom stew with some strong earthy flavors.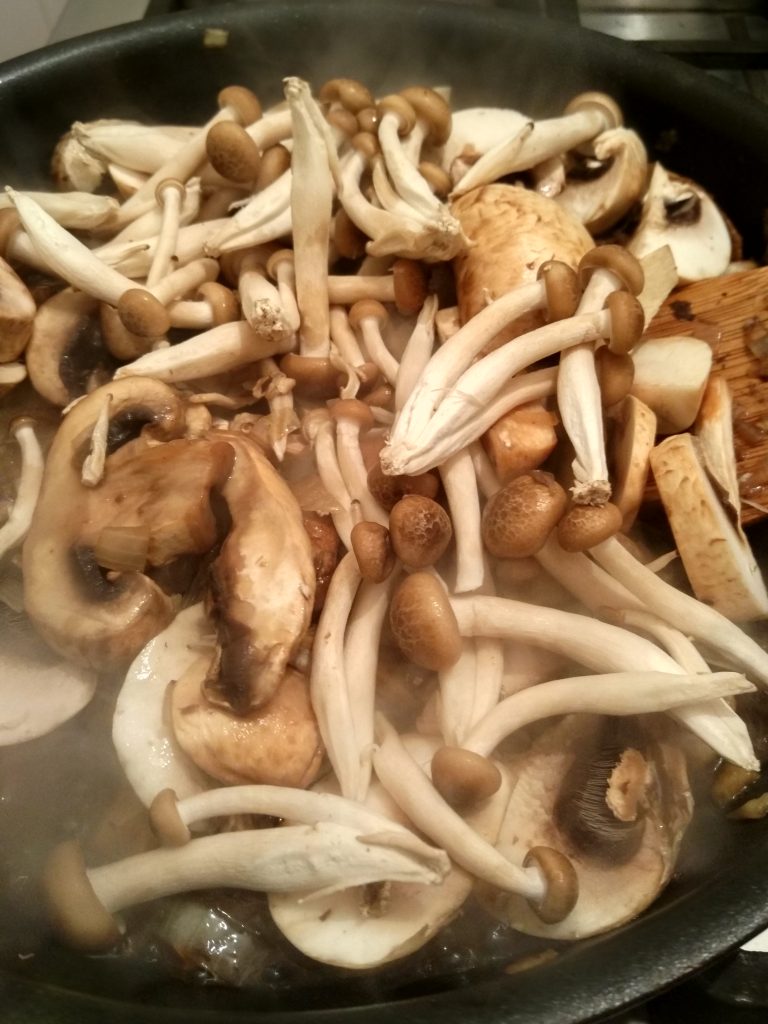 Polenta with Mushroom Ragu – timing is everything
When making the Polenta with Mushroom Ragu I take a timeframe of 1 hour to complete both the ragu and polenta and do it simultaneously so they will be ready together, they must be served hot.
I start with the polenta, add it to the pot with cold water and turn on the heat, it takes about 5 minutes before the water riches simmering point.
Meanwhile I set another pan for the mushroom ragu adding all the ingredients and setting on low heat for slow cooking.
Mushroom ragu and polenta can be paired in many polenta textures, fried/roasted polenta (after cooling the polenta in the fridge we can fry/roast it in small bites) or "polenta omelet" as I have cooked in the past (it's just a butter fried soft polenta, the omelet texture forms from laying the thin layer on the pan).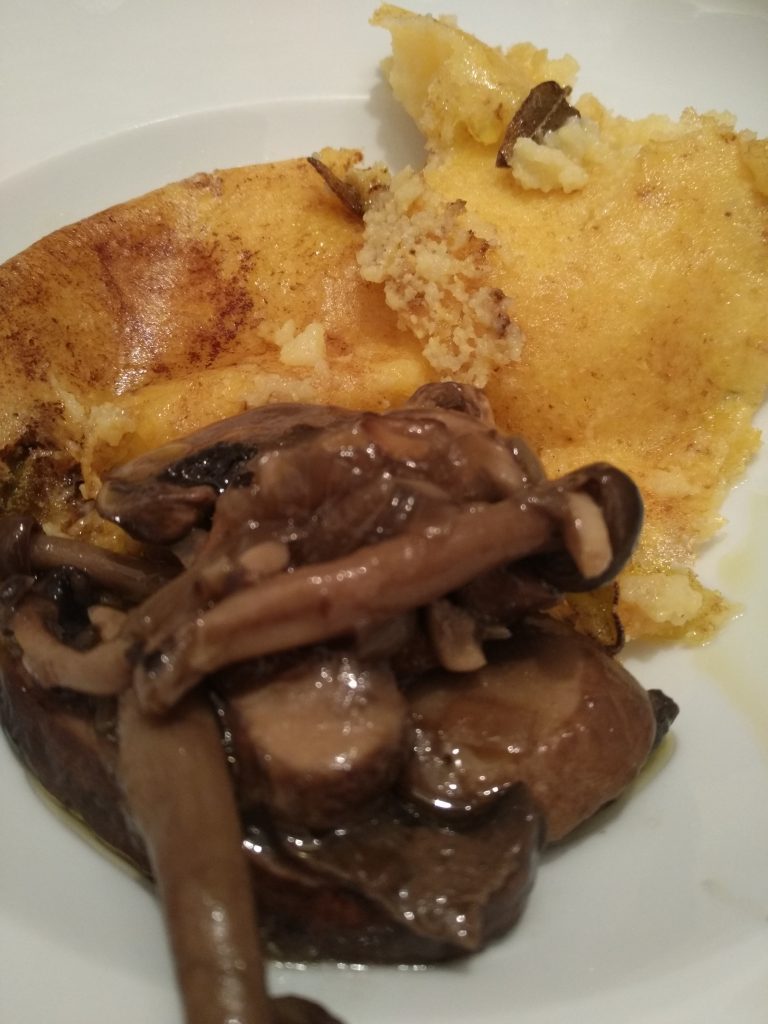 (Visited 447 times, 1 visits today)
Steps
1 hour

Making the Polenta

In a medium sauce pan or big Iron skillet set on high heat, pour the water, salt and polenta.
Bring the water into a simmer and reduce heat into low.
Occasionally stir the polenta preventing it from forming lumps.
When polenta starts to thicken and break from the sides of the pan (after about 45-50 minutes) remove from heat, add butter, olive oil and parmesan and stir until fully incorporated.

1 hour

making the mushroom ragu

While the polenta is cooking set an iron skillet on high heat.
Add the butter, when its fully melted add the onions, cook for 3 more minutes and add the fresh mushrooms.
Cook the mushrooms on high heat for about 7-10 minutes until the mushrooms mix lose most of their fluids.
Pour the olive oil and cook for 2 more minutes, season with salt and pepper.
Add the Porcini mushrooms with the water they were soaked in and cook for 2 more minutes.
Pour the white wine and cook for another 2 minutes.
Reduce heat to medium-low and let fluids evaporate.
Adding water is optional, depending on the amount of fluids you want in the ragu, if you see the ragu is dry go ahead and add some water.

plating and serving