Ingredients
135 g (1.2 sticks)

Butter

softened at room temperature

100 g (3.5 oz)

all purpose flour

50 g (1 1/2 oz)

Whole wheat flour

finishing
Directions
Roquefort cheese cookies are the perfect tender crisp cookies to go along with coffee, tea or wine.
Savory cookies are something we are usually overlooking and move forward to the chocolate cookies page, but these will change your mind.
why Roquefort cheese cookies really works
The combination between blue cheese and butter creates an umami taste that you really can't put your finger on it. If you ask your guest for the components big chances they will not spot the roquefort.
Another great kick for this Roquefort cheese cookies is the sesame nigella seeds blend that adds a bit of a sour taste and great extra texture of the seeds popping in our mouth.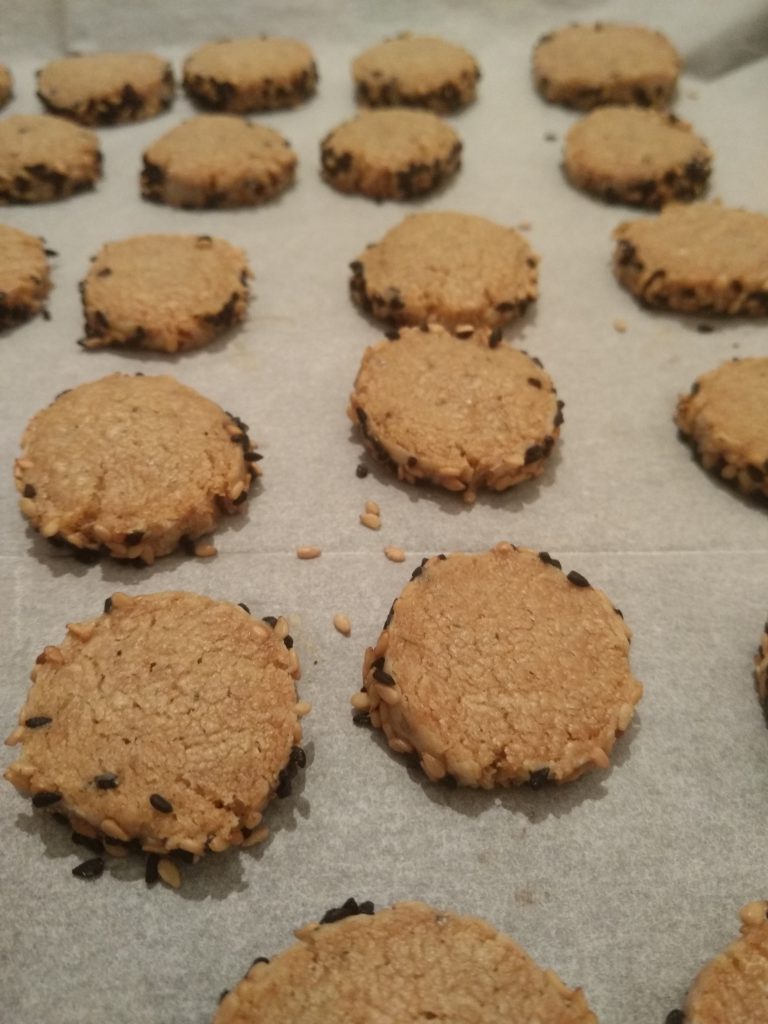 Roquefort cheese cookies guidelines
Making the cookies is not a difficult task however we need to keep a few basic stages in the process.
Keeping a soften butter at room temperature, don't melt the butter over the microwave, it will resolve in a stiff cookie and we are interested in a soft grainy melting texture
Make sure you don't skip the refrigeration of the dough stage, making them on the spot is almost impossible since this dough is very sticky
fast baking is needed, even if you think that they need to be more golden, take them out after maximum of 20 minutes
There are quite a few variations you can add to these roquefort cheese cookies, you can use a "cup 4 cup" flour and make it gluten free (pay attention to density,  you might want to add more flour for GF cookie). you can also use various of other soft dry cheese.
A perfect appetizer or just something to chew on with wine, these amazing crisps have a strong flavor and the combination of Roquefort, butter, flour in the oven blur a bit the strong taste of the blue cheese and add a great Umami taste.
(Visited 846 times, 1 visits today)
Steps
20 minutes

mixing all ingredients

20 minutes

finishing and baking

preheat oven into 160°c (320°F).
mix egg in a bowl and spread Nigella and sesame seeds on a flat surface.
take dough tubes out of the fridge, rub with egg and roll over the seeds mix.
cut tubes into 2 cm size and place in the pan with 2 cm between each cookie to avoid sticking.
bake until golden and set 5 minutes to cool.