Ingredients
1tsp

Ground Nutmeg

freshly grated

4 carrots

Grated Carrots

about 500 grams
Directions
Carrot cake is one of my all time favorite pound cakes.
It's the perfect match of my tea or coffee and the taste is just getting better as it sits in the fridge.
why is carrot cake so good?
I would have to say that it's a combination of moist interior and crunchy shell in the outside.
I mean, there are many pound cakes with similar characteristics but when adding grated carrots which is a firm vegetable, also after baking, there is a change in texture and we start to feel different layers of spongy vs crunchy in each bite.
Seasoning makes the difference
Carrots and strong spices go well together, Ginger, Cinnamon, nutmeg and whatever you can think of are very much welcomed.
I never tried to analyze it but I guess the neutral semi sweet taste of the carrots coexist with strong spices.
Adding nutritional values to the carrot cake
I happen to think that regular white all-purpose flour does not have any taste added values over the whole-wheat flours.
On the contrary, the whole-wheat flour adds depth and texture that the regular flours can't give a cake.
White flour will alway give a spongy airy texture to the pound cake, that's fine, but if we're looking into a richer cake, there is an alternative.
I also reduced the amount of sugars by half and added date honey instead, the cake will be more deep in flavors and lighter.
Oil is another key ingredient in pound cakes. it is usually used instead of butter in order to make the cake more fluffy and airy.
I usually agree however the nutritional values of oil are less than butter (not to mention taste) so I used a combination of them both in order to create both texture and flavor.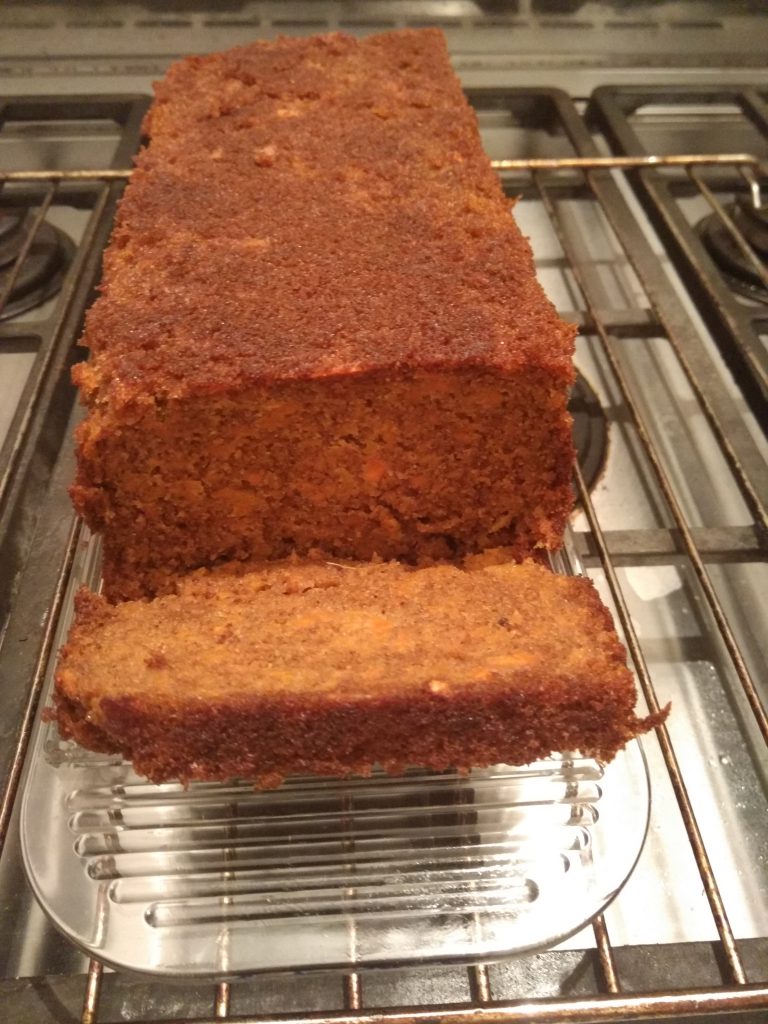 Carrot cake baking
There is a fine line between a moist cake and dry cake.
Official baking time is 1 hour however I would definitely recommend to check the cake after 50 minutes to see if a toothpick comes out dry.
Every oven is slightly different and of course the smaller the baking pan the less minutes it will take to fully bake the carrot cake.
There are many common variations for this cake; adding walnuts, chocolate chips, raisins and much more.
Bake it once and you won't stop baking it over and over again.
(Visited 906 times, 1 visits today)
Steps
25 min

Mix ingredients

Preheat oven to 170°c/ 340°F.
Grease and flour a 9x13 inch pan.
Place butter and sugar in a stand mixer bowl fitted with the whisk attachment, mix for one minute and add the eggs one at a time, pour oil and water in a steady drizzle.
In a separate bowl mix the dry ingredients, flour baking soda, baking powder, Cinnamon, Ginger.
Add the dry ingredients to the mixer and mix for another minute, add the date honey and the carrots just until combined.
Pour the mixture into the baking pan .

1hr

Baking and serving