Ingredients
For the Cauliflower

For the Lemon sauce

1 tbsp.

Lemon zest

from one lemon

For Serving
Directions
I'll start by saying that i didn't intend to make this pasta at the very beginning, it's the result of my wife's telling me that she wants a surprising pasta for dinner, it was an improvisation of stuff I had in my pantry but the beauty of this great dish is that the ingredients are easy to come up with and the flavor is just divine, plus the winter season is a great time for a lemon cauliflower pasta dish the lemon and cauliflower are at their pick of their flavor.
The reason I chose to combine these ingredients is because cauliflower and lemon are a perfect match, they go so good together, so adding pasta will resolve in a dish you will surely go back to.
This pasta dish has 2 main stages, the sauce and the baked cauliflower with crust, each of them is easy to make and can be done simultaneously so the process does not take more than an hour from scratch to serving.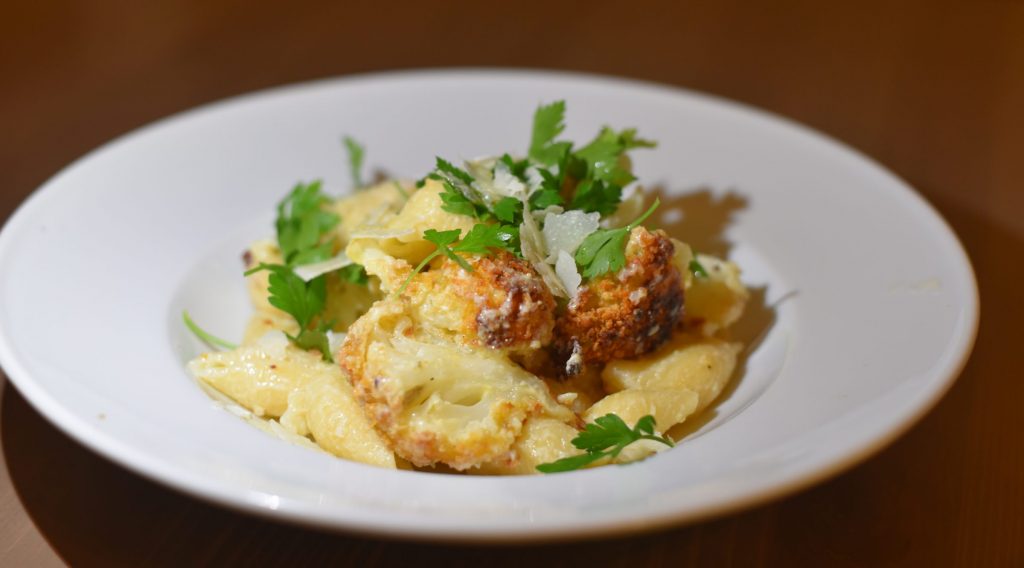 Making the baked cauliflower
The cauliflower is going thru 2 stages as well, first is boiling the cauliflower, I cook the cauliflower with the pasta 10 minutes is just what is all the cauliflower needs in order to get tender but not soggy. I see no reason to have 2 pots with water, one for the pasta and one for the cauliflower, if any, the cauliflower will improve the pasta's natural flavor when cooked together, so don't be afraid cook the pasta and cauliflower together.
I created for the cauliflower a nice crust made out of egg mix that acts as a glue and a cheese and breadcrumbs mix to cover the cauliflower and give it crunchiness.
baking is on high temperature, remember, the cauliflower is half ready, all we need is to form the crust, so high and short period of time are needed for the baking, I used 225°c/ 450°F for about 20 minutes until golden brown in color.
Making the lemon cream sauce
This lemon pasta sauce method is taken from the pastry world, it combines natural thickeners like cornstarch and eggs in order for the sauce to develop a steady body, if this sauce were to be cooled in the fridge it would have been in a porridge consistency, but we are using it on the spot so we only enjoy its creaminess.
I used a similar lemon filling for my lemon tart, only when making a pastry the sauce is sweeter and contain more eggs to keep it stable and firm.
(Visited 587 times, 1 visits today)
Steps
10 minutes

cooking the pasta and cauliflower

25 minutes

Baking the cauliflower

15 minutes

making the lemon cream sauce

In a medium saucepan place the lemon juice, water and honey and bring into a gentle simmer.
Reduce heat and add the cream and corn flour, whisk constantly until the sauce is resisting a bit and a body is formed.
In a separate bowl whisk the egg yolks gently and pour in the lemon cream sauce in small drizzle, about 1 cup of sauce, whisk the eggs and the sauce in the bowl until temperature has been leveled (we don't want lumps).
Pour the eggs and cream mixture into the saucepan and mix with the rest of the sauce, add the lemon zest and increase temperature to medium, whisk constantly until the sauce is thickened a bit.
Remove from heat, add the butter and salt, mix until fully incorporated.

Assembling and serving the dish

In a mixing bowl place the pasta and pour over it the lemon cream sauce.
add the baked cauliflower and mix well.
Place a portion of the pasta and cauliflower mix in a serving plate, spread oven some lemon zest, parsley, pecorino and drizzle olive oil on top.
Season with salt as much as needed
Serve immediately