Ingredients
For the steamed buns

1½ tbsp and some more for brushing

oil

Ribs filling
Directions
I just love street food, there is something in the simplicity and the "take away" concept that is really to the point, this is how I feel about the Chinese steamed fold over buns.
I'm making all sort of breads and buns, the process is usually quite long and baking time takes at least 30 minutes, so when i got to know the steamed buns and the short process of making them it really made a difference.
There is such thing as spontaneous bread
when thinking of a great fun dinner the Chinese steamed fold over buns are a great option that doesn't take much preparations.
These soft and tender buns can be filled with any kind of meat, fish, chicken or seafood you have in your house and gladly accept any gravy and sauce.
Chinese steamed fold over buns – the method
Making the bun dough is short, it is a basic dough that can be the base of many Chinese buns.
Making the basic dough takes about 5 minutes and proofing it takes about 2 hours, not bad for spontaneous bread, however the real bonus it the fast cooking time (steaming time) which is 5-9 minutes depending on the bun size.
The filling
Chinese steamed fold over buns is best with succulent tender meat that will compliment the buns and have the them absorbs all the juices of the meat.
For these buns I used thin rib which I oven roasted for hours, I gave it a quick sear on the pan cooking it in the fat of the meat (there is plenty).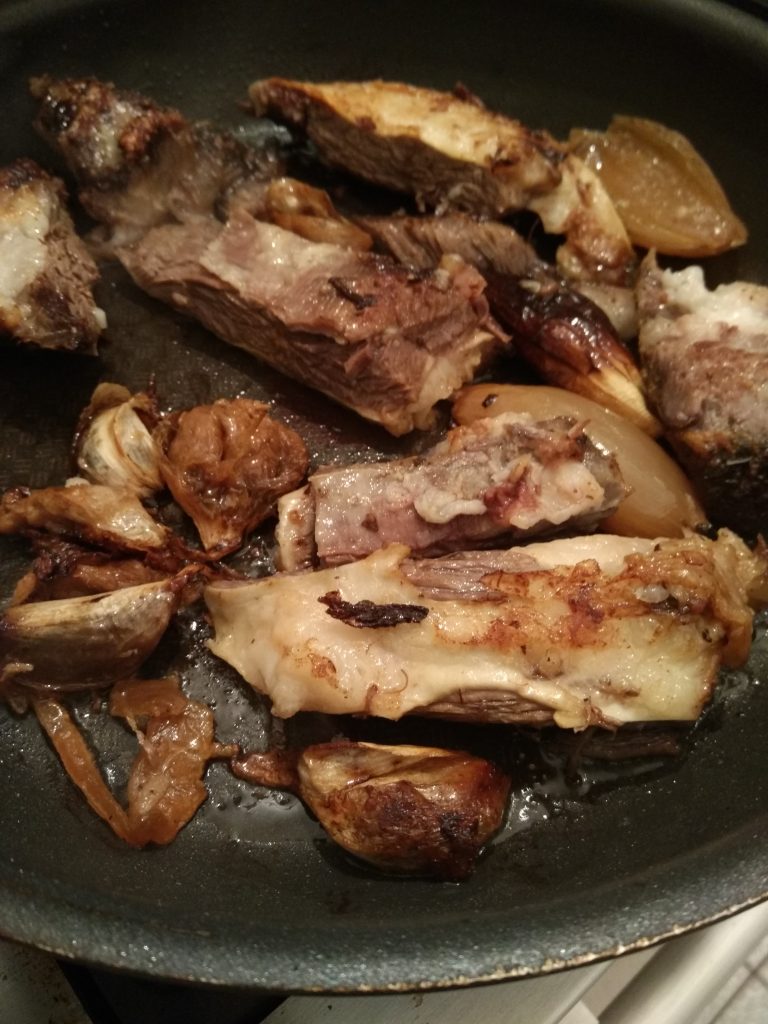 The fun part is assembling the buns, in this part you can go wild with your favorite filling and create your own special bun.
Like any good street food, you eat it with your hands and it drips all over your shirt so go ahead and overload the buns and bite into it.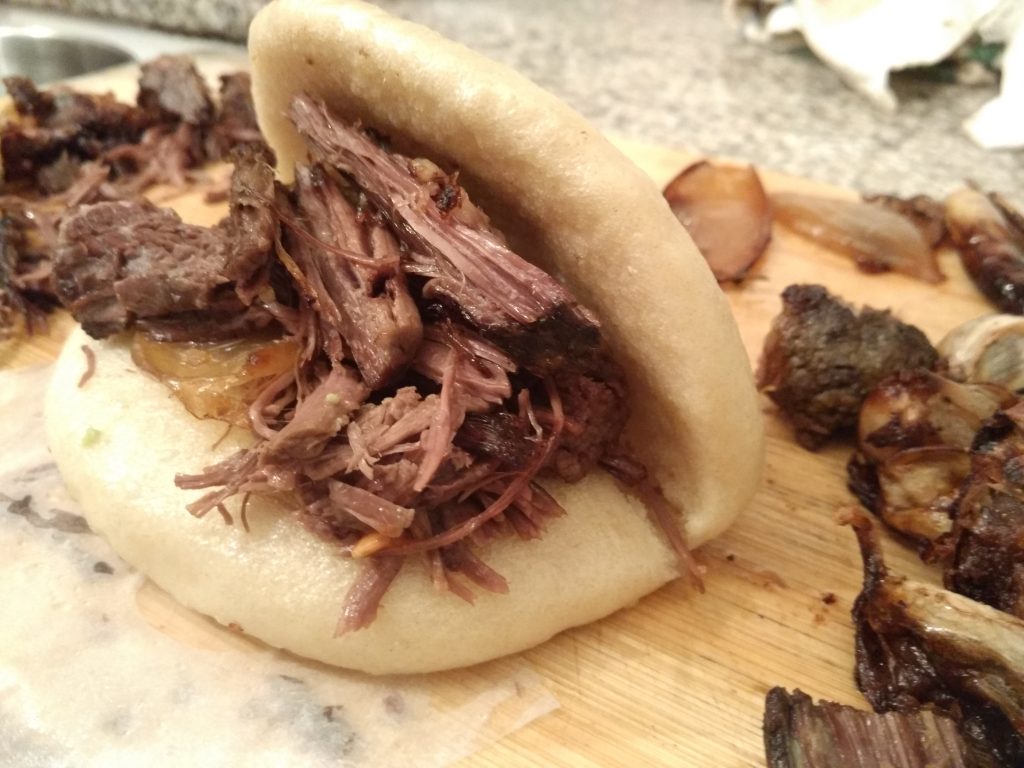 (Visited 804 times, 1 visits today)
Steps
5-7 minutes

Making the steamed buns dough

Prepare a stand mixer with the hook attachment.
Pour the warm water into the mixer bowl, add the sugar, oil and yeast, let rest for a few minutes, we want small bubbles to appear.
Add the flour, baking powder and salt and mix for a few minutes until the dough is sticky and elastic.
Move the dough to a floured counter and hand knead for 2 more minutes.
Place the dough back in the mixer bowl and cover with a plastic wrap.
Proof the dough for 2 hours until it doubles its size.

shaping the steamed buns

Place the dough on a floured counter and divide into 2 equal parts.
Roll each part into a log shape and cut each log into 5-6 pieces.
Roll each piece of dough into a small ball and flatten it with your rolling pin into an elliptic shape
Brush each elliptic dough with the cooking oil and fold over.
Use your rolling pin to flatten each folded dough a bit more (very gently), use just little pressure, we don't want the buns to open up in the steamer.

20 minutes

steaming the buns

Prepare small squares of parchment paper in the steamer and place buns on top
Cover the buns in the steamer for a final rest of 10 minute (no heat yet).
Fill a large saucepan with water and place over high heat, place the steamer above it.
We don't wait for the water to boil before we place the steamer above the saucepan, it's on it from the first moment so heat is gradually building in the buns.
When water reached boiling point, we reduce it to low and steam the buns for 5-9 more minutes, depending on the buns size.
When time is up, turn the heat off and let the buns rest in the steamer for 2 more minutes, we want the temperature to gradually reduce.

5 minutes

choose your filling (ribs of beef in this case)