Ingredients
2 medium chopped to small cubes

Carrot

1 chopped finely

Celery rib

180g/6.5oz chopped into cubes

Duck breast

its possible to use Pancetta as well.

3/4 cup

Black Beluga lentils

1/2 cup

Red wine

a good Chianti will do the trick

serving

leaves torn not cut

parsley
Directions
What can I say about lentils, they are hiding inside my pantry in a box that is hardly touched, opening the Pantry and thinking what to make I felt a sudden urge to make Red wine braised Lentils.
It's not that I don't like lentils, I really do however usually they are not the center of the meal, a great side dish but can't really hold a meal. They are not getting the respect they deserve, this grain is very versatile, no need to soak it into water for a long time (or none at all) so it's easy to make and can be a great dinner in less than 30 minutes. the recipe below of the Red wine braised Lentils is a bit more complicated but it's not a big deal.
Game plan for Red wine braised Lentils
The method here is similar to Risotto making , we add a bit of chicken stalk until the lentils absorb some of  the fluids and then add more however in this case we are not adding fluids in small batched (as the exhausting Risotto recipes) instead we add in 2-3 batches of large portions of stalk letting the lentils absorb some of the stalk, stir and after a few minutes add some more until left cooked for 30-40 minutes.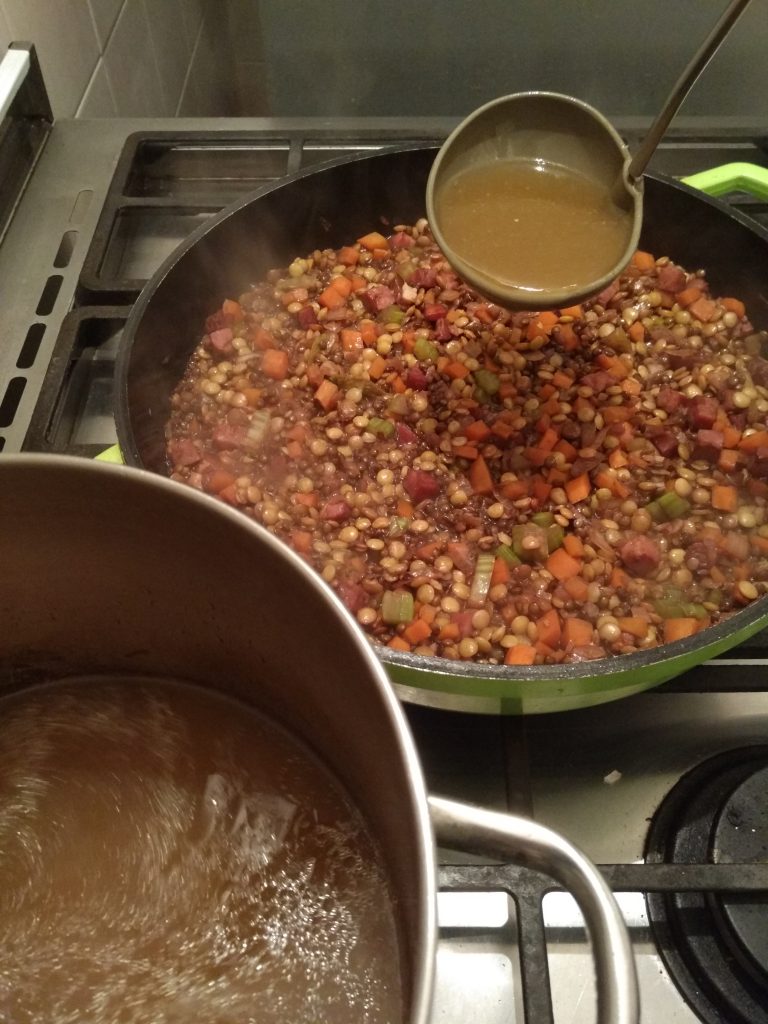 The fact that there is Wine in the recipe does not make it unfriendly to children, fear not the alcohol evaporates pretty fast and we are left with the tangy taste of the wine. when mixed with the Pancetta or duck breast the dish is getting great smoky deep flavor.
So yes, making the Red wine braised Lentils dish is a great lentils dish that will fill your house with Italian aroma, indeed the process is a bit longer than we are usually used with lentils but it's totally worth it.
(Visited 524 times, 1 visits today)
Steps
15 minutes

preparation and cooking

55 minutes

adding liquids and cooking

Add the red wine and stir for 30 seconds until the alcohol evaporates, add 1 cup of stock and stir the lentils for 3 minutes then another cup and stir for another 3 minutes until most of the fluid absorbed in the lentils. reduce the heat to low and add the remaining 2 cups of stock, salt and pepper.
cover the lid and cook for 40-50 minutes until all fluids had evaporated.
serve with parsley leaves