Ingredients
2-6 chillies

Bird's eye chilies

depends on the spice level you want to achieve

450g/1 lb

Ground Beef

can be pork chicken or shrimps as well

1 Cup of Holy Basil

or ½ cup of regular basil

For serving

1 cup torn by hand

coriander
Directions
Pad Ka-Prao is one of my favorite Thai dishes, I always order it in thai restaurants and in fact, I admit I found out myself just recently… it's a very easy dish to make at home as well.
The Pad Ka-Prao can be made in different variations and basically anything goes as far as meat is concerned. Ground pork is the most popular variation, but the dish can be made with chicken, shrimp or beef, which is my favorite, and the variation I used for this recipe.
Pad Ka-Prao – staying authentic … as possible
most of the ingredients are available in the supermarkets of any country, the one ingredient that we may struggle with is the Holy Basil which is the basil kind used for the Pad Ka-Prao
It is indeed not easy to get a hold of the Holy Basil and its ok if you don't have it, just use regular basil in lower quantities (because Regular Italian basil is very aggressive in flavor).
Other than the holy Basil all ingredients are available and we can cook this dish with out any issues.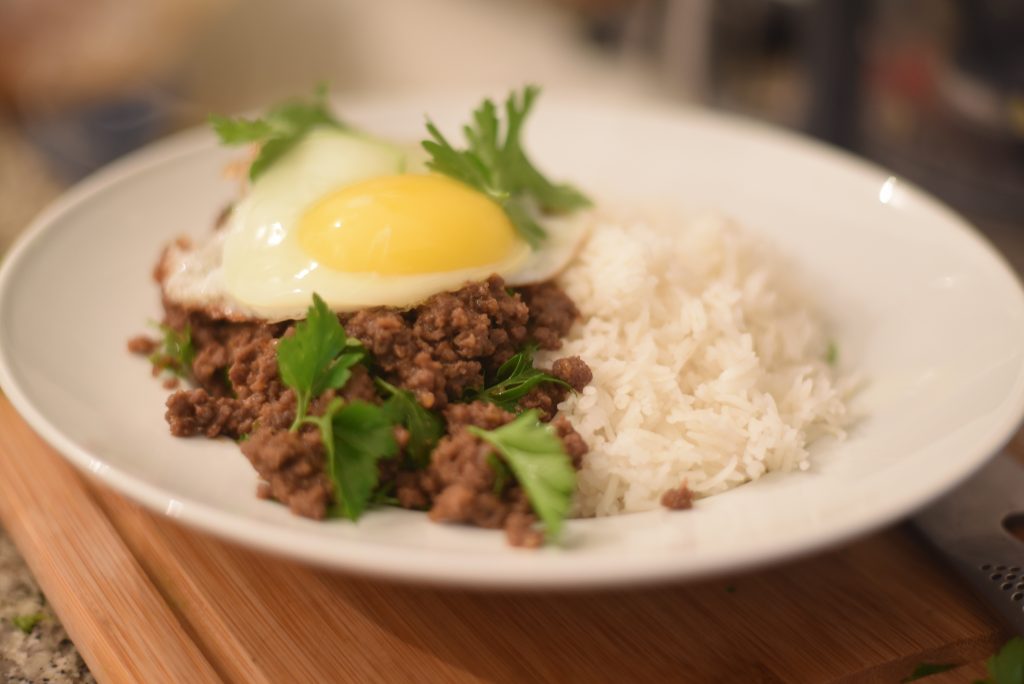 *** the dish name Pad Ka-Prao means Stir-fry with Holy Basil so technically if not using the holy basil the name of the dish cant be Pad Ka-Prao but it will still be delicious.
The secret for this great dish is the chilli Garlic shallot paste, it will determine the flavor of the meat and also how spicy it is.
I usually use the bird eye's chili, which is a nastky little chili and if you are not familiar with it and you know you or someone in your family are not that tollerant to spicy food, use only 1 or 2 chillis, because there is no way back from beting a super spicy dish one added too much chillies.
in some thai restaurants this dish is so spicy you can hardly taste any thing else, personally i like a mild spicy flavor so i'll be able to feel the dish great taste as well not letting the spicy chillies take over.
(Visited 2,220 times, 1 visits today)
Steps
3 minutes

Making the paste

In a food processor (or mortar if you want to use the old-fashioned way), add the garlic, shallots and chilies, pulse until becomes a smooth paste.

10 minutes

stir fry the Pad Ka-Prao

Set a wok over high heat.
When shimmering, add the oil and paste, cook for 2-3 minutes until fragrant.
Add the meat and squeeze with a wooden spoon in order to separate the meat, cook for 3 minutes.
Pour the fish sauce, light and sweet soy sauce and the oyster sauce to the meat, mix well , adjust seasoning and cook for another 3 minutes.
Add the basil, half of the coriander, cook for another minute and remove from heat.

3 minutes

serving the Pad Ka-Prao