Ingredients
210g/ 2 sticks/ 8oz

Butter

280g/ 2 cups

all purpose flour

300g/ 11oz

dark chocolate

70% Cocoa, broken to small bites

200g/ 1 cup

granulated sugar
Directions
If you consider yourself a big Chocolate addict, you will love this chocolate brownies recipe.
I use a lot of chocolate to get the deep chocolate flavor experience and, no, I don't put any supplements to these great chocolate brownies (as popular in many bakeries), you will taste pure chocolate here.
What makes a good chocolate brownies?
The brownies have to be with a high chocolate ratio in the recipe compared to other ingredients, it should be the dominant element in quantities.
The chocolate itself needs to be a very quality one, I use a dark chocolate above 70% cocoa.
I realize that in some recipes there is a mix between dark chocolate and milk chocolate but I love the strong, little bit bitter chocolate taste and this is what we use here.
In order to get the chocolate brownies moist on the inside we need the wet ingredients and fat agents to be in high proportions. In this recipe we use relatively high amount of butter and 2 eggs in order for the batter will to be runny.
The flour amount is low, we don't want it to absorb to much of the liquids, remember, chocolate brownies is are not a chocolate cake, it's more like a condensed cookie or big chocolate bar.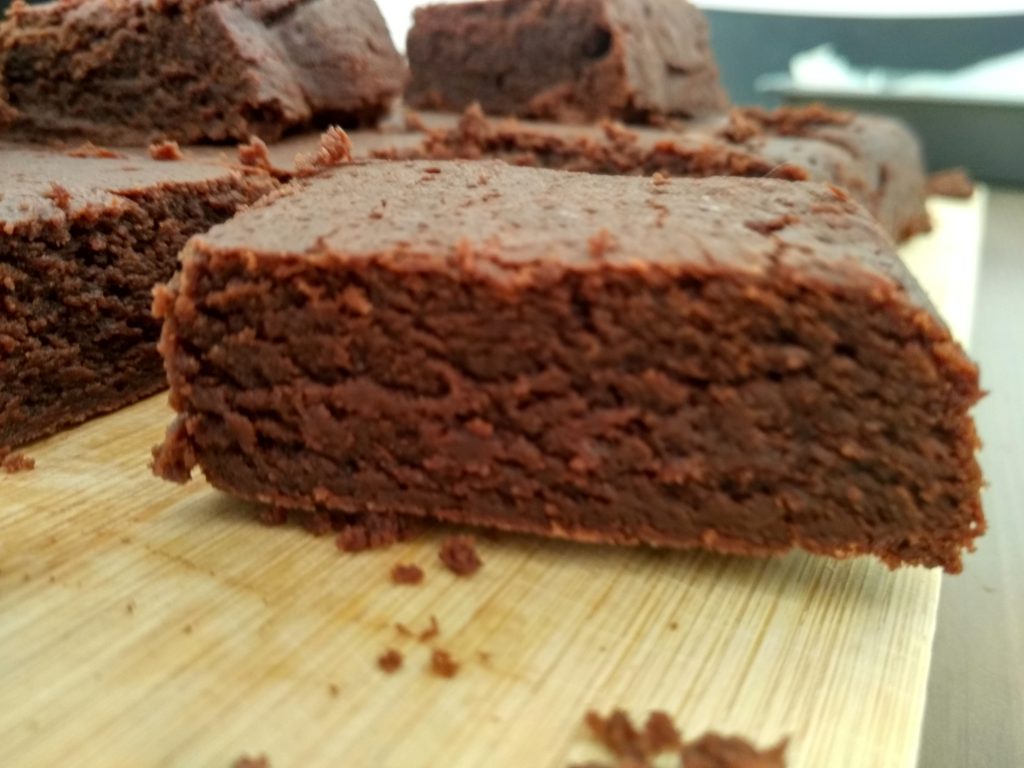 Chocolate brownies baking makes the difference
Baking time is short, its only for the batter to hold its shape and creates a crusty shell on the outside.
On the inside of the browny it's very moist and wet, think of it as making a medium rare steak, you don't want the heat of the oven to cook the inside of the chocolate brownie.
This is why we bake the brownies on a low temperature of 170°c/340°F for 20-25 minutes only
Its super important to check after 18 minutes with a toothpick to make sure it's still moist so when you pull out the toothpick it has wet chocolate crumbs on it.
Chocolate brownies variations
There are endless possibilities with brownies, starting from different kind of fruits like raspberry or cranberry, following with some more popular variations like white chocolate, toffee, walnuts and whatever that comes up to your mind.
Chocolate brownies are great by the coffee and great for entertaining, a quick dessert that doesn't need preparation.
Why this recipe will work for you
high chocolate percentage
high liquid agent percentage
low amount of flour
short baking time
(Visited 553 times, 1 visits today)
Steps
making the brownies batter

Preheat the oven to a 170°c/340°F.
Butter a 28 X 18 cm (11 x 7 inch) rectangular baking pan.
Place the chocolate and butter in a bain-marie on the stove and mix well until fully incorporated (it should be dark and shiny) and set aside to cool.
In a Bowl, whisk the eggs, sugar and vanilla just until combined, the purpose is not to get air into the egg mixture.
Fold the chocolate mix inside the egg mix following by the flour just until fully incorporated and there are no lumps.

30 minutes

Bake and serve

Pour the batter into the baking pan and place in the oven for 20 minutes
Check after 18 minutes to make sure the mix is not dry.
Insert a toothpick, it should come out with some wet chocolate crumbs.
Take out the brownies and set aside to cool for 15 minutes.
Cut the brownies into bite size squares and serve.
The brownies can be kept in the fridge for 4-5 days and outside for 3 days.