Ingredients
2 tbsp

Parmesan cheese

Grated finely
Directions
Winter takes me to hot gooey dishes like soft polenta, it's a great cold days comforting dish.
I had issues with making polenta in the past, I couldn't get it quite right, it was either grainy with lumps or just tasteless.
only in the last few years I came back to making this great cornmeal, when I had kids, I thought that they will love it, what's not to love about cornmeal porridge? I was right and somewhere along the way I found polenta again.
Polenta variations
There are a few kinds of polenta, there is the stoneground kind which produces an irregular grit size which can vary in size from tiny almost powdery grits to big size ones.
The second is the consistent grind which produces a uniform grit size usually medium-small grit, I use the consistent size grits, I like the smooth texture.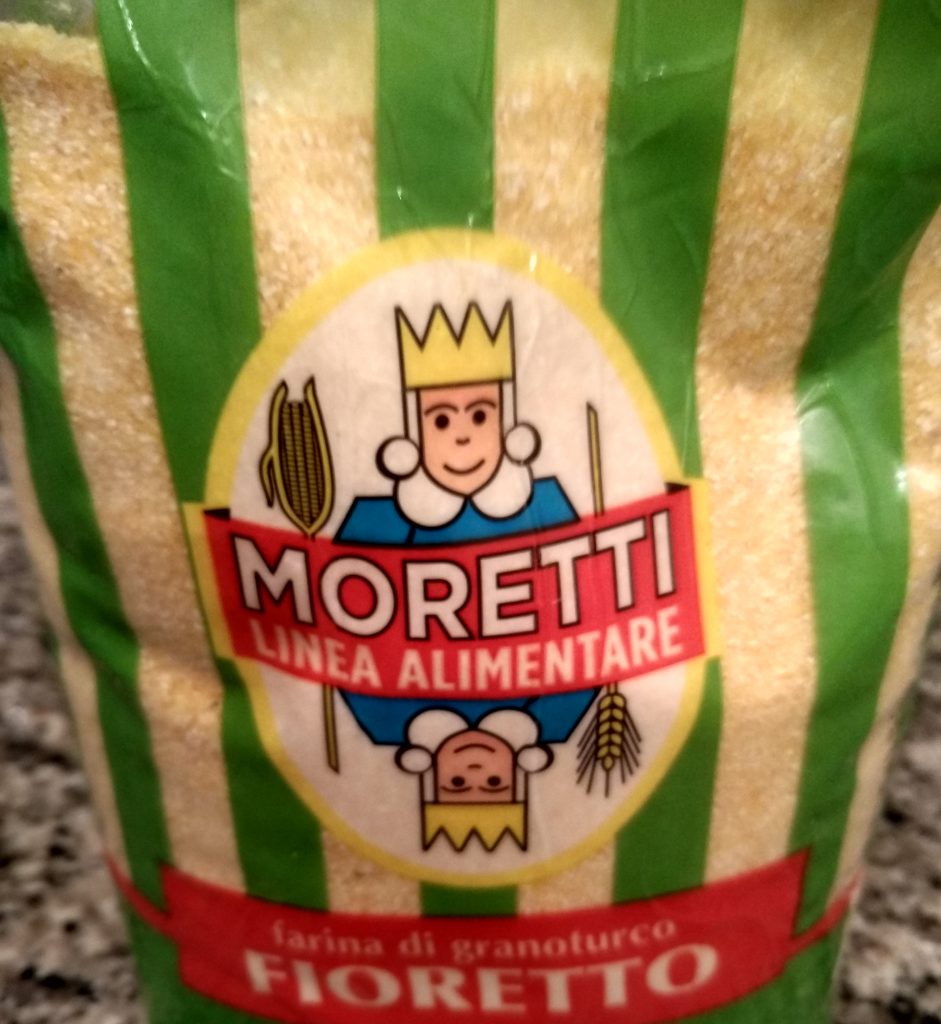 There is a 3rd variation which is the instant polenta. it's an inferior kind of cornmeal that usually used for baking, I avoid in using it for polenta dishes. because the cornmeal in the instant version is processed, the cooking time reduces to minutes, if you are short in time use it otherwise let's stick to the old-fashioned brands.
The Liquids
When it comes to the liquids used for the polenta there are a few variations depending on personal taste.
Popular used liquids are vegetable stock or chicken stock, both add deep flavors to the cornmeal porridge.
In some cases, the cornmeal is cooked in milk, this creates a richer porridge which is mild in taste and have a silky-smooth texture, it also makes the dish very heavy.
My personal preference is plain water, it is the corn natural flavor we want to shine, not any other external additions that will take our attention from the original taste of the corn.
Let's get cooking
When cooking polenta, we need to retain a basic ratio of water vs cornmeal ratio.
My preference is a high amount of water, it will make the cooking longer but will produce a much more smooth and soft grains
I use 5:1 ratio which means 5 cups of water over 1 cup of polenta, it is also popular to use 4:1 ratio which is good as well, however I wouldn't go lower than 4:1 ratio, it will produce a dry corn porridge.
We start the process by adding the polenta to the water, no need to wait for the water to boil like many recipes deem, it makes no difference, just add the corn grits to cold water and gradually heat it up.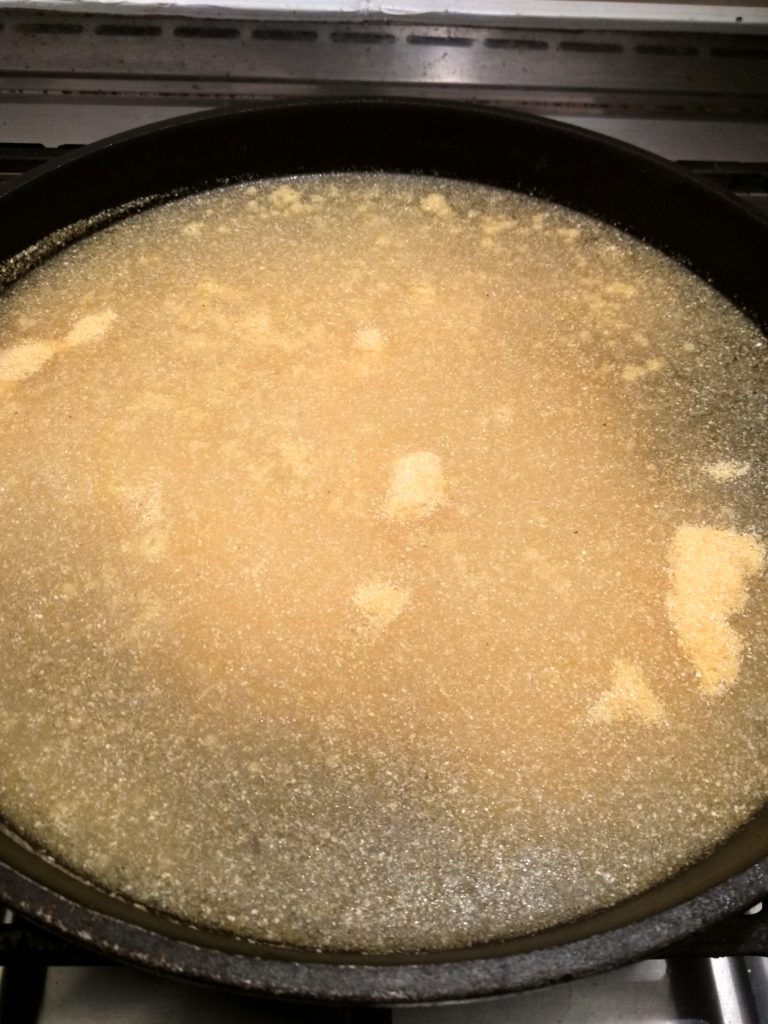 Another misconception is that you have to constantly stir the polenta in order for it not to get lumpy, you don't need to.
Polenta needs attention and does need a stirring from time to time however, it really does not need constant stirring, you can stir is every few minutes and it will be just fine.
I like to finish the porridge with some olive oil, butter and parmesan adding some fresh flavors to this hearty dish.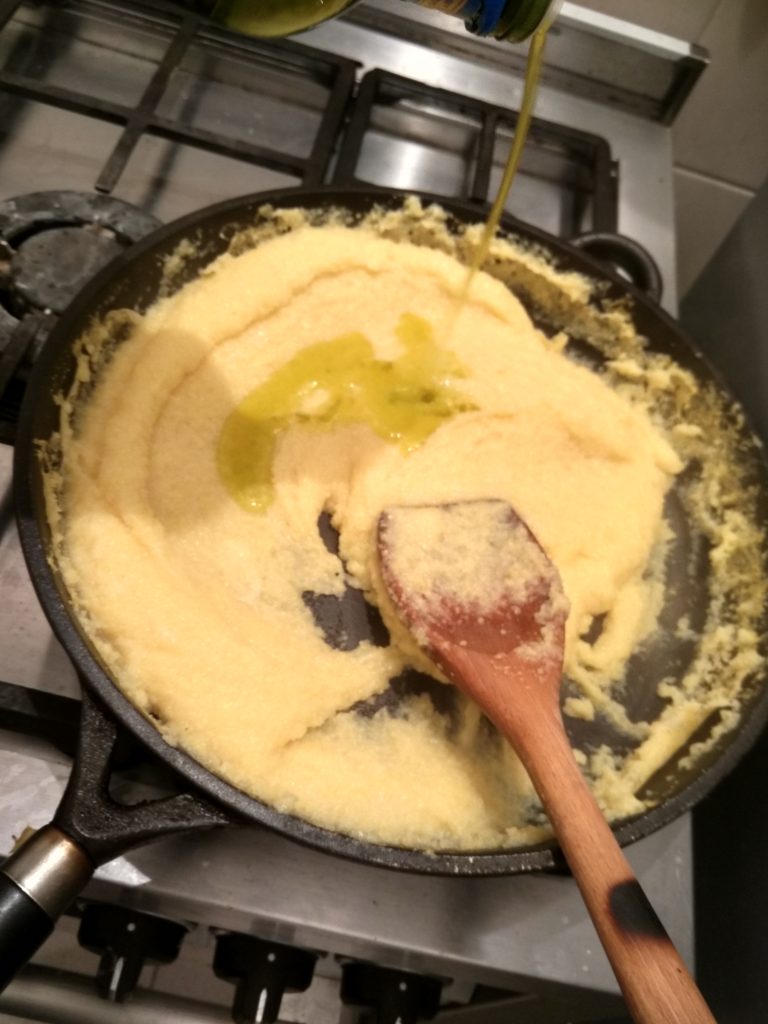 Time frame
The cooking is pretty much simple, when the water reach simmering point after a few minutes, reduce heat to low and from this point it does not need much attendance.
This is the reason time frame  can vary from 50 minutes to 1 and a half hours. When cooked on lowest heat the polenta is just vaporizing water which had been absorbed by the grits.
Cooking time is a matter of desired consistency if you want a runnier polenta remove it after 1 hour, if you want a thicker porridge leave it for 1 and a half hours.
Variation in polenta making methods
When stepping outside of the traditional Italian polenta making, the variations are vast and produce a pretty good outcome as well, every chef has its own way of making this dish.
Polenta can be made similar to rice making when you get the pot with polenta and water to a simmer, cook it for 30 minutes on low heat, remove from heat and cover with a lid for another 30 minutes. This way the grains are getting soft with minimum effort.
On Serious eats Daniel Gritzer propose a way of shortening the cooking time by soaking the cornmeal grits for a few hours in water. In this method, the cornmeal absorbs liquids and the grain puffs a bit cutting cooking time by half.
Cook's Illustrated published a microwave version that combines cornmeal and water which cooked in the microwave for 12 minutes. not my cup of tea but again, if you're in a hurry…
So, as we've seen that making polenta is not a big deal as long as we stick to the basic proportions, time frame and pick a good cornmeal brand.
(Visited 795 times, 1 visits today)
Steps
| | |
| --- | --- |
| 1 -1.5 hours | Making the cornmeal porridge |
| 3 minutes | Finishing steps |