Ingredients
for the sponge

210g/ 2 cups

Whole wheat flour

40g/ 0.3 cups

Semolina flour

for the dough

350g/ 3 cups

White Bread flour

for dusting

all purpose flour

for the final bake

Semolina flour
Directions
Italian breads have many variations, in this recipe I have chosen a bread that is relatively easy to make and will give us the excellent crunchy crust Italian bread are famous for.
There is something about homemade bread that brings the house to life. It has to do with the miracle that happens when the bread loaf is coming out of the oven and the house is filled with intoxicating bread smell that no one can resist to. it is encrypted in our most primal senses, bread means life and when we can make this at home, it often seems like a creation.
These days we're used to buying bread at bakeries however making it at home is not a big deal and we can easily put it in our weekly routine, only when you make bread you can be 100% sure the ingredients are good for you and there are no hidden small print.
so what is Italian bread? it has a crunchy crust and soft spongy texture, usual made from plain white flour or bread flour. this bread dough is very sticky and you will probably think you got the ingredient all wrong when you mix everything but it's not, it will be shaped as we let it rest.
Like in many Italian bread we use a sponge and let some of the ingredients preferment overnight to develop the enzymes needed in order to levain the bread in a more efficient way and of course to enrich its taste.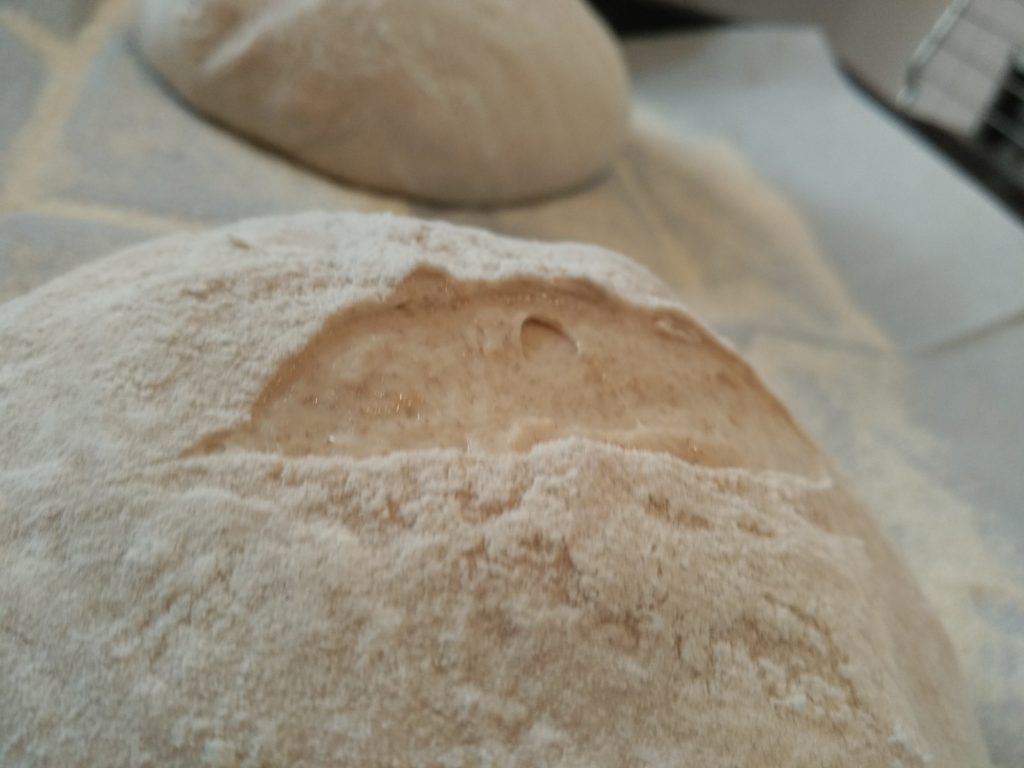 Making the Italian bread – No shortcuts
The process of making this bread the proper way will ensure both taste and texture is by following the process in full. The sponge is giving us the tangy flavor and boosting the raising of the bread. Working the dough and letting it rest is giving the Italian bread the ability to develop gluten and elasticity and baking the bread in with moisture (by adding a bowl of water to the oven) in relatively high temperature will give this great Italian bread its distinct hard crust which is the trademark of all Italian breads.
(Visited 784 times, 1 visits today)
Steps
24 hours

prepare the sponge

15 minutes

mix the dough

In a separate bowl mix the fresh yeast with the water until dissolved.
prepare a mixer with the dough hook
Add the flour, sponge, water with yeast, honey and mix 4 minutes on low speed. scrape the bottom and add the salt, mix for another 8 minutes on medium speed.
the dough will be runny and sticky , pour it on the counter.

10 minutes

shaping and resting

1 hour

shaping and dusting

after 1 hour repeat the process of kneading and folding the dough for 2 more times with a time spread of 30 minutes between them, dust with flour as much as needed.
after the 3rd time that the dough had rested (we had first rest of 1 hour, second rest 30 minutes and 3rd rest for another 30 minutes ) cut it in half.

60 minutes

final shape and resting

take half of the dough and flatten it with your palm. role it into a tight loaf and shape as a ball, place on a baking pan with the stitch line on the bottom and the round part on top. Dust the loaves with regular flour on top and role in the bottom part in semolina flour, rest for another 60 minutes.
20 minutes before the finish of the final resting time preheat the oven to 230°c/450°F and place a small bowl with water inside, we want to create some steam, it will help forming a crust.

45 minutes

baking the loafs

5 minutes before final rest is over cut a small mark about 1 inch in the middle of each of the loaves.
Place the baking pan with the loaves in the oven and remove the water bowl.
Bake for 20 minutes and reduce the temperature to 200°c/390°F for another 25 minutes, don't open the oven door.
take out the bread from the oven and let rest for another 30 minutes on the rack before eating