Ingredients
2

Leek

only th ewhite part

1kg/ 2¼ lbs

Jerusalem Artichoke

peeled and sliced

2 medium

Potatoes

peeled and sliced

1 Litre/ 2 pints

chicken stock

can be vegetable stock or plain water if you want to keep this vegan

1 tsp

White Pepper

ground

60 ml/ 2 fl oz

Heavy Cream

For serving

1 tbsp

Sour Cream

optional
Directions
Whenever I'm looking for a fool meal in a soup I come back to the Jerusalem artichoke soup, it's a satisfying comforting dish which I can never get enough of.
The season of the Jerusalem artichoke is not long, it's usually from October to April. In fall-winter time, the taste and size of the artichoke are at its peak.
Jerusalem Artichoke Soup – history first
the name, "Jerusalem artichoke" is deceiving since this root does not come from Jerusalem (or related artichokes…) at all.
As far as we know, it was first cultivated in north America by native Americans. Later on around the 1600's, Italian settlers used the name of girasole for this root and brought it to Italy. The name girasole corresponds to "turning toward the sun" and we believe the name Jerusalem evolved from girasole. "Artichoke" came later on because of its texture and taste that resembled artichoke (I don't share that opinion but how can you argue with history).
Cooking the soup
This soup is creamy and thick however we don't want it to be porridge like texture. We want it to be have a rich runny texture with a solid body, after all it is a soup.
When I make the Jerusalem artichoke soup I add about 2 small potatoes. The reason is that I want the potatoes starch and rich texture, it's not a must but highly recommended
I also use leeks instead of onions, I find the leeks much more delicate and suitable for this kind of soup, we want to preserve the earthy flavor of the Jerusalem artichoke and not overpower it with onions.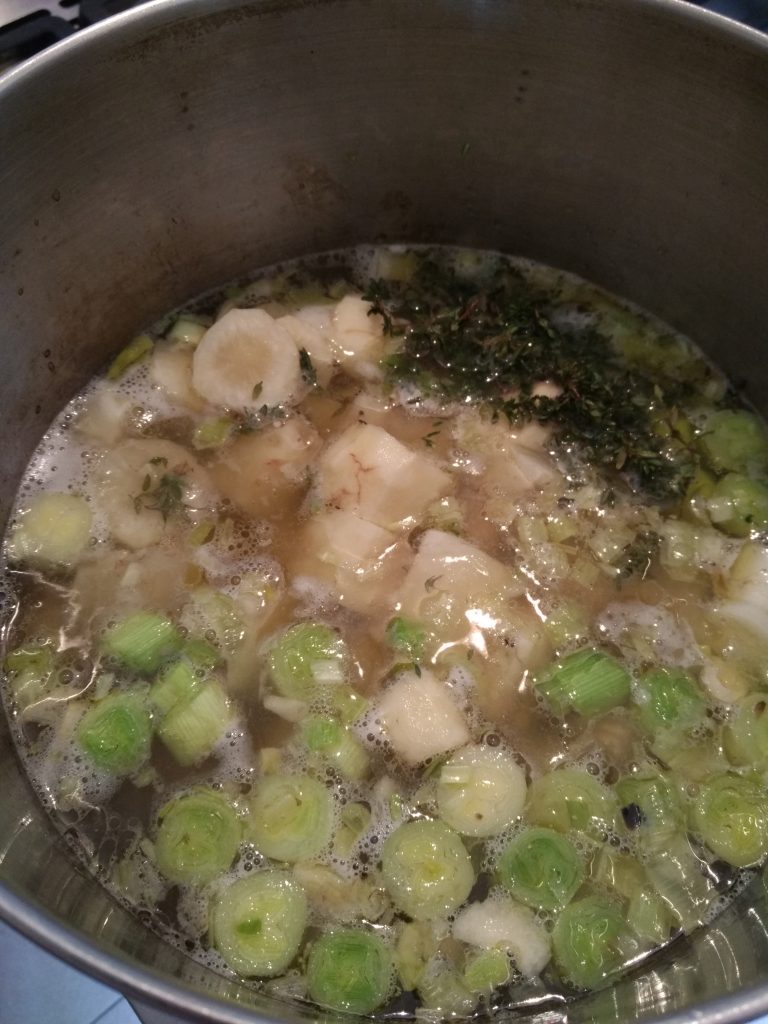 The flavor enhancers I use are chicken stock and nutmeg. Both are strong taste boosters and in a soup that has a very mild taste its necessary to bring it to the next level.
You can use water instead of the chicken stock to give the soup a more neutral flavor or vegetable stock if you want to keep the soup vegetarian.
Cream is added only in a small proportion. It gives the soup the final creamy touch that it needs and surprising as it sounds also make the soup lighter.
This soup is a full meal, perfect for the cold winter nights. It's a great meal that will leave you satisfied but will not make you heavy.
(Visited 430 times, 1 visits today)
Steps
40-60 minutes

Making the soup

Set a large saucepan over medium-high heat.
Add the olive oil and leeks, cook for 3 minutes, add the garlic and cook for another 2 minutes.
Add the chicken stock, Jerusalem artichoke, potatoes, thyme and gently bring into a simmer.
Reduce heat to low and cook for a minimum of 30 minutes with the lid on, I recommend cooking the soup for 1 hour to combine flavors well.
Season with white pepper and cook for another 5 minutes.

15 minutes

Blending the soup

serving