Ingredients
1 kilo/ 2 lb.

chicken thighs

without the bone

For the Marinade

from one lemon

Lemon Juice

For the Rice

10 peppercorns

Black Pepper

25g/ 1oz. dried

Cherries

or cranberries

pinch

saffron

soaked in 3 tbsp of warm milk
Directions
I cooked this rice last week at an Indian dinner in our house, this rice recipe is one of my favorite versions for Indian rice. It holds all the Indian flavors we love so much without one of the flavors being too aggressive making every bite different than the other.
One might say, at the end of the day the Indian spices creates a strong blend which will make any food lose its flavors creating a typical Indian signature. I believe in this case there are a variety of flavors which contradict one another but also complement each other, strange, isn't it? however, in India like in India everything goes and the key factor is keeping flavors gentle not letting a single condiment take over the pot.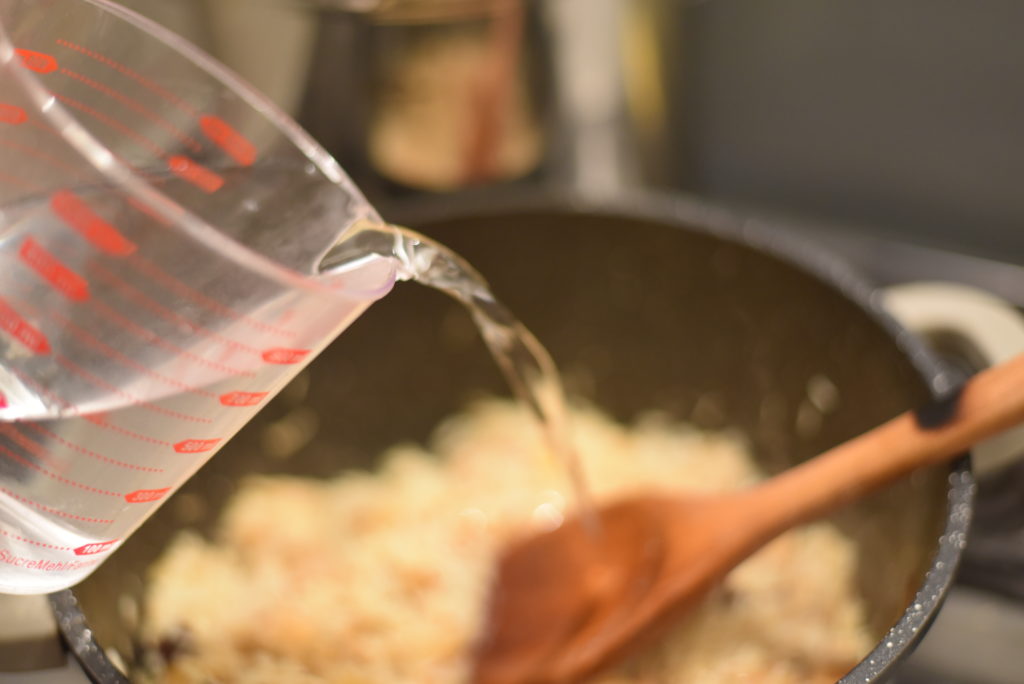 We use strong seasoning which can easily affect the outcome like cardamom, cinnamon, garam masala mixture, all are gently added to the rice and softened with some butter at the finishing stages.
Indian cooking is something that never seize to amaze me, so many flavors in one pot which creates a single line of screaming flavors which we identify as the Indian food trademark.
This rice goes extremely well with Butter Chicken, with Aloo Palak or Dal, it can absorb any sauce and if you want to keep a vegetarian meal just discard the chicken, however I have to say the chicken and its marinade add quite a lot of flavoring to the dish.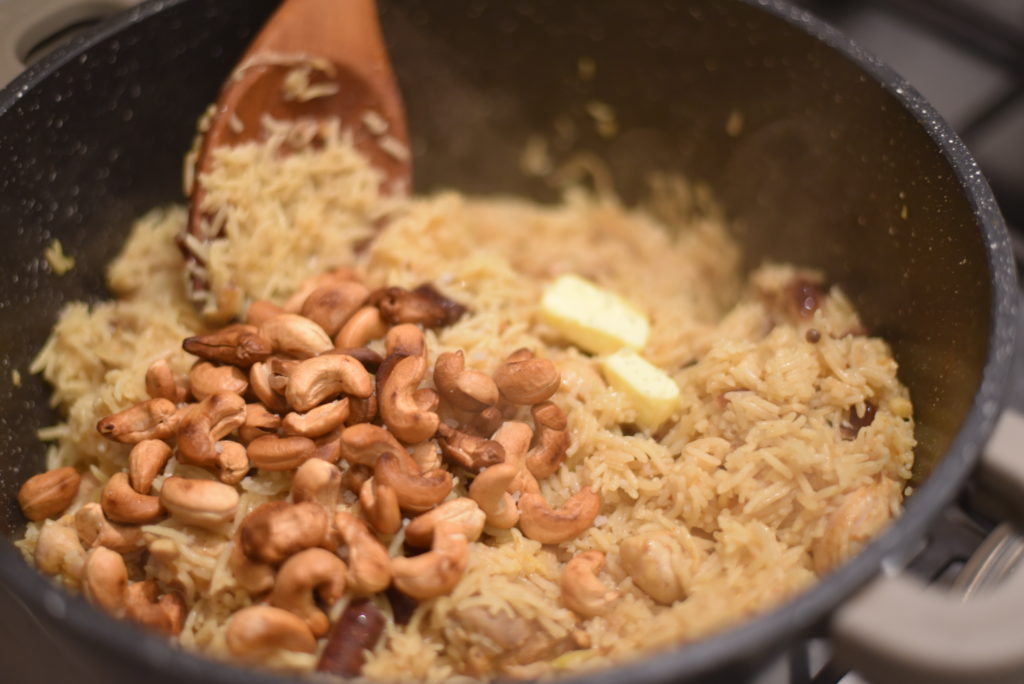 Serving the rice with the cashew nuts and the cherrys adds sweet and nutty feeling to the dish, giving it a special umami feeling which will blow your mind for a second breaking out of the regular Indian seasoning and texture.
(Visited 610 times, 1 visits today)
Steps
5 minutes

prepare the marinade

Combine all the marinade ingredients in a bowl and mix well
Cut the chicken thighs into bite size pieces, add to the marinade, coating all the chicken pieces.
Rest for 4 hrs. preferably overnight.

6-7 minutes

Starting the rice

Place a heavy saucepan over medium heat, add the butter (or ghee), peppercorns, cardamom pods and bay leaves, cook for 30 seconds and add the sliced onion cooking it for a few more minutes until transparent.
Toss in the chicken along with all its marinade fluids and cook for 2-3 more minutes, until the chicken changes its color to pale white starting to glaze in the marinade.

17 minutes

Cooking the Rice

7 minutes

finishing the rice dish

2 minutes

Before Serving