Ingredients
400g/13oz.

Ricotta Gnocchi

3 hearts quartered

artichoke hearts

For the salsa

1 chopped finely

Tomatoes
Directions
This dish is one of my favorite quick mid-night dinners, how can Gnocchi be a quick dinner? you might ask, well…. don't laugh if I tell you that making a creamy ricotta gnocchi from scratch takes less than 30 minutes.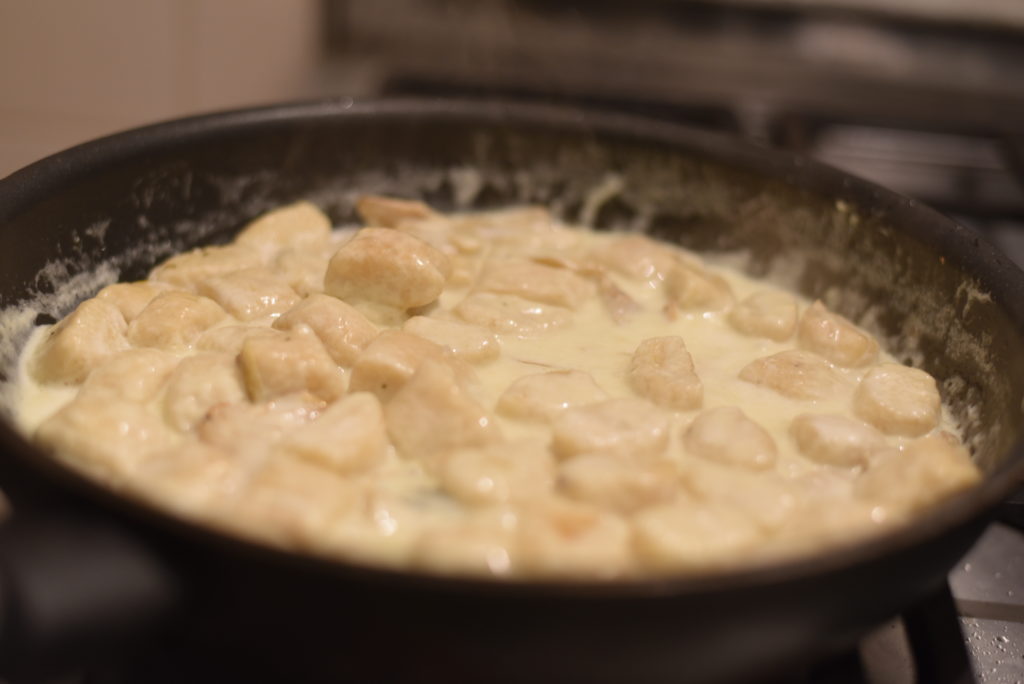 In my previous post I showed the process of making homemade ricotta gnocchi, with a preparation time from top to bottom, just under 15 minutes, meanwhile we heat the cooking water for the dumpling and we can attend to make a simple sauce to go with the gnocchi, which will be upgraded with a quick salsa to give the dish its fresh restaurant style look and feel.
The sauce uses simple ingredients, which don't take long to prepare, some preserved artichoke hearts, sage and garlic, that's all, this should give our cream sauce its tangy flavor and by the time the garlic had been browning beautifully in the olive oil we can take our gnocchi out from the cooking water to the pan, giving them crispy outer edges for the perfect bite.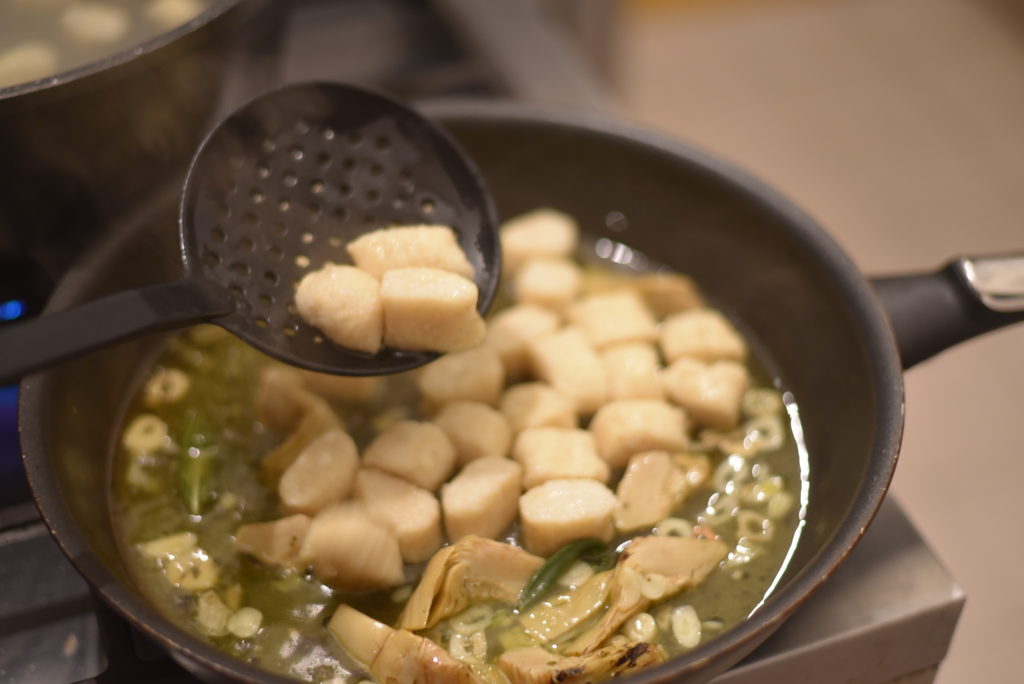 At this point, if you followed my lead, we should be spending about 20 minutes in the kitchen, this is the time to add the cream, lower the heat and attend to the salsa.
The salsa is very simple, tomato, basil, parsley, garlic, olive oil and lemon zest, this will contradict the round heavy flavor of the cream sauce adding a special fresh bite to the dish taking it to the next level.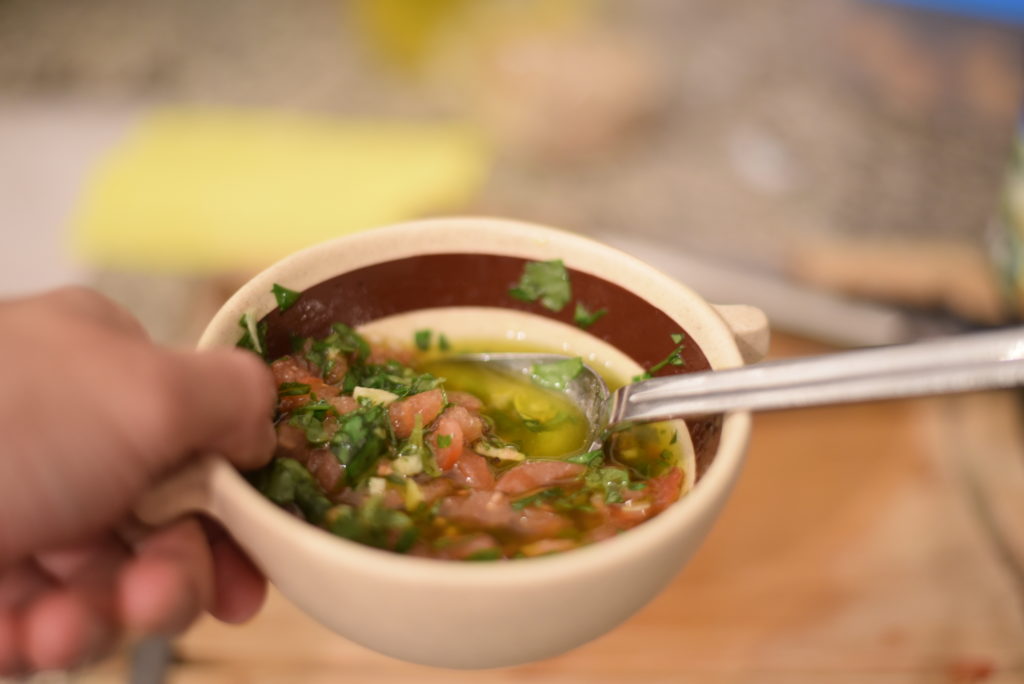 Creamy Ricotta Gnocchi – easy cooking
On the class I showed how to make a foolproof ricotta gnocchi and I mentioned that the best way to use these beautiful gnocchi on a daily basis for a casual dinner is making a big batch and freezing some of it. They freeze perfectly and the texture is not affected at all if kept in a zip-locked freeze bag, so if you intend in making these gnocchi's just throw them straight up from the freezer into the hot water, this way dinner time will be pressure free and I guarantee it will be easy to make.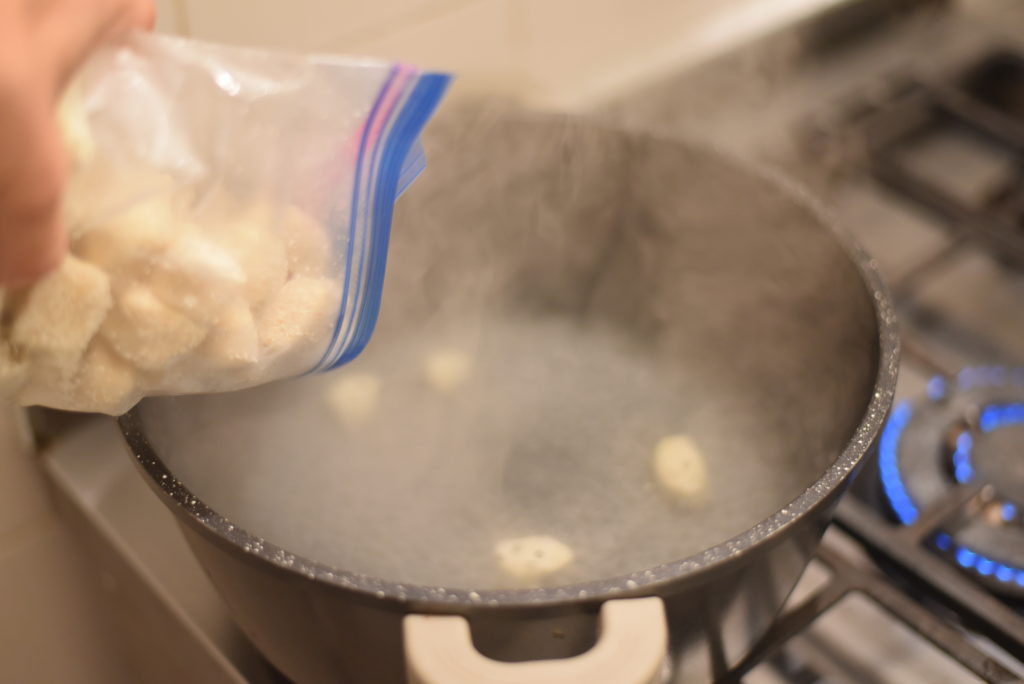 (Visited 617 times, 1 visits today)
Steps
15 minutes

Cooking the Gnocchi

Place a big sauce pan with salted water on high heat. when water reach boiling point throw the gnocchi to the saucepan.
You can throw the gnocchi frozen "as is" from the freezer, if doing so, note that cooking time will be slightly longer.
When the gnocchi float they are ready.
At the minute we place the saucepan with water, we can start making the sauce, so the sauce will be waiting for the gnocchi.

12 minutes

Making the sauce

Place a large iron skillet on high heat. add the olive oil, sage, thyme and artichokes, cook until golden for about 3 minutes. reduce heat to medium-low add the garlic and cook for another three minutes.
The gnocchi should float by now, move them directly from the saucepan into the skillet and cook them for another 3-5 minutes to get a nice golden crust.
Pour in the cream and cook for another 3 minutes, until the cream reduces about 50% of its liquids.

5 minutes

Making the salsa

1 minute

serving