Ingredients
Glaze

1

Egg

beaten egg with 1tbsp of watter
Directions
It's true that Brioche is what you make of it, it can be a sandwich bread, great toast, can be eaten with butter and jam for breakfast or as a sweet supplement for your coffee.
There are many recipes for Brioche, some use starters and some need an overnight resting of the dough.
I will show you below that Brioche does not have to be such a big project, it can be exactly as it is, a sandwich bread with egg and butter that is a bit like bread and a bit like a cake.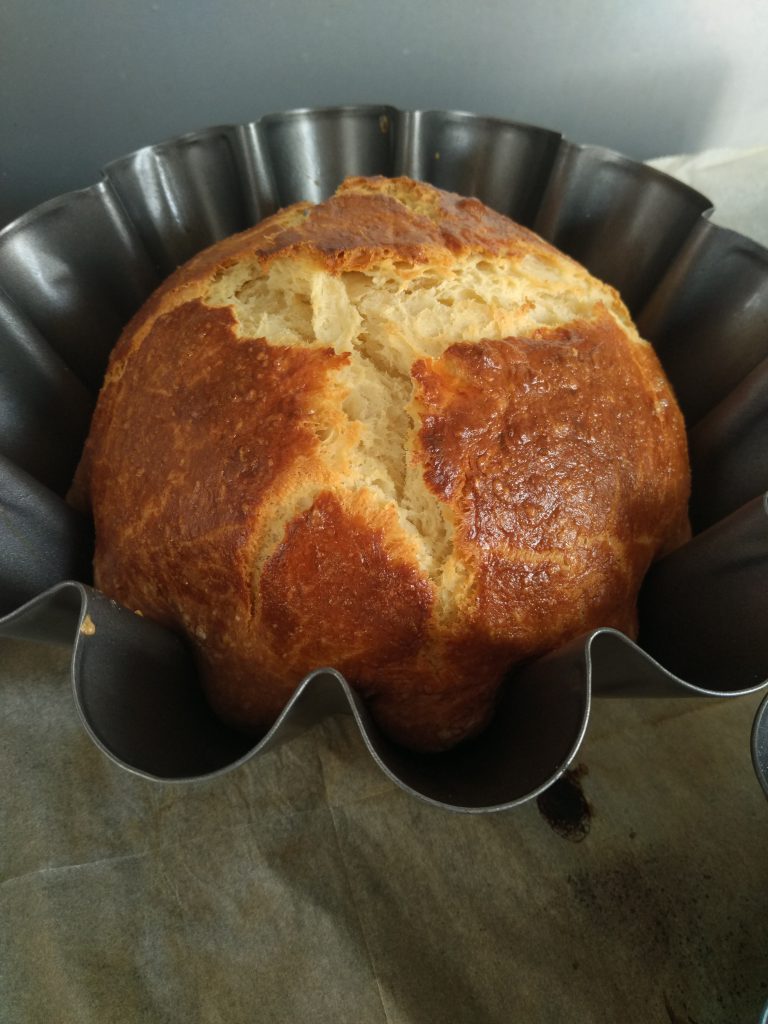 Basic Brioche step by step
Brioche bread might sound like a fancy French bread but the truth cannot be further from that.
This bread is easy and forgiving, you can make it on a weekly basis no hassle at all.
Time frame for the Brioche is a few hours, start to finish, we use long resting time, sometime in the fridge and sometime outside to control the yeast rise.
After the first dough kneading we will put the dough in the fridge for 90 minutes, we don't want a strong yeast action, we are looking for a 30% rise.
The reason is we don't want a bread that is full of air bubbles, we need it firm, don't worry it will be light.
The second proofing is after the dough is out of the fridge, we knead it a bit to wake the yeast, divide it into 2 parts and proof it in the brioche pans.
Again, we are not looking for doubling the dough capacity, 30% is all we are after.
Baking time
The brioche baking resembles more of a cake than of a bread.
We don't use high temperature like in bread, we don't give the brioche a heat shock for 10-20 minutes and then reduce the temperature as in bread.
Instead we bake it like a pound cake, steady low-medium temperature of 175°c/ 350°F in order for the dough to bake evenly and still develop a nice crust.
Give it a try, it's certainly an upgraded bread that will be a start of every breakfast.
(Visited 1,045 times, 1 visits today)
Steps
8 min

mixing ingrediants

9 min

adding butter and mixing some more

92 min

kneading the dough

On a floured surface, knead the dough for 2 more minutes by hand, you may need a spatula since the dough is very sticky and flexible, from time to time add some flour but only the minimum in order to work the dough.
Shape the dough into a ball, cover with a plastic wrap and place in a bowl in the fridge for 90 minutes

1 -1/2 hrs

Proof the brioches

Take the dough out of the fridge, hit it a few times to let all the air out, divide the dough into 2 even parts and shape into a ball using your palm.
Grease 2 X15cm round deep cake non-stick mold and place the balls inside.
Proof the dough for 1- 1.5 hrs. or until the dough has risen in at least 30% (it does not need to be double its size).

30 min

baking time

Heat your oven to 175°c/ 350°F.
Brush the brioche with the egg glaze and place inside the oven, bake for 30 minutes or until a skewer inserted into the center comes out clean.
Note that because of the egg glaze the brioche might look ready before it's actually fully baked.
Remove the brioche from the baking pan and cool on a wire rack for 5 minutes .
Serve warm or at room temperature.