Ingredients
90g/ 3 oz

Gluten-free rolled oats

sprinkle on top

sesame seeds
Directions
We just had a long weekend with a lot of food, eating with family and friends, full heavy meals like a good weekend should be but it also got me unbalanced as well. Since I like a sweet dessert after a meal or just something sweet by my coffee, I decided to go on the healthy side and make these teff tahini cookies. I have to say it was not my first choice but the result is amazing.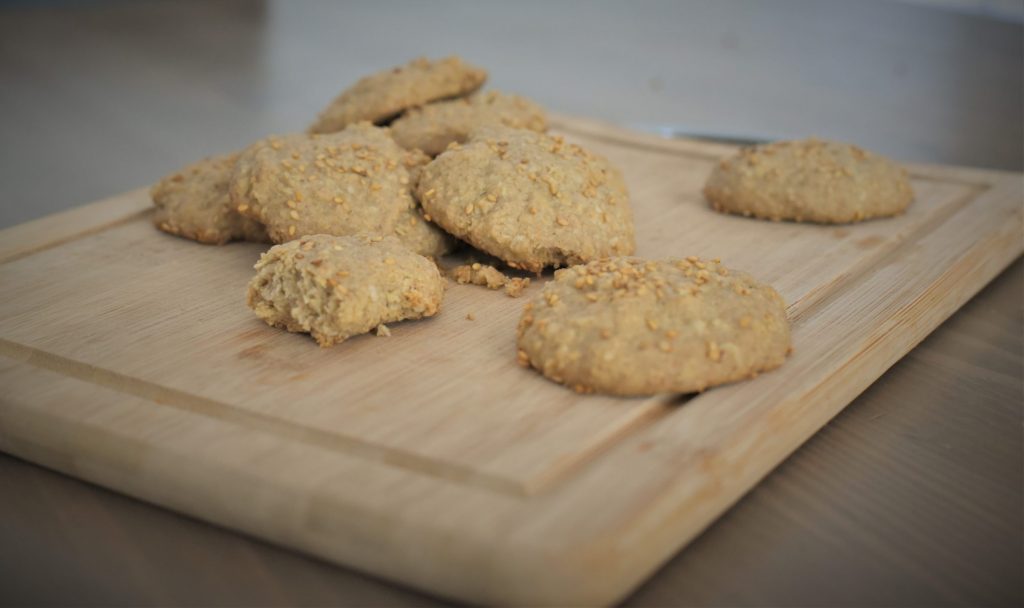 Teff Tahini Cookies – challenging baking
These cookies are gluten free and vegan, very challenging when it comes to cookies since the gluten (usually wheat) ties all the ingredients together since it performs as a glue and the dairy (usually butter) is giving the cookies the oils and flavor.
I substitute the missing ingredients with some natural high nutritional values ingredients. the tahini is high in fat content and oils and can easily takes over the butter role in the cookie, throw the coconut and olive oils and there you go, pure nondairy natural fat.
Let's say it out loud, Glutinous flours are hard to substitute, its possible of course, there will be a cookie at the end of the process but it will not be the same, it doesn't mean that it's not good, I use GF flours all the time in cakes and pastries but texture will always be slightly different
In these teff tahini cookies the corn flour is the glue between the non-glutinous grains I use, it ties up the teff and the quick oats that are our gluten free flours in these cookies.
Cookies texture
I always say, don't expect your regular cookie texture in gluten free cookies, it will be great but slightly different.
There is not much glue in the batter, the teff tahini cookie is crumbly and grainy, personally, I love this texture, it's a kind of cookie that you will need a cup of water afterwards, the tahini mix will make the cookie sticky in your mouth, but its sensational, you got to try it.
Baking time is short, don't be tempted to reach a crispy texture and golden color for the cookies, this batter taste great as raw, try it, we want to bring this feeling to the cookie and not temper to much with it, so baking is not more than 12 minutes on 180°c/350°F.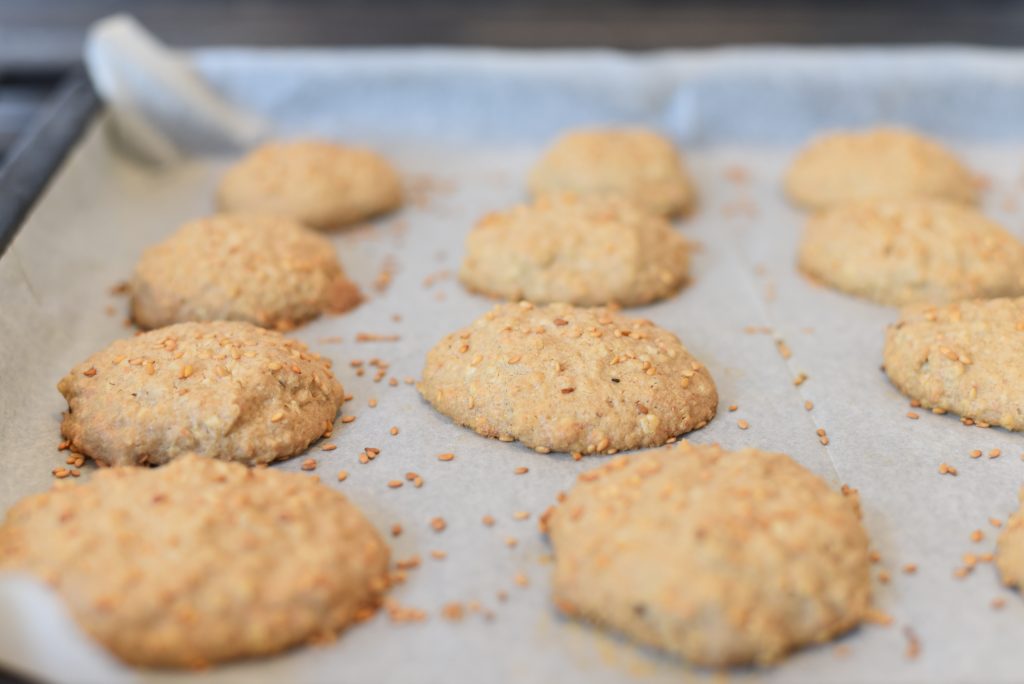 These cookies are high in nutritional values, mostly because of the teff which is a magical grain, it's high in fibers, protein, manganese, Iron, calcium, zinc and vitamins, mainly B2.
So, don't feel bad about giving you kids another cookie, it's actually high in many of the nutritional values you chase them to consume.
(Visited 929 times, 1 visits today)
Steps
10 minutes

Mixing the batter

Preheat the oven to 180°c/350°F.
Mix all ingredients except the sesame seeds in a large bowl, no need for a stand mixer, the batter is quite easy to handle.
Place the batter in the fridge for 1 hour or in the freezer for 10 minutes, this will help us shaping the dough.
make small ball shapes and place on a parchment paper set on a baking pan keeping 2 inch between each ball, press the balls gently to flatten them out (they don't spread all that much during baking).
Sprinkle sesame seeds on top of the cookies.

12 minutes

baking the cookies