Ingredients
1 L;arge head

Cauliflower

Dressing
Directions
For many years, I refused to make quinoa, I really can't think of a good reason, I started to really like this amazing grain only a few years ago and today, the quinoa salad is one of my favorites.
One of the nice thing about quinoa is that it has a neutral taste and can truly be paired with almost any combination of sauce, vegetable or fruit.
Someone said quinoa?
Originally from the south America Andean countries, Peru, Chile and Bolivia, it has been cultivated over 5000 years ago, by the local inhabitants. 
This grain (if you want to be picky it's actually a seed) has a variety of nutritional values such as high amount of Protein and a good source of calcium and magnesium as well as Vitamin B, E and dietary fibers.
The most common quinoa brands are the pale yellow and the red one, both have similar nutritional values and taste pretty much the same.
My version of quinoa salad
There are probably endless versions for a good quinoa salad, I chose a great roasted vegetables version to generate smoky flavors as well as fresh vegetables to give the fresh feeling.
Roasting the Cauliflower and the sweet potatoes is what gives this salad a barbeque feel and taste, the semi burnt vegetables are developing natural sugars in the roasting giving the salad a rich sweet flavor.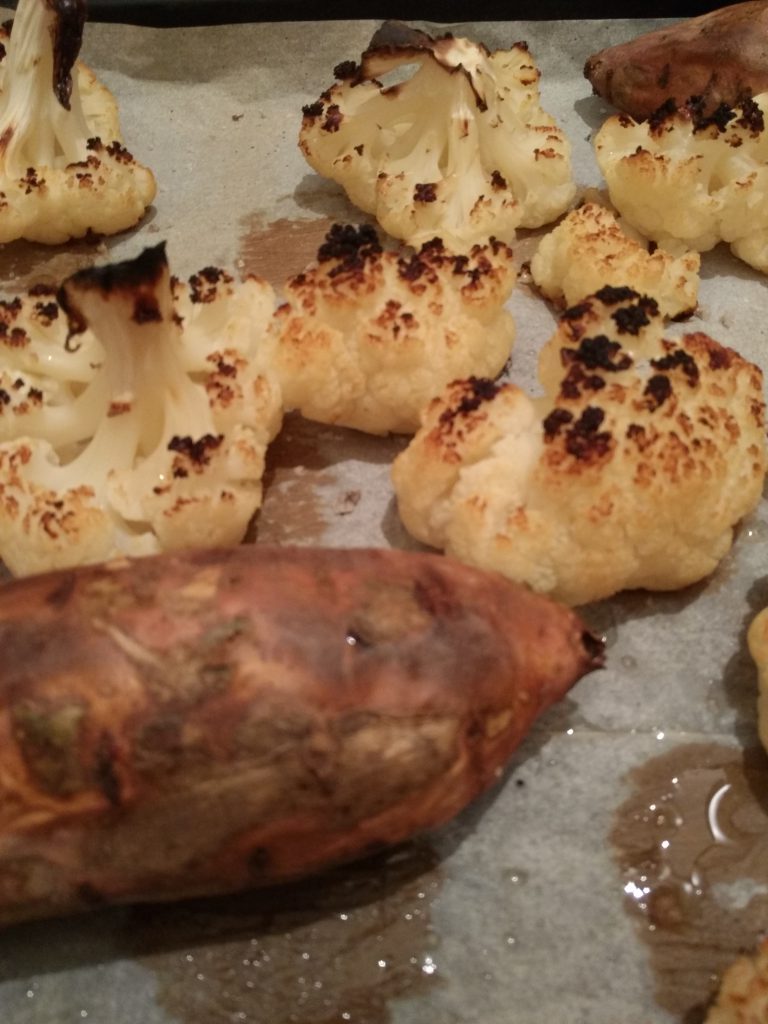 The fresh greens (scallions and coriander) and the avocado are giving the fresh flavors and texture to the salad, this mix of roasted and fresh is a winner.
The sauce is pretty simple and include two ingredients like lemon and olive oil, this is the zest we need in order to wake this salad and contradict the sweet flavors from the roasted vegetables
This salad will be the star of the party and can be a full and satisfying dinner meal.
(Visited 399 times, 1 visits today)
Steps
| | |
| --- | --- |
| 15 minutes | Cook the Quinoa |
| | cook the Cauliflower |
| 45 minutes | Roast the Cauliflower and sweetpotatos |
| 10 minutes | mix and serve |