Ingredients
1.5 Kilo

Beef

boneless beef chuck, can be rolled beef brisket, bottom round roast or any other good slow cooked beef

0.5 Kilo

marrow bones

can be also a combination of bones and oxtails

4

Carrot

cut into large pices

4 Big

Potatoes

halved lengthwise
Directions
Pot au feu is a one meal in a pot, translated from French "Pot on Fire".
It's a classic French Beef stew using whatever there is in the kitchen to create a hearty meal with an amazing flavored broth.
It is usually made with Various inexpensive meat cuts and lots of root vegetables and herbs to create a perfect slow cooked family meal that will even get better the next day.
The meat
In the old days this recipe contained low cost cuts with a decent amount of fat that created a gelatinous stew which could be eaten for a few days because of the fat preservation.
Today we try to reach a similar effect from different reasons.
We use also low cost cuts mainly cartilaginous meats and marrow bones or oxtails to increase the gelatin amount in the pot.
Any long cooking meat cut will do just fine, personally I like chuck but Round steak, shoulder or brisket will be great as well.
You can also add sausages, leg of lamb and anything that comes to your mind and can both add to flavor and variation of the pot.
It's not a must but I like that the meat will be tighten if it's a flat chuck like I got, I use 100% cotton twine. A "by the book" butchers tie is not necessary as long as it will hold the meat together.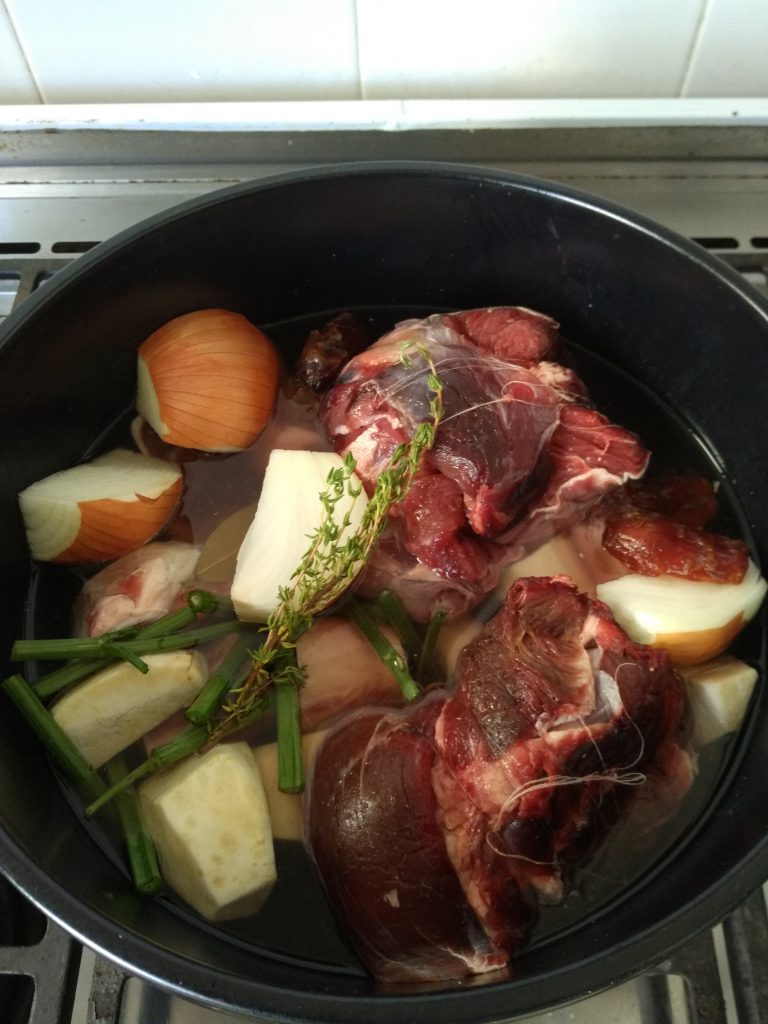 Pot au feu general guidelines
This all in one beef stew does not need much attention or preparations, we basically throw everything into the pot, literally.
The only thing you really need to have is the right ratio between ingredients, some root vegetables, different kind of meats, herbs and seasoning.
I like to place the potatoes on top to reach a nice caramelized color on them, they are delicious this way, both absorb the liquids and get crusty on the outside.
Oven baking of the Pot au feu is pretty standard for long stews, low oven temperature of 160°c/330°F for about 4 hours (you can reduce temperature to 120°c/ 240°F and bake it overnight as well).
It's a great meal in one pot which is comforting and satisfying, perfect for long cooking.
Pot au feu can be kept in the fridge for up to a week and in the freezer for 3 months.
(Visited 580 times, 1 visits today)
Steps
Preparing the Pot au feu

Preheat the oven to 160°c/330°F.
If using big Beef chunks use a kitchen twine to tie the Beef into nice loaf shape, if not just rub salt and pepper on the chunks and throw into the pot.
Put tied beef, bones, onion, Parsley, Garlic, carrots, celery, bay leaves, Thyme, and peppercorns into Dutch oven.
Add cold water and bring into a simmer.

4 hours

baking time

serving

to Serve, cut chunks of beef add a bit of the broth, top with half a potato and carrots