Ingredients
130g/ 5oz.

mushrooms

button or cremini mushrooms

300g/ 10oz. cooked according to instructions

short pasta
Directions
I made a big pot of Goulash the other day, I just love this amazing Hungarian heavy paprika meat sauce stew, especially in the cold winter nights.
Thing is, I love pasta as well, and the Goulash meat sauce just serves great as a pasta sauce and can be a very rewarding as one pan meal.
Everybody loves leftovers
Sometimes I think that making a meal is a great excuse to create a different dish with the original dish ingredients, it's amazing how you can take one thing and change how it serves and create a completely different meal.
The one pot goulash pasta is one of my favorites, it is the ultimate pasta sauce, and with some minimum ingredients added to this sauce we can create a very comforting pasta dish in no time.
Making the Goulash pasta
I wanted to give this sauce a fresh kick as well as to keep the general flavors of the goulash, I managed to do so by adding bell peppers which exist in the goulash sauce only now they are in a different form and shape, added with some garlic and red onion and sautéed with olive oil, this will bring the zest into my dish.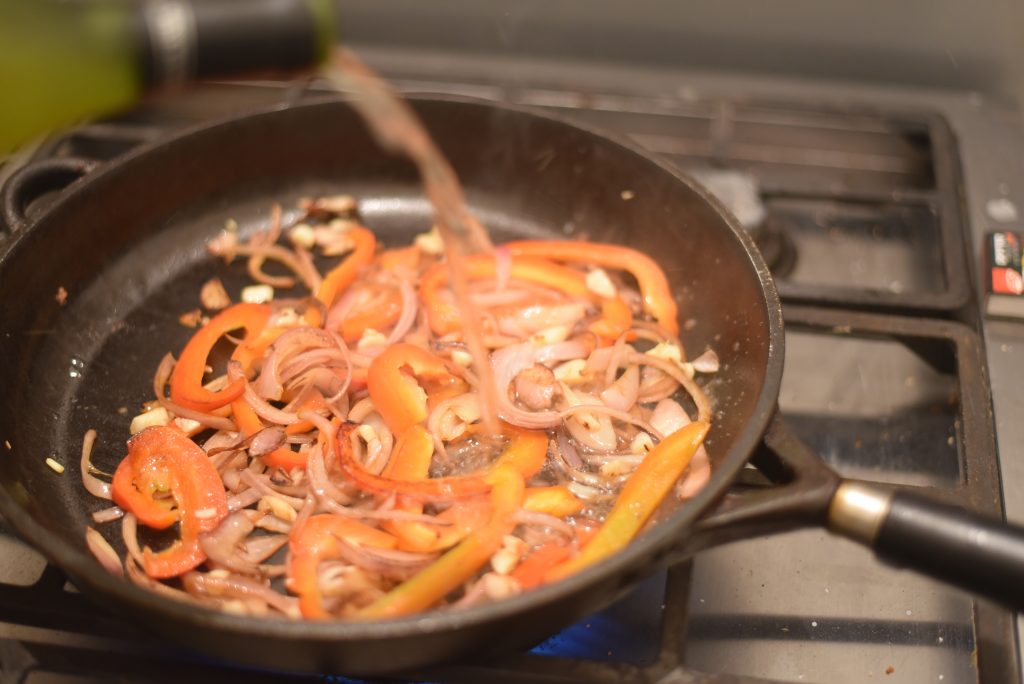 Mushrooms are a great addition to goulash they go well with heavy stews like the beef bourguignon and complete this dish perfectly, I added some mushrooms sautéed in butter to release their flavors and added to the pasta as well.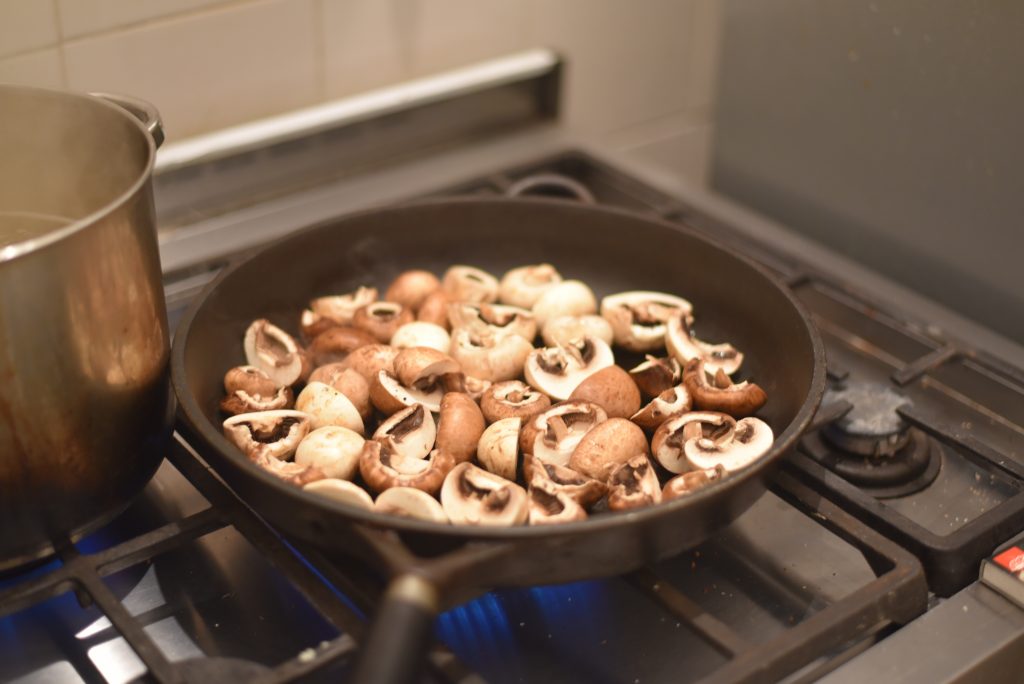 The goulash pasta is quick, mushrooms and peppers need to be cooked but firm so as soon as they're ready, about 3-5 minutes cooking time we add the sauce, cook for a few minutes to reduce the sauce and there you go, just add the cooked pasta (I used macaroni pasta but any short pasta will do just fine here) and we're all set.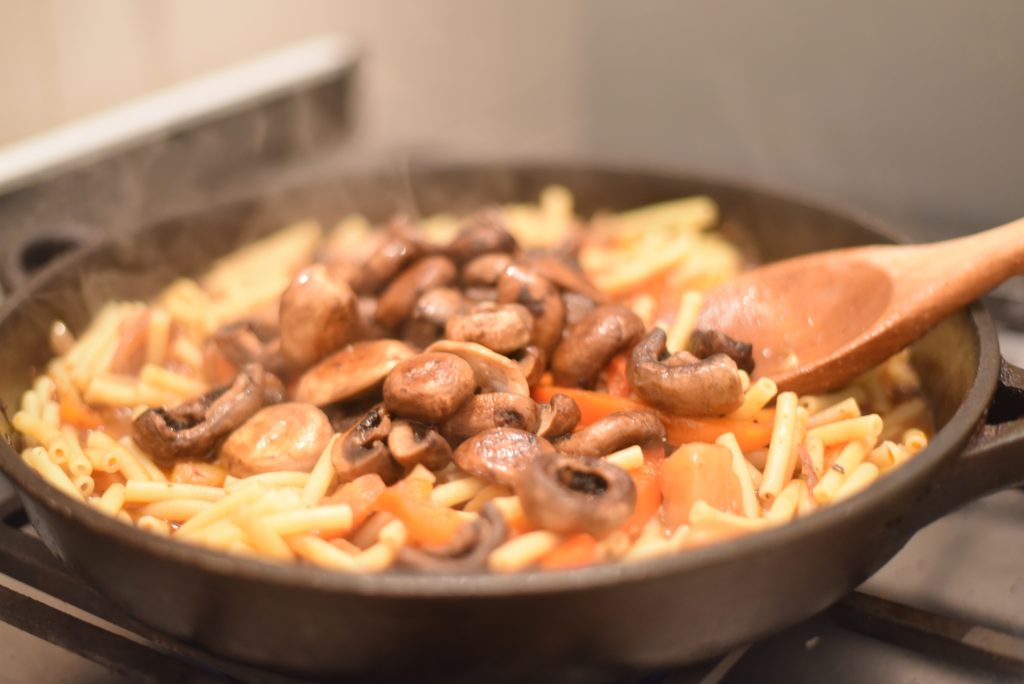 If you want to finish the dish with a great umami flavors add some pecorino on top just before serving when the goulash pasta is off the heat, it will give this dish a rich deep mature feeling that will kick everything higher.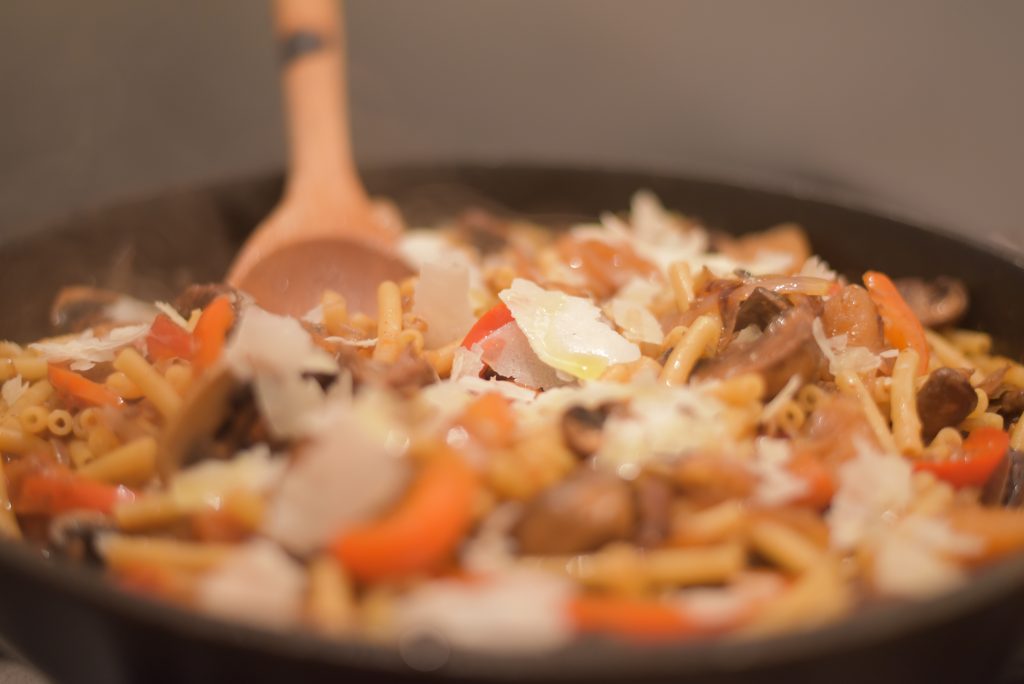 (Visited 855 times, 1 visits today)
Steps
7 minutes

Sautéing the vegetables

Place a large cast iron pan over high heat.
As soon as its shimmering add the butter and mushrooms, cook for 3 minutes until a bit golden in color and take out and keep aside.
In the same pan, add the olive oil, peppers and onion, sauté for 3 more minutes, add the garlic and cook for another minute.

5 minutes

Cooking the sauce and pasta

Pour the goulash sauce to the pan and reduce heat to medium-low.
Cook for 2 minutes, add the balsamic vinegar and cook for 3 more minutes.
Add the pasta and cook with the sauce for another 2 minutes, adjust seasoning with salt and pepper and remove from heat.
Bring back the sautéed mushrooms with their fluids, add the pecorino cheese and olive oil, stir to combine and serve.